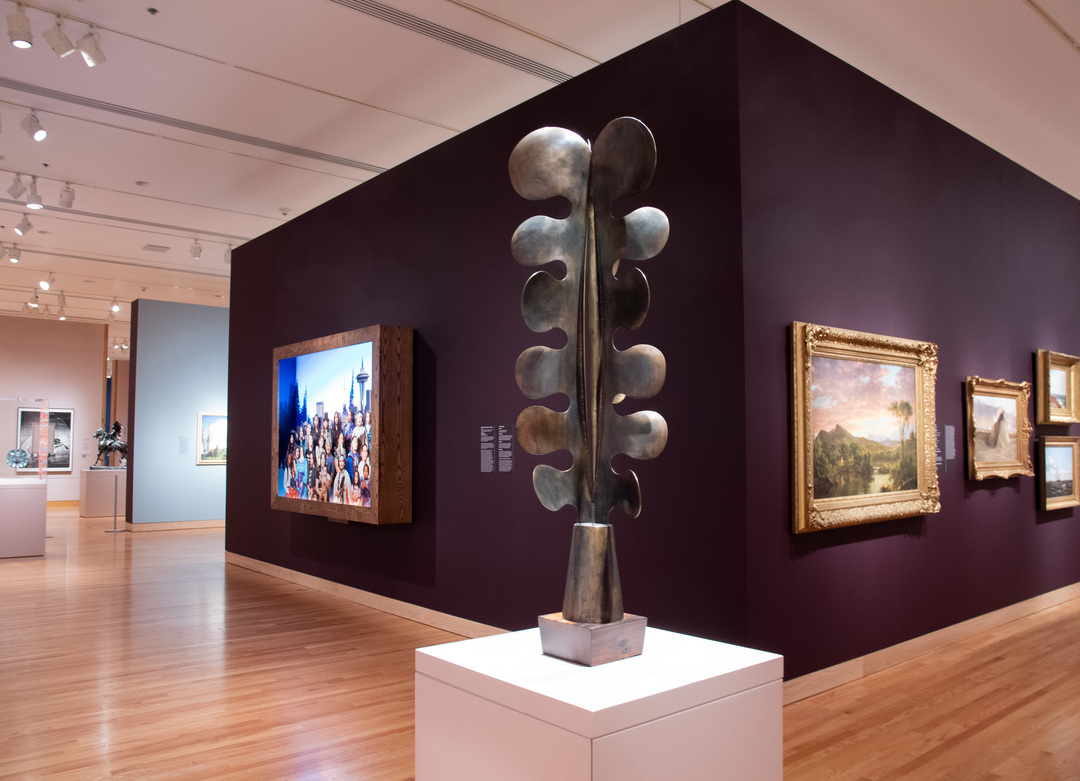 SAM News
For Crosscut's weekly ArtSEA dispatch, Brangien Davis is inspired by "fresh attention to art arrangement" at both the Frye Art Museum and at SAM in American Art: The Stories We Carry.
"…a striking section…includes a huge portrait by Kehinde Wiley, a tintype photo of a Lummi violinist by Will Wilson and a turn-of-the-century cast-bronze sculpture of an 'Indian Warrior' by Alexander Phimister Proctor. Each holds a long straight object: a rod, a violin bow, and a spear. Each prompts thoughts about who is portrayed in art and how."
Dawoud Bey & Carrie Mae Weems: In Dialogue opens Thursday, November 17! The exhibition—which brings together the work of these two legendary photographers for the first time—was featured in Crosscut's list of "things to do in Seattle this November."
"What connects their work, besides a friendship and a medium, is a shared timeframe and understanding of the power of photography as a way to explore—and celebrate—the experiences of Black people."
And there's a whole alphabet of fun from Gemma Alexander for ParentMap as she shares "Amazing A–Z PNW Winter Adventures Family Fun Workshops"—including SAM's recurring Family Fun Workshops at both the Seattle Art Museum and the Seattle Asian Art Museum.
Local News
There's a new venue in a very old space at the Pike Place Market. Crosscut's Alexa Peters reports on the launch of The Rabbit Box.
The Seattle Times' Jerald Pierce on the site-specific Saltwater Soundwalk, "a 55-minute listening experience that uplifts the stories and voices of Indigenous Coast Salish peoples."
The Seattle Times' Sandi Doughton on the development of the Seattle Aquarium's new Ocean Pavilion, which will transform the downtown waterfront.
"'This landscape that was dominated by a big, honking, gray, rumbling freeway will now be a massive public park for the people,' says Seattle City Councilmember Andrew Lewis, whose district includes the waterfront. At the center of it all will be the Seattle Aquarium's new Ocean Pavilion: a 50,000-square-foot exhibit space featuring sharks, rays, and other animals and ecosystems from the tropical Pacific."
Inter/National News
Elaine Velie for Hyperallergic on the National Portrait Gallery's seven new "Portrait of a Nation" commissions, including Serena and Venus Williams, Marian Wright Edelman, and Dr. Anthony Fauci.
Artnet's Vittoria Benzine catches you up on "Every Artwork Attacked by Climate Activists This Year, From the 'Mona Lisa' to 'Girl With a Pearl Earring.'"
Artnet's Sarah Cascone with a deep look at the new stained glass windows by artists Faith Ringgold and Barbara Earl Thomas at a residential college of Yale University.
"'I took it as a huge responsibility,' Thomas told Artnet News, noting that she had heard about the controversy surrounding the broken window, but never dreamed that she would become part of the story. 'I feel quite emotional about it. This was a moment for me to be part of something far bigger than me.'"
And Finally
CBS Sunday Morning visits the new Museum of Broadway.
– Rachel Eggers, SAM Associate Director of Public Relations
Photo: L. Fried.