Muse/News: Halsey on View, Cat Towers, and P-Funk Approval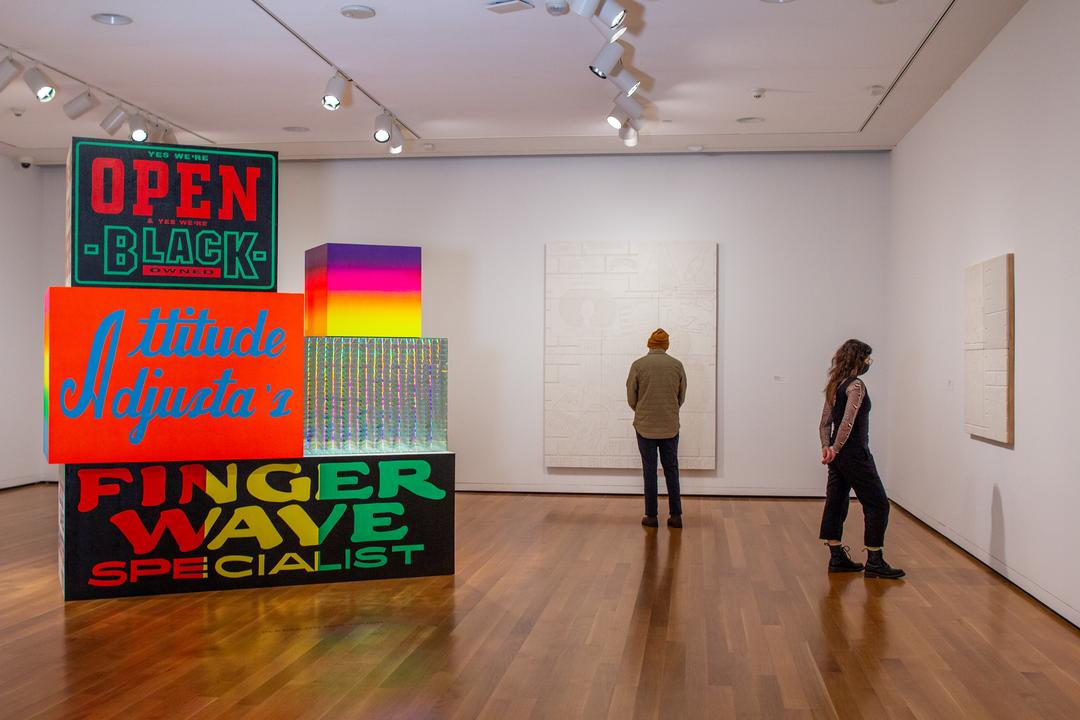 SAM News
Now on view at SAM: the solo exhibition for Lauren Halsey, the 2021 recipient of the SAM's Gwendolyn Knight | Jacob Lawrence Prize. Artdaily announced the show, and family-focused Tinybeans included the show on their list of "13 Ways Families Can Explore Black History in Seattle."
Northwest Asian Weekly has a mention of Embodied Change: South Asian Art Across Time, the inaugural exhibition by SAM's first-ever curator of South Asian art. It's now on view at the Seattle Asian Art Museum.
Local News
The Seattle Times' Grace Gorenflo on the journalists of color who have joined Seattle's KING5 in recent years, filling the shoes of the trailblazers who came before.
Here's Berette S. Macaulay on "The Poetics of Barbara Earl Thomas" for the University of Washington College of Arts & Sciences webpage. The book for her recent solo show at SAM is available at SAM Shop.
Crosscut's Margo Vansynghel joins fellow art critics in experiencing a new installation of cat towers at the Museum of Museums.
"On a recent Sunday afternoon, three art critics sniffed, prowled, jumped and climbed their way through a new exhibit. Khione gravitated to a colorful installation featuring cloth orbs and plastic linked chains. Oliver climbed on top of an austere, spiraling sculpture made out of 4x4s, plywood, masonite and carpet. And Luna sat in a small separate room, processing her impressions."
Inter/National News
Via Artnet: Another Super Bowl "friendly wager" of art sees a Robert Henri painting from the Cincinnati Art Museum heading to LA's Huntington Library. SAM's adventures in Super Bowl-ing in 2014 and 2015 are mentioned.
Tatler names "4 Power Couples of Design" from history, including the architects of the 1991 Seattle Art Museum building, Denise Scott Brown and Robert Venturi.
The New York Times' T Magazine interviews the legendary George Clinton; he mentions Lauren Halsey as a current inspiration.
"Halsey said it was one of her dreams in life to design a stage for Clinton to perform on that would match the scale of the maximalist P-Funk concerts of the 1970s. And why not? If nothing else, Clinton's career has been an ongoing argument that anything is possible. He has a handful of live performances on the horizon, and when asked if he was planning to ever go back on tour, Clinton responded, 'Oh, hell, yeah.'"
And Finally
An adieu to Café Presse from Bethany Jean Clement.
– Rachel Eggers, SAM Associate Director of Public Relations
Photo: Natali Wiseman.
Barbara Earl Thomas, Café Presse, Denise Scott Brown, Embodied Change: South Asian Art Across Time, George Clinton, Gwendolyn Knight and Jacob Lawrence prize, Jacob Lawrence and Gwendolyn Knight Lawrence Gallery, Lauren Halsey, muse/news, Museum of Museums, Robert Venturi, seattle art museum, Seattle Asian Art Museum, Super Bowl