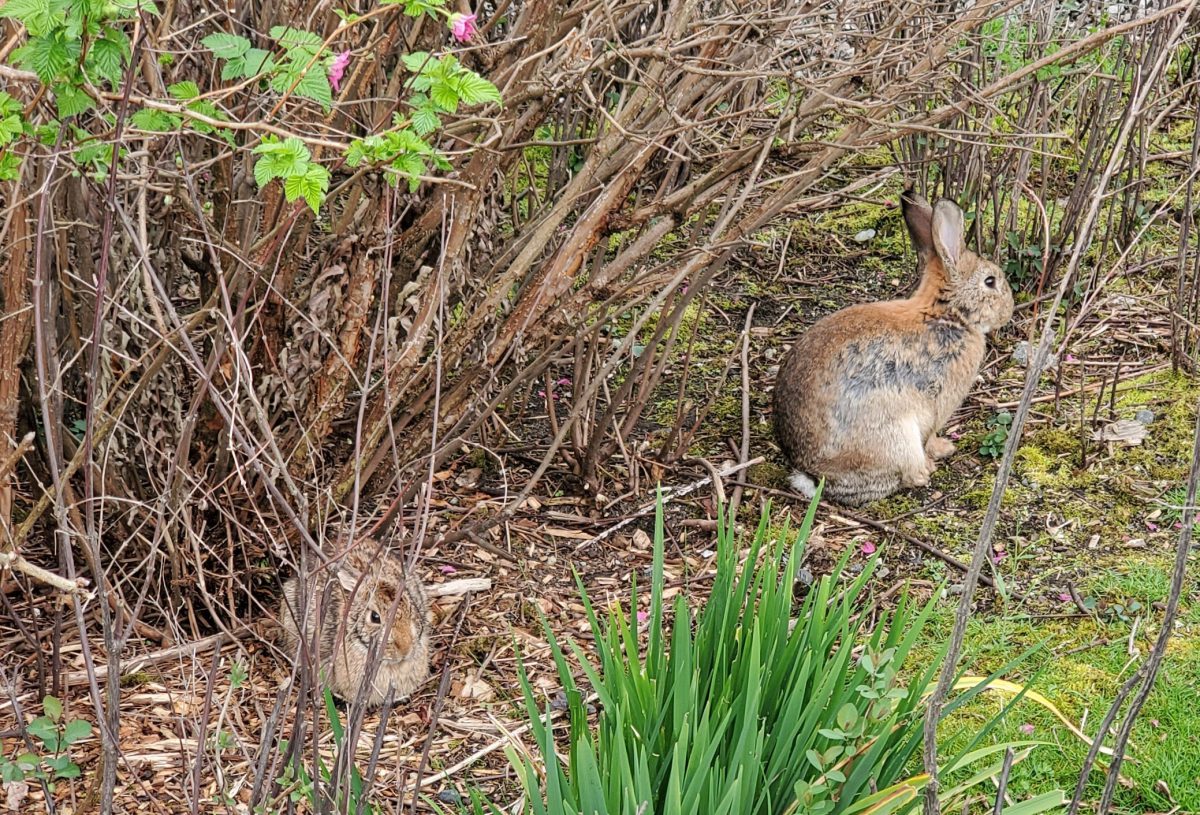 Welcome to Noticed, in which we spot connections among, within, and without the walls of the museum.
The last few years in Seattle, it's been the talk of gardeners, naturalists, parkgoers, and urban dog walkers alike: What's up with all these rabbits everywhere?
That question was also the headline of a recent feature in the Seattle Times' Pacific NW Magazine, in which reporter Brendan Kiley investigated the seeming population boom across Western Washington of the Sylvilagus floridanus, or Eastern cottontail rabbit. His journey brought him to the domain of one very special rabbit: King Bunny.
That's the name given by SAM staff to a particularly large, healthy, and seemingly prolific rabbit who resides in the Olympic Sculpture Park with his many friends and offspring. Kiley spoke with SAM's Facilities and Landscapes Manager, Bobby McCullough, about King Bunny and Co.'s frolics around the nine-acre sculpture park, where they chomp on grass and clover, attempt to avoid predators and excited leashed dogs, and, we hope, enjoy the monumental sculptures that fill their home. King Bunny can be tough to spot, so don't miss SAM's latest installment of "Botany with Bobby," our TikTok series exploring the sculpture park, in which Bobby tracks his friend down for all of us to see. McCullough also shared his perspective on what to do—if anything—about their increased presence.
"The park's S. floridanus population has spiked in the past three or so years, McCullough says, and bunny-noticers have divergent attitudes. Some feel protective, calling for a gardener to 'Do something!' if they find a rabbit half-chewed by a raptor. Others regard the critters as a problem, suggesting McCullough set out traps and poison bait. 'As long as I'm working here, that won't happen,' he says. 'I get more joy from seeing them sunning themselves on the grass than frustration at chewed-down fern fronds.'"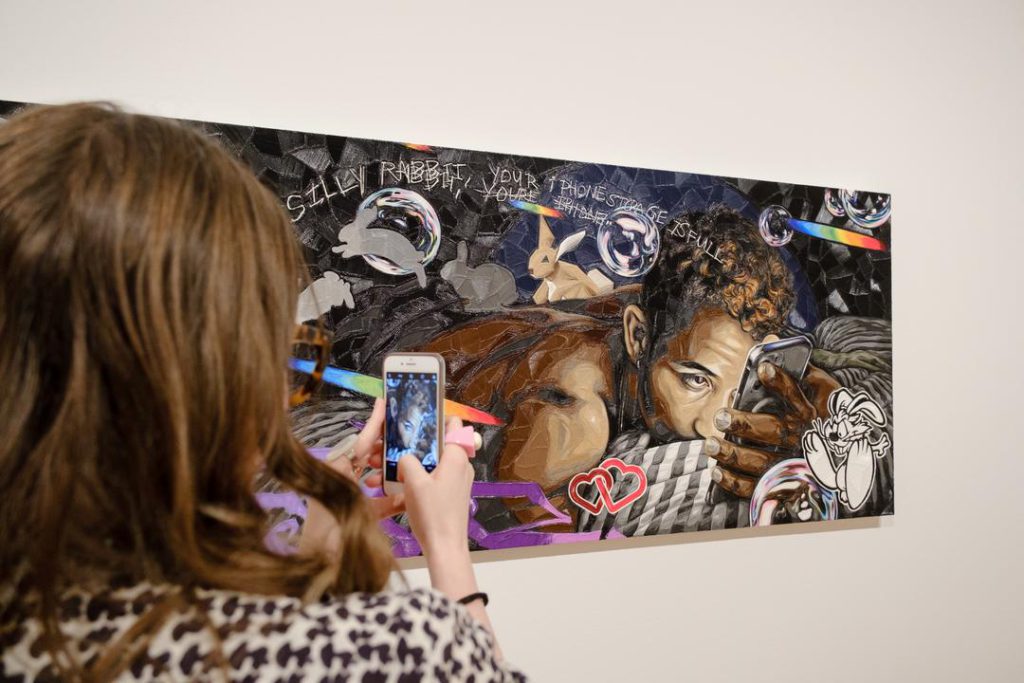 McCullough's live-and-let-live approach to the rabbits must have had an effect, because once we started seeing bunnies around the sculpture park, we noticed that they were simply…everywhere. Back indoors at the Seattle Art Museum, local artist Anthony White celebrates his Betty Bowen Award win with his solo exhibition, Limited Liability. The artist is known for his densely packed compositions that he painstakingly "paints" with PLA (a melted biodegradable plastic, primarily used for 3D printing). Crammed with recognizable products, name-brand logos, and digital logos, they pull you down the rabbit hole of our increasingly intertwined analog and digital lives. They're also a few literal rabbits dotting these Y2K-nostalgia landscapes: a self-portrait of the artist in the all-too-familiar pose of gazing at a smartphone screen in bed includes a number of bunnies hopping around his aura like phantoms; up above is a ransom-note scrawl saying, "SILLY RABBIT, YOUR IPHONE STORAGE IS FULL." And the smallest painting in the exhibition hangs above them all at the entrance like an idol: An Energizer Bunny seen behind a cracked cell phone screen, questioning the relentless pursuits of capitalism.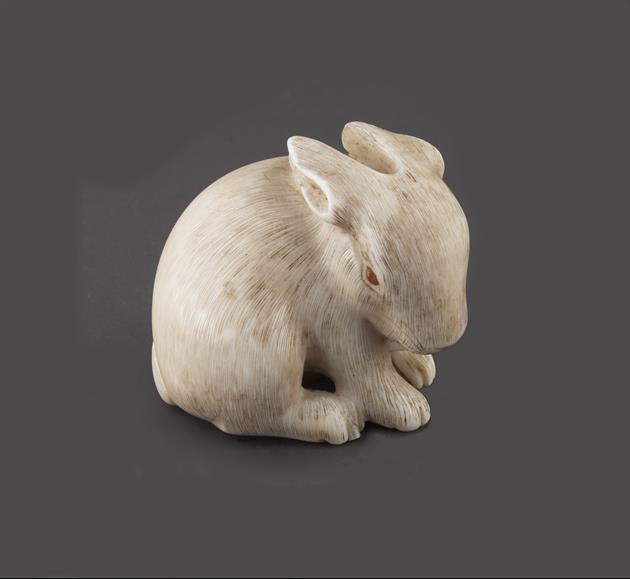 Of course, bunnies aren't always harbingers of doom. Kiley's story also notes the diverse cultural meanings of rabbits: "Old stories characterize the rabbit as arrogant (Greece), cowardly (Tibet), a great warrior (China), tricky (lots of places) and prototypical prey (lots of other places)." He notes their association with fertility in early Christian Europe and their appearance as a resilient "catch-me-if-you-can" figure in Puget Sound stories of Snoqualmie, Puyallup, Muckleshoot and other traditions. SAM's global collection is a veritable rabbit hunt; one work on view right now at the Seattle Asian Art Museum is a beloved late 19th-century Japanese netsuke of an ivory hare (we know, it's technically a different species, just go with it) with real amber eyes. Barely an inch all around, it's a noticeably smaller presence than King Bunny, and it's not as difficult to spot as it's protected in a glass case, but in its tiny form and glittering eyes it makes a charming and surprisingly powerful impact. We think it's wise to keep a close eye… just in case.
– Rachel Eggers, SAM Associate Director of Public Relations
Images: Installation view of HYPNOSIS (detail) as part of Anthony White: Limited Liability at the Seattle Art Museum, 2022, Photo: Alborz Kamalizad. Netsuke modeled as a hare with amber eyes, Japanese, late 19th century, ivory, amber, 1 1/16 x 7/8 x 1 1/8 in., Duncan MacTavish Fuller Memorial Collection, 33.438, Photo: Elizabeth Mann.