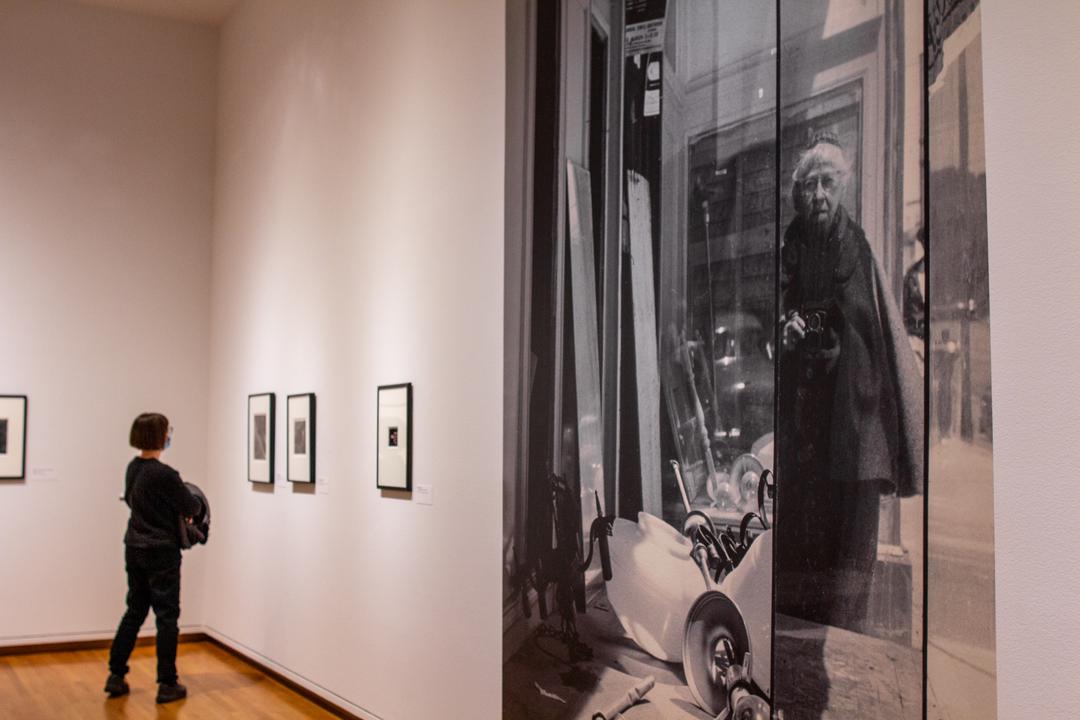 We wrapped up SAM Photo Club for Imogen Cunningham: A Retrospective with a whopping 1,517 posts contributed by photographers from all over the world. To take part, all you had to do was tag your photo with #SAMPhotoClub on Instagram in one of the defining categories of Cunningam's long and illustrious career: Portraits, botanicals, street, and dance photography. Then we invited members of the Cunningham advisory board to select their favorites to be featured here! We also worked with photographer Ashley Armitage to spread the word about SAM Photo Club and she shared some of her own images from each category that we've gathered selections of in a slideshow below. Ashley catapulted herself into photography and directing at 15 years old after observing the lack of diversity and representation in the media. Her work dismantles beauty standards and pushes outdated societal boundaries. Stay tuned for the next round of SAM Photo club, coming soon!
Portraits selected by Robert Wade

For me, the photographer took this character study to a different level with the inclusion of the Marilyn Monroe graphic on the women's garment. The juxtaposition between the "real" of the subject and the "artificial" of Marilyn's pose is striking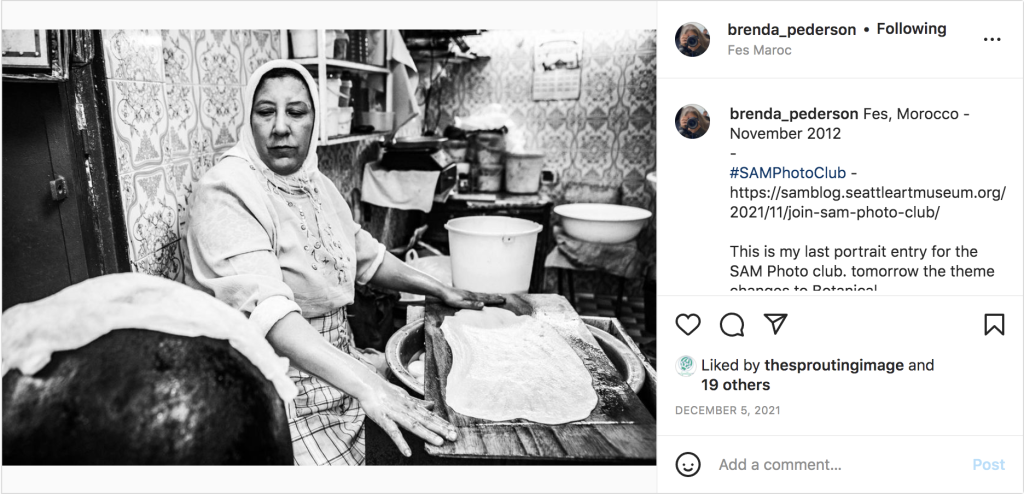 This photograph rings the bell for authenticity. It puts me in the setting, providing insight into the subjects work place and work day.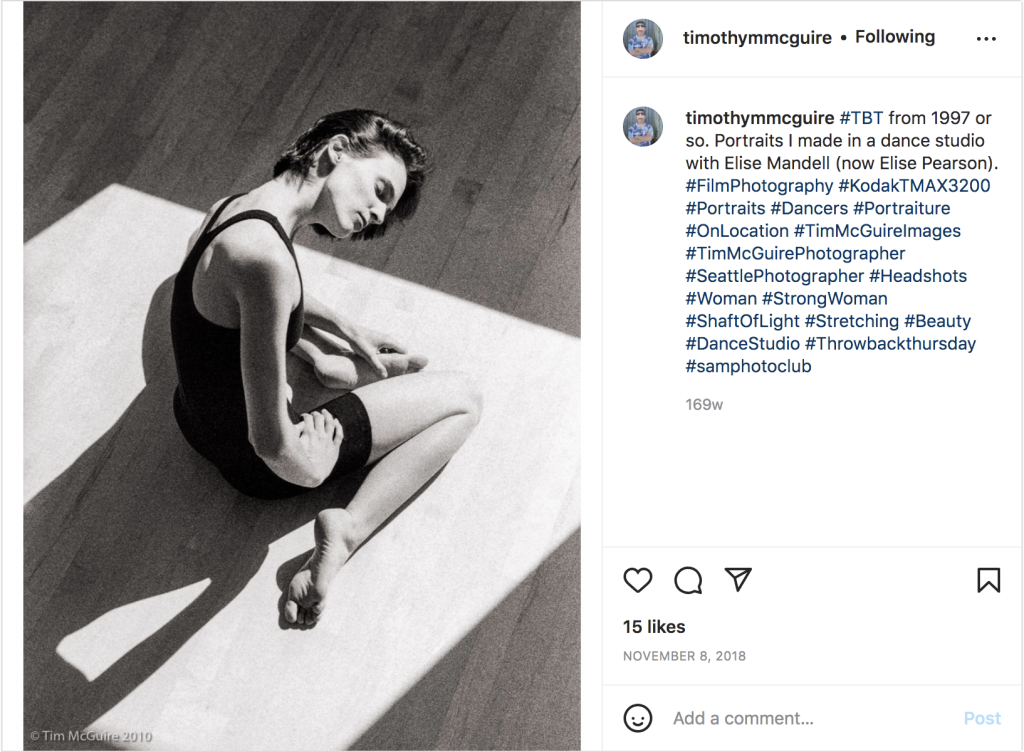 The framing, the pose, the camera angle and the contrast all speak to me. To my eye, this photo carries some of the spirit of Cunningham's work.

I find the water droplets and the enigmatic gaze of the subject compelling. I want to know more.

The lighting. The lighting. And the lighting. I love the lighting on this photo.
Robert Wade is a photo-based artist and event/performance photographer. He has a graduate degree from Stanford University in Communications and, in previous lives, was an information systems project manager, community college psychology instructor, management consultant, web site developer, restaurateur, and DJ. A long-time trustee of the Henry Art Gallery, Robert served as president of the Seattle Art Museum's Contemporary Art Council for six years and is a former board member of the Seattle Repertory Jazz Orchestra and the Center on Contemporary Art. Among Robert's clients are the Seattle Symphony, the Seattle Opera, the Seattle Art Museum, the Northwest African American Museum, the Monterey Jazz Festival, the City of Seattle Mayor's Office of Arts & Cultural Affairs, and the Seattle Public Library.
Botanicals selected by SuJ'n Chon

The clever use of focus and subject placement gives this composition a story with the "lead" mushroom in sharp focus leading the others through a field. The soft sepia tone and dark edges gives the plot mystery as if they are travelling surreptitiously in perilous circumstances.

There is something entirely comic about this image of a desperate leaf clinging with arms stretched out for dear life. The rainy window pattern provides a nice contrast to the vividly colored leaf, and the dark blurry lines from the tree outside add extra energy and movement to the composition.

Simple but powerful, negative space is used nicely to put the spotlight on the alium bud getting ready to break open. The blurry white "echo" behind the bud hints at even more anticipation of what could come, and adds visual interest to a composition that would be almost too simple without it.
SuJ'n Chon is a photographer, writer, multidisciplinary artist, and co-founder of IDEA Odyssey, a visual arts collective for emerging artists whose works focus on diversity, culture, and identity. She is a community advisory committee member of SAM's Imogen Cunningham exhibit. In her professional life, SuJ'n has served in administration roles for nonprofit and government agencies since 1991 and is currently the principal of Novum Lux, which primarily supports those doing work at the intersection of arts, education, and social justice.
Street photography selected by Carrie Dedon

This could have doubled in our Dance Photography competition, but if Cunningham could blur boundaries, so can I! This image has such a spirit of whimsy and humor that is present in a lot of Cunningham's street photography.

A true "stolen picture," as Cunningham would say—a very clever composition, caught in a perfectly candid moment. I also love the use of reflection in the shop window, a device Cunningham used often in her street photography as well.

The f/64 artists would love the sharpness of this image! I like how the figure, the puddles on the street, and the lines of the graffiti are all so graphically delineated, almost like a drawing.

Where street photography meets portraiture. This image strikes me as in spirit with Cunningham's ideas of capturing the "inner biography" of her subject, made all the more poignant as a chance encounter.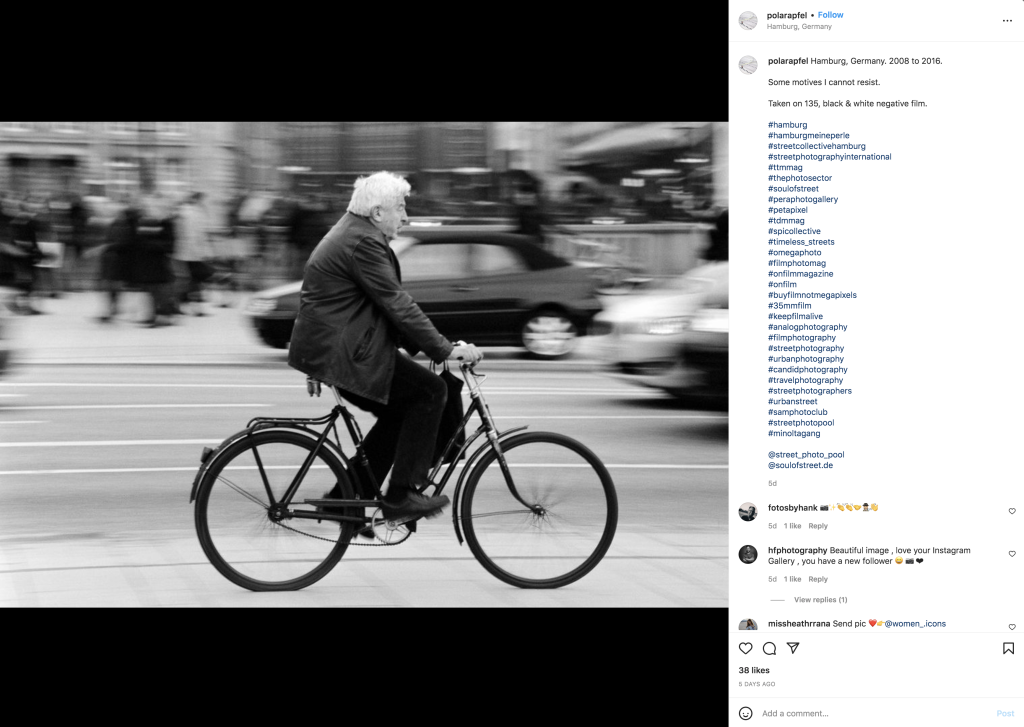 Movement, chance, and a little bit of humor—this speaks to so many of Cunningham's' street images!
Carrie Dedon is Assistant Curator of Modern & Contemporary Art at Seattle Art Museum and curated SAM's exhibition of Imogen Cunningham: A Retrospective.
Dance photography selected by Catherine Nueva España

Though dance is often social or performed in groups, some of my strongest dance memories involve being alone, working through a difficult bit of choreography. It feels that to me that this dancer is asking us for some space and quiet time so they can focus.

Many of Imogen Cunningham's artist portraits convey both the essence of the person and their artistry. This photograph struck me as both portrait-like and a demonstration of the dancer's artistry.

It has become a cliché to say, but I do think it is important to dance like no-one is watching! This photograph describes the joy of dance: being out in public, dancing in the middle of the street, masked, with lots of people around you, spontaneous, sweaty…you can almost hear the music.

If Imogen Cunningham took ballet as a child, I imagine that this would be her self-portrait: a sense of purpose, beauty, and subtle use of shadow and light.

As an audience member, I love seeing performers moving close together like this – each dancer senses their own individuality and is aware of the charged space between them and others. This could easily be a city street scene as well.
Catherine Nueva España is the Interim Executive Director at On The Boards and was the former Executive Director at Velocity Dance Center. She started dancing at age 6, trained in Manila, New York, and London, and considers herself a lifelong dance student. She supports artists and arts organizations through her service as a WA State Arts Commissioner, grants panelist, and consultant. She enjoyed her time as a community advisor for SAM's Imogen Cunningham exhibition, when her love of dance, photography, and community collaboration came together.

– Chelsea Werner-Jatzke, SAM Digital Marketing Manager
Image: Installation view of Imogen Cunningham: A Retrospective at Seattle Art Museum, 2021, photo: Natali Wiseman