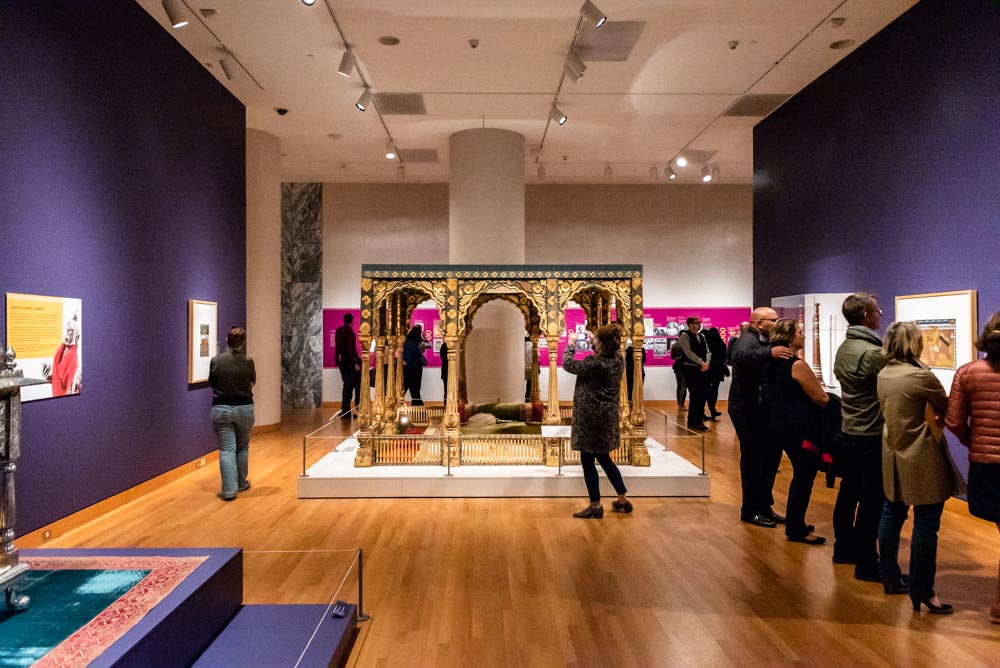 SAM News
"My jaw is still on the floor." Washington Post art critic Sebastian Smee looks back at art in 2018 "from Nanette to the Carters," naming Peacock in the Desert as one of the year's best exhibitions.
Peacock in the Desert was also featured in last week's edition of Real Change by Lisa Edge, who says it "wows right away."
Artnet includes SAM installation In This Imperfect Present Moment on their round-up of "32 Inspiring Museum Exhibitions to See Across the US Over the Holidays," one of only seven shows in the western US to be recognized.
At the recent Great Figgy Pudding Caroling Competition, SAM Education's Priya Frank and David Rue joyfully represented as judges; don't miss this Evergrey video with Priya about the event, which raises funds for our neighbor the Pike Market Senior Center.
Local News
The new Seattle Opera building celebrates its grand opening last weekend; Crosscut's Brangien Davis goes inside the facility's light-filled costume shop, which includes a dedicated space for wig making.
Local writer Emily Pothast debuts in Art in America with this review of Group Therapy at the Frye Art Museum.
Seattle Times food critic Bethany Jean Clement on "Cook," an unpretentious cookbook with recipes and illustrations from "artists, gallerists, curators, food-industry types, friends."
"'The aesthetic of the book is totally an homage to every community cookbook — every church, Junior League, elementary school cookbook — ever made,' she says. She found an old-school cursive typewriter font to use for some of the recipes. 'If I could've made it on a ditto machine, I would've,' Ito adds."
Inter/National News
"The butt, yeah—the butt's great." Art critic Jerry Saltz takes a statue of Michelangelo's David into a NYC subway station.
Artnet reports that Kaywin Feldman has been appointed the first-ever female director of DC's National Gallery of Art. Revisit her essay published earlier this year on "museum leadership in a time of crisis."
Feldman departs the Minneapolis Institute of Art; speaking of, the Mia just debuted a new in-house smartphone app "that transforms the galleries into a giant escape room."
"'It's one of the many ways we are embracing the idea of meeting our customers where they are, welcoming them to the space, helping them find surprise and delight,' said Douglas Hegley, Mia's chief digital officer."
And Finally
She styled songs, she marched in Selma, she stole hearts. Goodbye, Nancy Wilson.
– Rachel Eggers, SAM Manager of Public Relations
Image: Installation view of Peacock in the Desert: the Royal Arts of Jodhpur, India at Seattle Art Museum, 2018, photo: Robert Wade