Figuring History: The Joy and Exuberance of Black culture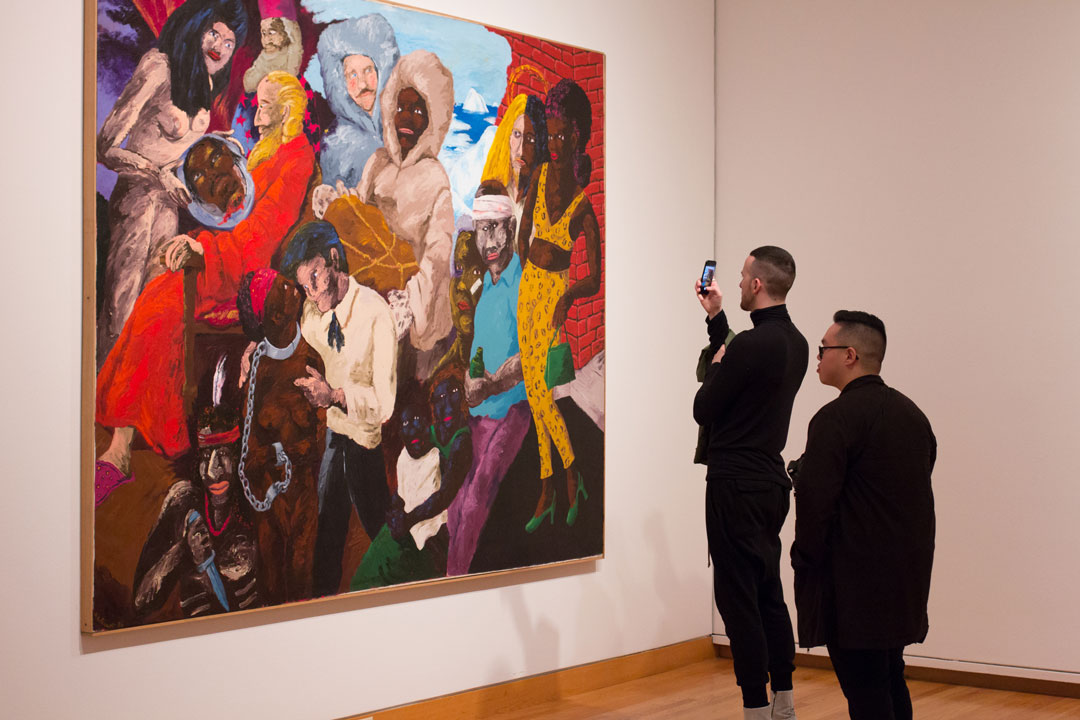 What thoughts has Figuring History: Robert Colescott, Kerry James Marshall, Mickalene Thomas inspired in you? Hear from Seattle artist Benji Anderson, a featured artist in Off the Walls: After Dark at the Seattle Asian Art Museum this past September. We love sharing thoughtful community members' writing, so please reach out if you would like to send a piece for consideration to be published on the SAM Blog!
In February, as I prepared to enter the Seattle Art Museum for the Community Celebration for Figuring History: Robert Colescott, Kerry James Marshall, Mickalene Thomas, what seemed like endless thoughts swirled around in my mind. It was Black History month and opening weekend for the movie Black Panther— the joy and exuberance of Black culture was palpable in the air.
This was in stark contrast to just over a year earlier, when the collective anguish and discontent of Black society was reeling in the wake of the latest barrage of Black bodies murdered in the streets and broadcast in 'real time' for all to view. I still recall the gut-wrenching emotion of watching a Black father, murdered in his vehicle, minutes away from where my own father lived. I remember this pain so vividly because it was not the first time I'd felt it. It was not the first time the Black community watched their brothers, fathers, and sons murdered at the hands of those sworn to protect and serve. It was not the first time we were dehumanized in the public theater. It was not the first time we were criminalized for being. It was history repeating itself.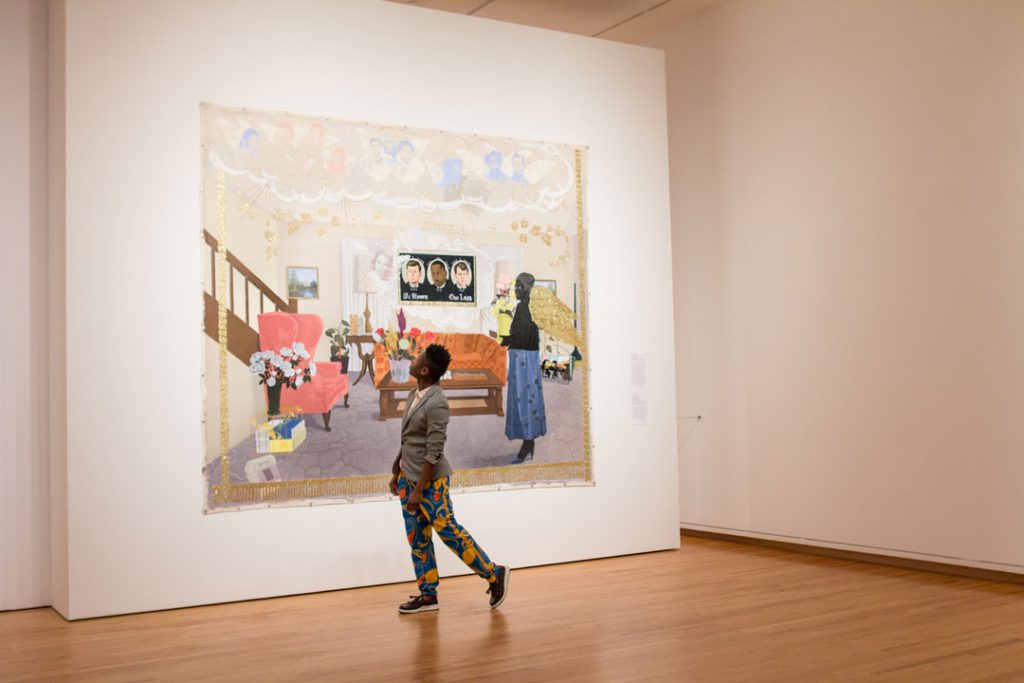 The weight and memory of historical trauma accompanied me into the museum, tugging at my coat with each breath of Black excellence I inhaled. As I stood in gratitude for Mickalene Thomas, Kerry James Marshall, and Robert Colescott, I also stood in sorrow of the circumstances that produced such beautiful stories and art. In each historical work I found traces of my own story. In Colescott's Matthew Henson and the Quest for the North Pole, (pictured at the top of this post) the images of Black bodies being simultaneously brutalized and fetishized depict the story of my great-great-grandmother who was raped by her oppressor, giving birth to my great-grandfather who would later be praised for his "passable" complexion, wavy hair, and light eyes. Marshall's Souvenir II portrays a cloud of witnesses, prominently featuring Martin Luther King Jr. and John F. Kennedy, hallmarks in the home of my own, and many other Black grandmothers across the country, and emblematic of the complicated socio-political relationship we share with this nation.
In Thomas' Resist, the Civil Rights era struggle of my parents was laid in front of me through a collage of violent vignettes. As I watched this piece I saw my uncle's resistance, which left him brutally beaten and jailed for having the audacity to seek a human existence. I also saw my father and his siblings, the first to integrate the school systems in North Carolina. I felt the collective fear and courage he carried with him as the only Black student in his school. And as my chest tightened, breath shortened and fists clinched I remembered where I stood—rooted in the past, squarely in the present, carrying my portion of the mantle of Black excellence. As I gathered myself, I walked out of the museum breathing in the joy and exuberance of Black culture. Each breath gradually healing the wounds of my genetic trauma.
– Benji Anderson, Artist (@benjipnewton)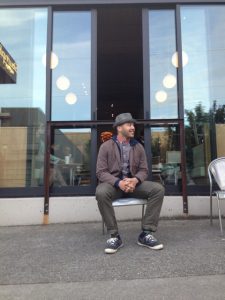 Benji Anderson is an artist, theologian and philosopher. Three identities that suffered separate existences for much of Benji's life. Born in the South and raised in the Mid West, his early cultural learnings taught Benji that it was not only prudent, but necessary to compartmentalize his identities. Surprisingly it was through his academic journey that Benji began to fully exist as a being capable of complex, and seemingly contradictory identity. As a Master of Divinity student, Benji embarked on a process of deep self-excavation, which, upon completion of his degree, provided Benji with the license to live authentically.
As theologian and philosopher, Benji is concerned with the quality and depth of life. As artist, Benji concerns himself with the creative expression of his theosophical existence. Using a variety of mediums Benji endeavors to create multi-sensory pieces that thrust the viewer into the experience of the artist – not simply as a voyeur, but as a participant.
Images: Installation view of Figuring History: Robert Colescott, Kerry James Marshall, Mickalene Thomas at Seattle Art Museum, 2018, photos: Stephanie Fink, Natali Wiseman. Resist, 2017, Mickalene Thomas, rhinestones, acrylic, gold leaf, and oil stick on canvas mounted on wood panel, 84 x 108 x 2 in., © Mickalene Thomas, video: Natali Wiseman. Photo courtesy of Benji Anderson.