Poet Morgan Parker on Mickalene Thomas, Beyonce, and Figuring History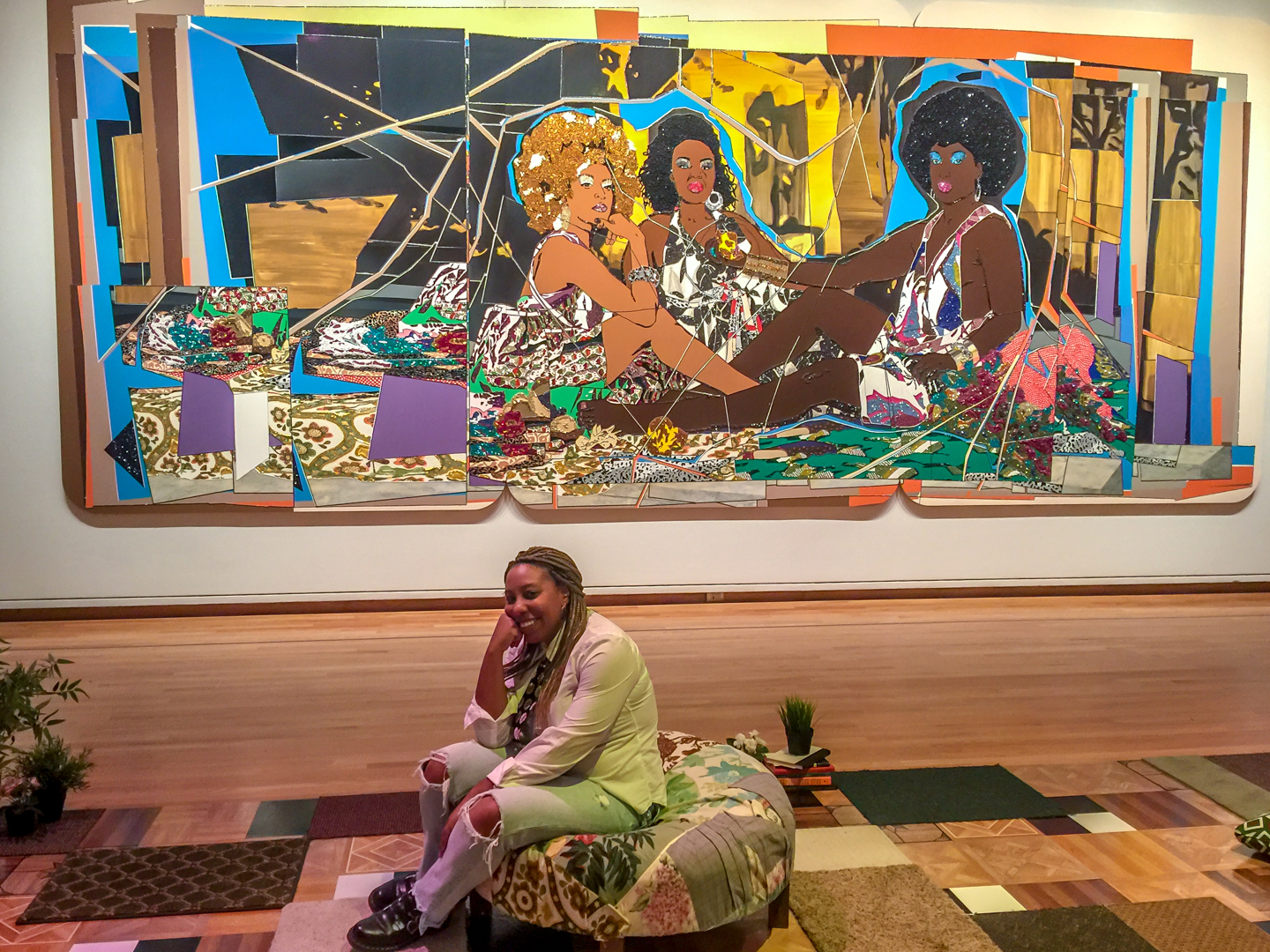 As National Poetry Month comes to a close, if you're not sure what to read, visit the library inside of the exhibition Figuring History: Robert Colescott, Kerry James Marshall, Mickalene Thomas, closing May 13. While there you'll notice a book of poetry by Morgan Parker titled There Are More Beautiful Things Than Beyoncé (Tin House, 2017). It's a recent favorite read of this particular copywriter and the cover of the first edition (now sold out) featured a Mickalene Thomas artwork. More importantly, within the pages of this smart, irreverent, and deeply personal collection of poetry is a piece inspired by Thomas, reprinted below! Morgan Parker simultaneously brings great depth to listening to Drake and immense weight to racial discrimination as she fearlessly invokes generations of social injustices within her powerful and playful prose. Parker stopped by the exhibition while visiting Seattle and shared some thoughts on Figuring History as well!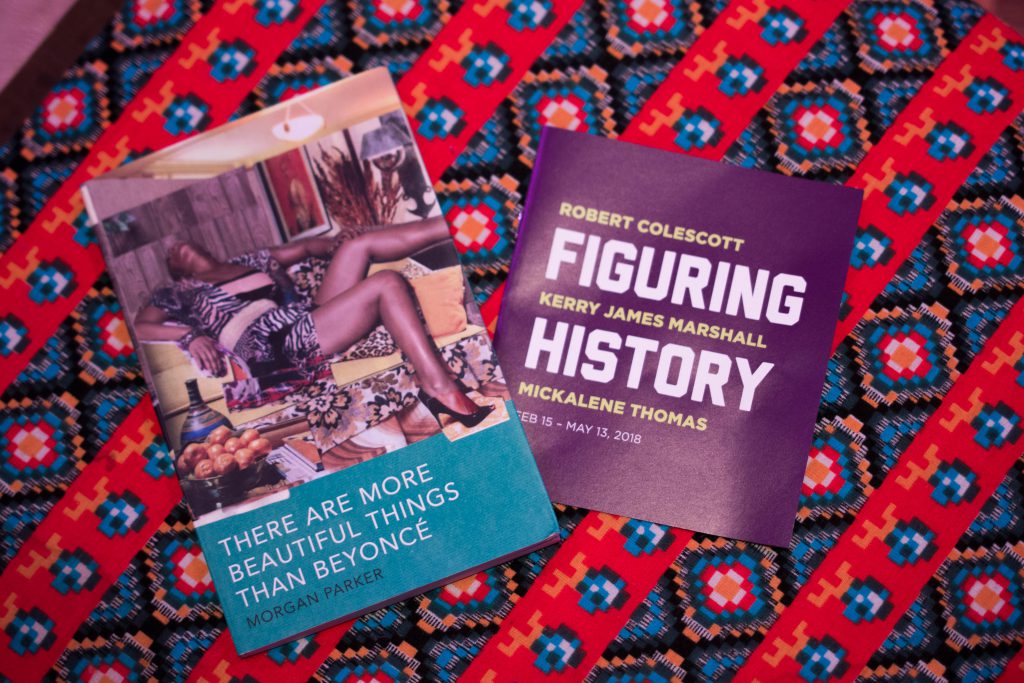 We Don't Know When We Were Opened (Or, The Origin of the Universe)
after Mickalene Thomas
By Morgan Parker
A sip of liquor from a creek. Saturday syndicated
Good Times, bare legs, colors draped like
an afterthought. We bright enough to blind you.
Dear anyone, dear high-heel metronome, white
noise, hush us, shhhhh, hush us. We're artisinal
crafts, rare gems, bed of leafy bush you call
us superfood. Jeweled lips, we're rich
We're everyone. We have ideas and vaginas,
history and clothes and a mother. Portrait-ready
American blues. Palm trees and back issues
of JET, pink lotion, gin on ice, zebras, fig lipstick.
One day we learned to migrate. One day we studied
Mamma making her face. Bright new brown, scent of Nana
and cinnamon. Shadows of husbands and vineyards,
records curated to our allure, incense, unconcern.
Champagne is how the Xanax goes down, royal blue
reigning. We're begging anyone not to forget
we're turned on with control. We better homes and gardens.
We real grown. We garden of soiled panties.
We low hum of satisfaction. We is is is is is is is is
touch, touch, shine, a little taste. You're gonna
give us the love we need.
SAM: Reading We Don't Know When We Were Opened there's a lot of assonance that creates repetition and fragmentation that feels to me like a sonic equivalent to Mickalene's visual fragmentation. What in Thomas' work inspired you and this poem, formally or thematically?
Morgan Parker: I've always loved Mickalene's work, for the glitter and the color and the attention and the audaciousness. Her work is a celebration, and it's also a politically intentional decolonization of the art history canon. She builds new worlds and revels in those worlds. I wanted my poem to reflect her work and add to it, translate it in my own words.
How do you think the persona poem and the way that Mickalene Thomas casts her models as art historical figures and tropes relate? Mickalene's figures are looking right at you and this alters their role—makes them dimensional, such as in a painting like Tamika sur une chaise longue avec Monet. Where do you think that same dimension lives persona poems?
God I love this painting. I like to think of all my first-person poems as playing with dimensionality. I'm interested in using the singular figure, or voice, to call up cultural figureheads and historical tropes. Persona poems are an extension of that—they have two first-person speakers.
What stuck with you from your visit to the exhibition? Any lingering or new thoughts?
Kerry James Marshall's Souvenir I always makes me cry. It was also fantastic to see Robert Colescott's work in person, as I've been thinking about it a lot lately. I love the way it engages stereotypes and recasts history so playfully and comically. In a different way than Mickalene, there's trickery in acknowledging the audience's gaze—that's something I'll be thinking over for a while.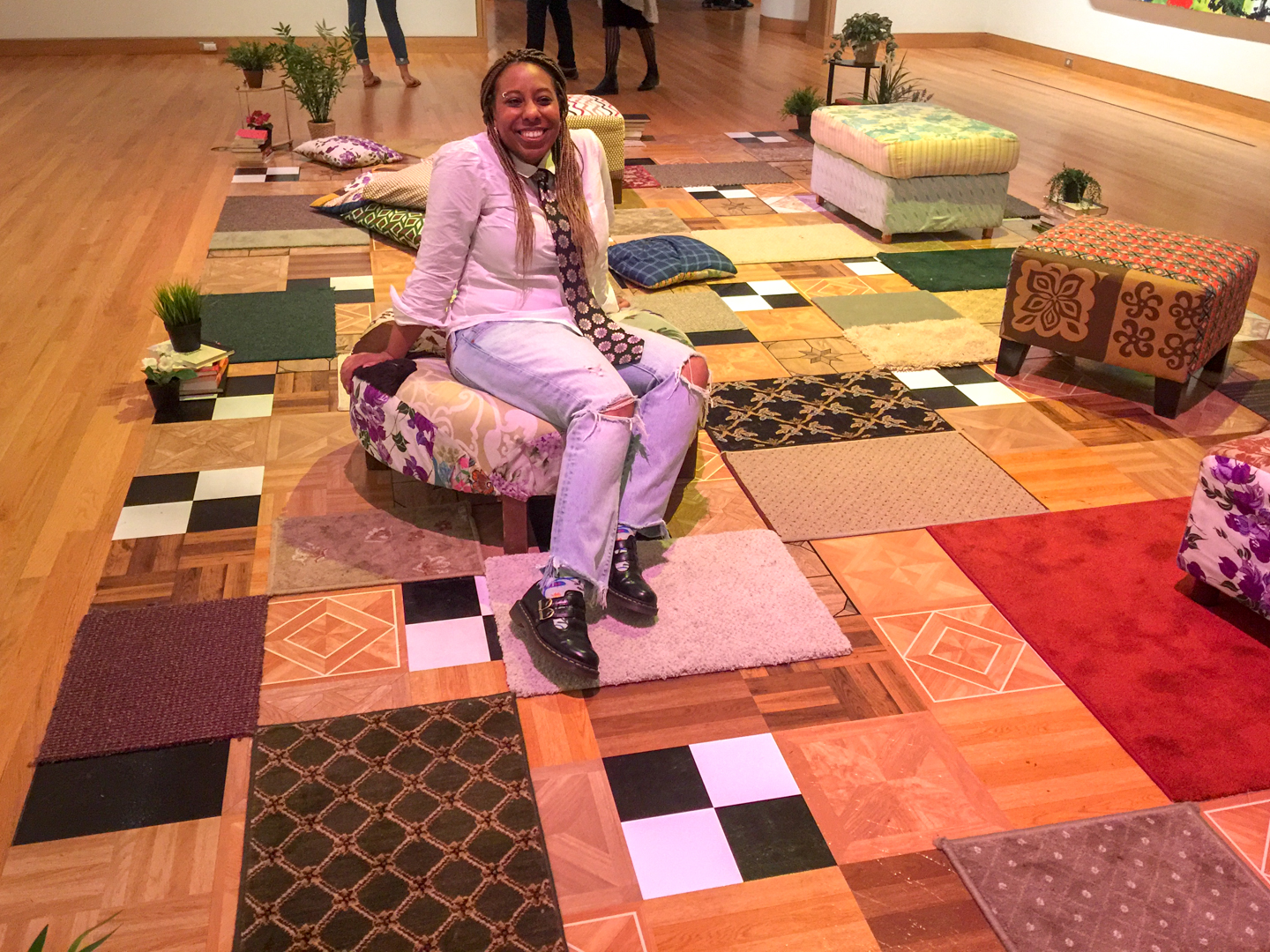 Morgan Parker is the author of There Are More Beautiful Things Than Beyoncé and Other People's Comfort Keeps Me Up at Night. In 2019, a third collection of poems, Magical Negro, will be published by Tin House, and a young adult novel will be published with Delacorte Press. Her debut book of nonfiction will be released in 2020 by OneWorld. Parker is the recipient of a 2017 National Endowment for the Arts Literature Fellowship, winner of a Pushcart Prize, and a Cave Canem graduate fellow. She is the creator and host of Reparations, Live! at the Ace Hotel. With Tommy Pico, she co-curates the Poets with Attitude (PWA) reading series, and with Angel Nafis, she is The Other Black Girl Collective. She lives in Los Angeles.
– Chelsea Werner-Jatzke, Content Strategist & Social Media Manager
Images: Photo courtesy of Morgan Parker. Photo by Nina Dubinsky. Video: Tamika sur une chaise longue avec Monet, 2012, Mickalene Thomas, Sydney & Walda Besthoff, Courtesy of the artist and Lehmann Maupin, New York and Hong Kong, © Mickalene Thomas. Photo courtesy of Morgan Parker.