Muse/News: A brilliant show, subversive sculpture, and the future of art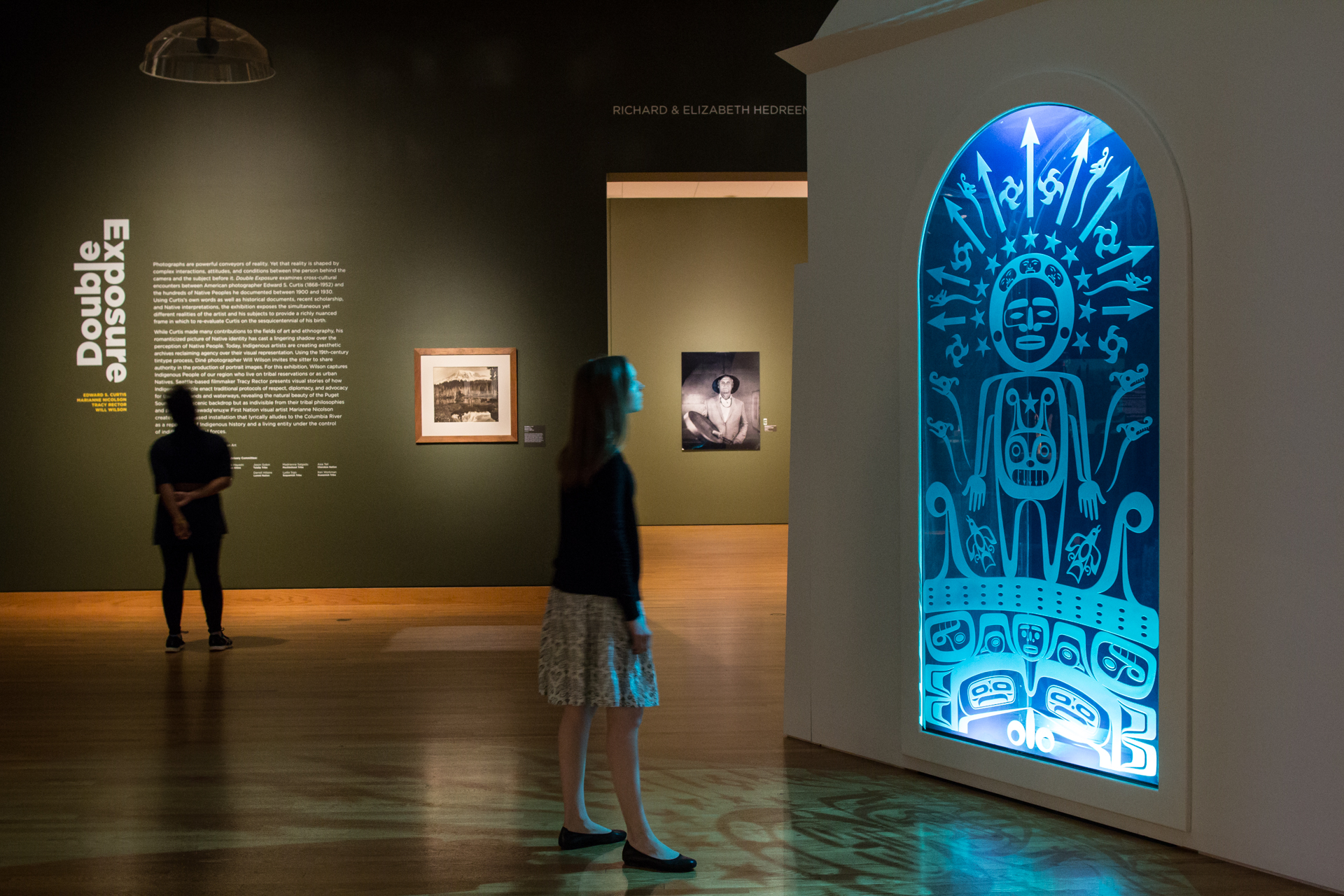 SAM News
Double Exposure: Edward S. Curtis, Marianne Nicolson, Tracy Rector, Will Wilson was highlighted by AFAR Magazine as one of "10 Brilliant U.S. Art Exhibitions Worth Traveling for This Summer."
And our curator, Barbara Brotherton, was interviewed about the exhibition for a story in London-based Huck Magazine.
"'The work of these artists stands in sharp juxtaposition to the elegant Curtis photographs with their romanticized approach that casts Native people in the past,' Brotherton concludes. 'Native people did not vanish. They are resilient and deeply engaged in the issues of identity today.'"
Lots of love for SAM and the Olympic Sculpture Park: Both are recommended in the Stranger's 2018 Visitor Guide on their list of "Best Places to See Art." Condé Nast Traveler features SAM as one of their "Best Things to Do in Seattle" on their newly revived site, and Dwell Magazine kick off their list of "Top 8 Outdoor Sculpture Parks" with the Olympic Sculpture Park.
Local News
"'Painters Who [Expletive] Know How to Paint' is not a shy title for an exhibition." Darn right, Gayle Clemans. Here's her Seattle Times review of the "vigorous" show now on view at Center on Contemporary Art (CoCA).
Crosscut's Michael Upchurch reviews Castoffs, now on view at the Henry, calling Martha Friedman's deconstructed sculptures of dancer Silas Riener's body "mischievously subversive."
The July edition of City Arts is out! It's the Interview Issue; don't miss the cover story featuring a conversation between Ijeoma Oluo and Emmett Montgomery.
"Freedom and progress look like something I can't even envision yet. And I think art is very similar—the future of art doesn't look like anything you see right now. That's maybe the next five minutes of art."
Inter/National News
I say, more Beyoncé videos. But seriously: Alina Cohen of Artsy takes a look at the challenges museums face in this article, "How Art Museums Can Remain Relevant in the 21st Century."
Check out the University of North Carolina's "Archivist in a Backpack" project that seeks to "make archive creation more accessible by offering resources that can easily launch community partners on memory projects."
Remember when the Baltimore Museum of Art announced they'd sell big-name artworks to fund purchases of contemporary art by women and artists of color? Don't you want to know what they bought??
"'You can't stop now,'" Bedford says. 'You have to acknowledge that you will never, at least in our lifetime, get to true equity within the museum. But I think there is virtue in continuing to push for it relentlessly.'"
And Finally
A doozy of a Long Read: Thomas Chatterton Williams on Adrian Piper for The New York Times Magazine.
– Rachel Eggers, SAM Manager of Public Relations
Image: Installation view of Double Exposure: Edward S. Curtis, Marianne Nicolson, Tracy Rector, Will Wilson, 2018, installed at Seattle Art Museum, 2018, photo: Natali Wiseman.