Memorializing Trans Lives in Project 42 at SAM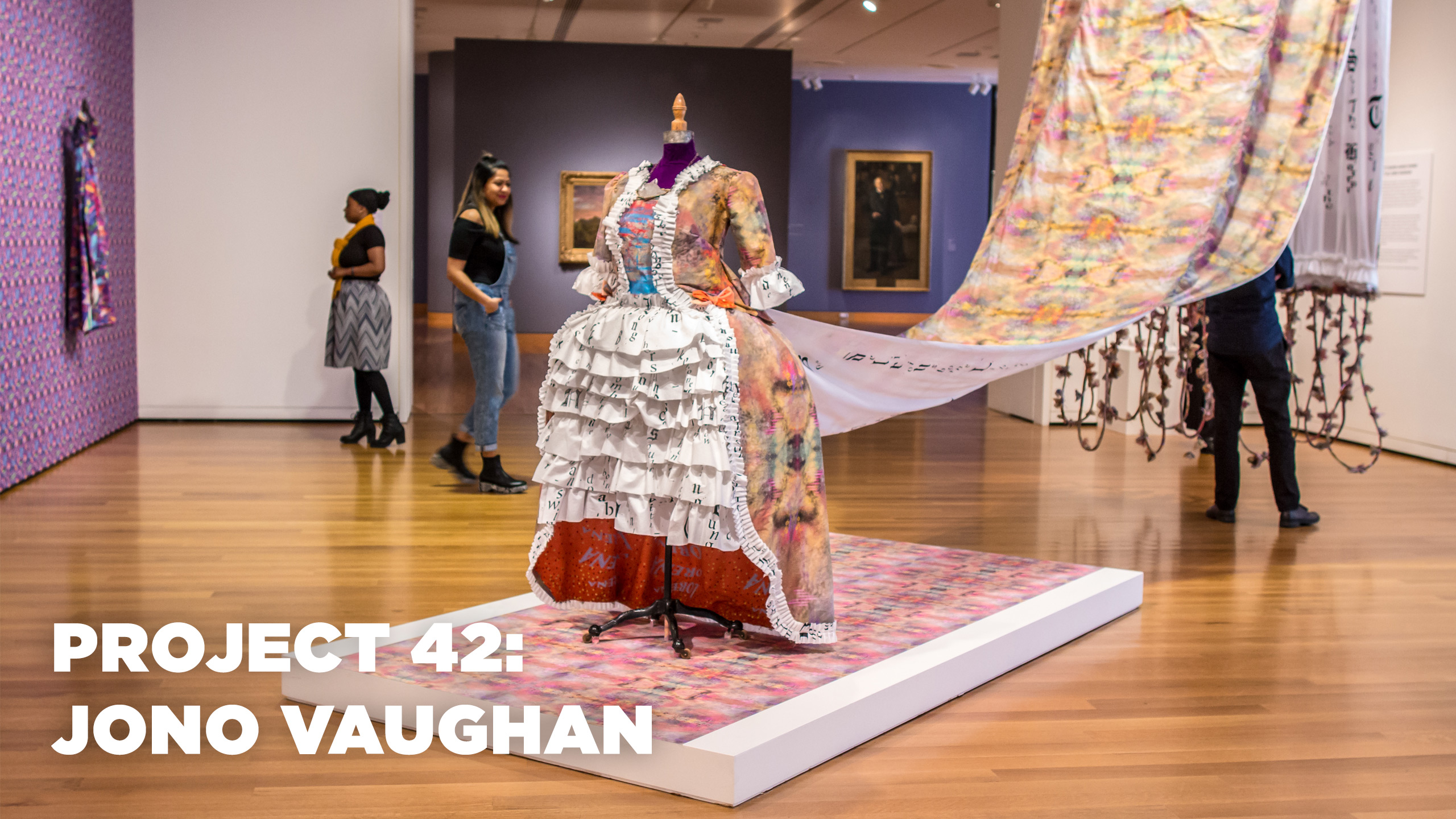 At the center of Project 42: Molly Vaughan stands an elaborate dress with a 25-foot-long train hanging down from the ceiling. Created for the 2017 Betty Bowen Award winner installation at SAM, it is one of artist Molly Vaughan's most ambitious pieces in the series that will eventually include 42 garments memorializing murdered trans individuals.
Seattle-based artist Molly Vaughan made this particular garment in collaboration with Lesley Dill in memory of Lorena Escalera Xtravaganza. Created using a vintage victorian form for a bustle, the train is covered in a reorganized poem by Emily Dickinson. Lesley Dill selected "The Soul Has Bandaged Moments" and stenciled it by hand as she rearranged the text and broke stanzas.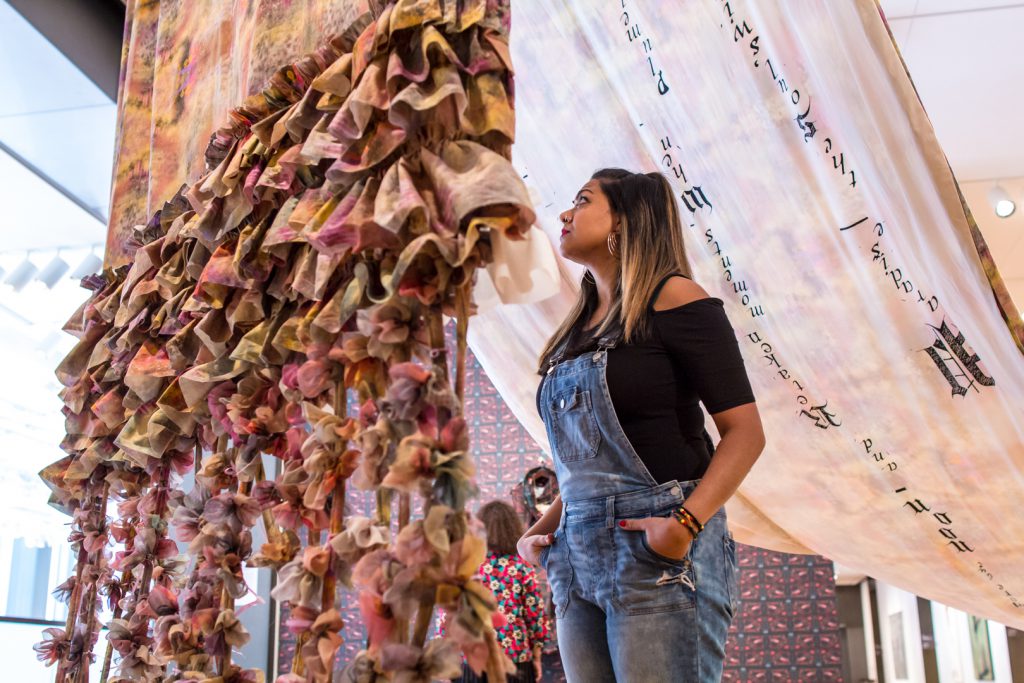 "Lesley was an inspiration to me and to Project 42," says Molly Vaughan. "As a docent at the the Orlando Museum of Art I toured a dress of Lesley's and it left a big impact on me. As a printer, it's my job to replicate the hand of the artist who intentionally hand-stenciled the text, rather than digitally reproducing it." Look closely and you'll see the pen strokes of Lesley Dill's process. What you won't see when you visit, is the embroidery on the interior of the garment that Molly has created just for Lorena that is meant to convey her inner life and extravagance.
Lesley Dill says that she works with Emily Dickinson's text often because "Dickinson's writing is the door I walked through to become an artist." After reciting a stanza of this specific poem over the phone she continues to explain: "It's a gothic poem and speaks of a poetic persona whose identity is haunted and exhilarated. A large part of the entire Project 42 is about the vivacity of life and bandages of the soul. I feel that Lorena and the project are deserving of intensity and multiple layers of meaning."
Formatted on the train of the garment in the gallery the poem is difficult to read so we're sharing it here for you.
The Soul Has Bandaged Moments
The Soul has Bandaged moments –
When too appalled to stir –
She feels some ghastly Fright come up
And stop to look at her –
Salute her, with long fingers –
Caress her freezing hair –
Sip, Goblin, from the very lips
The Lover – hovered – o'er –
Unworthy, that a thought so mean
Accost a Theme – so – fair –
The soul has moments of escape –
When bursting all the doors –
She dances like a Bomb, abroad,
And swings opon the Hours,
As do the Bee – delirious borne –
Long Dungeoned from his Rose –
Touch Liberty – then know no more –
But Noon, and Paradise
The Soul's retaken moments –
When, Felon led along,
With shackles on the plumed feet,
And staples, in the song,
The Horror welcomes her, again,
These, are not brayed of Tongue –
– Emily Dickinson1
A large part of Molly's collaborative process involves asking her collaborators to research the individual being memorialized. The process left Lesley Dill reflecting that "Lorena Xtravaganza was trying to find and name her true self in a world that had no room for this search. Her murder is a catastrophe of culture. Molly is giving us a chance to memorialize individuals who wanted to simply exist inside of their nature. When our culture murders trans people, I feel our belief in human goodness is wounded. With Molly's work we are given new faith, we are reinvesting in faith."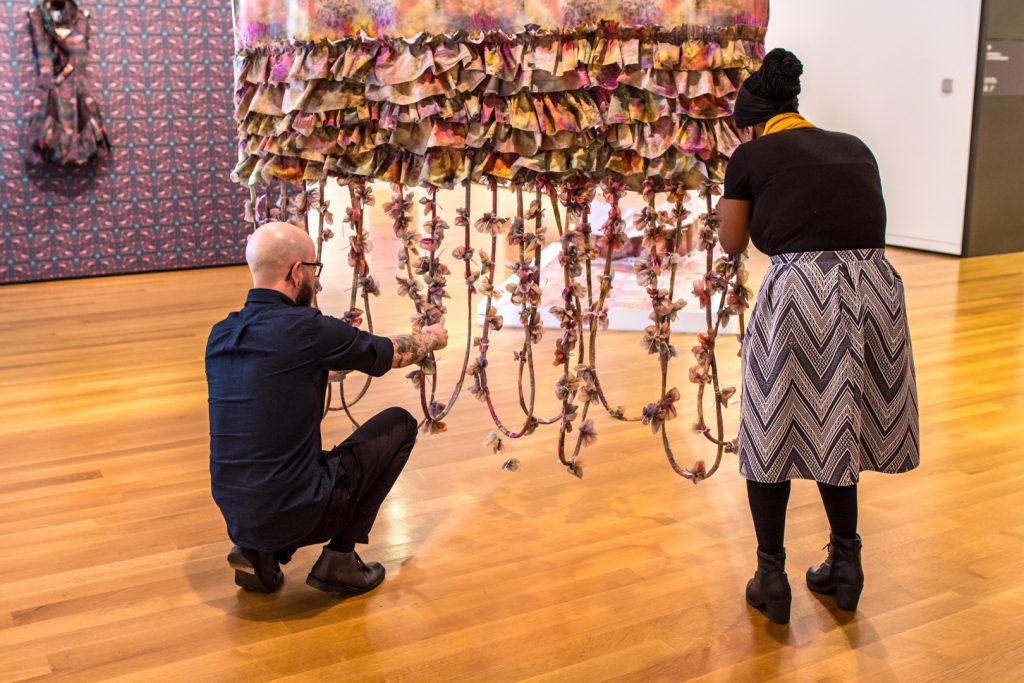 Find your faith renewed in humanity with a visit to Project 42. If you are looking for another reason to come, the garment created for Lorena Escalera Xtravaganza includes an interactive element where visitors are invited to tie fabric flowers to the train. Visit often if you hope to catch one of the unannounced performances that will take place in the galleries.
– Chelsea Werner-Jatzke, Content Strategist & Social Media Manager
1 Emily Dickinson, "[The soul has bandaged moments]" from The Poems of Emily Dickinson: Variorum Edition. Copyright © 1998 by Emily Dickinson.  Reprinted by permission of The Belknap Press of Harvard University Press.
Images: Installation view of Project 42: Molly Vaughan at Seattle Art Museum, 2018, photo: Natali Wiseman.