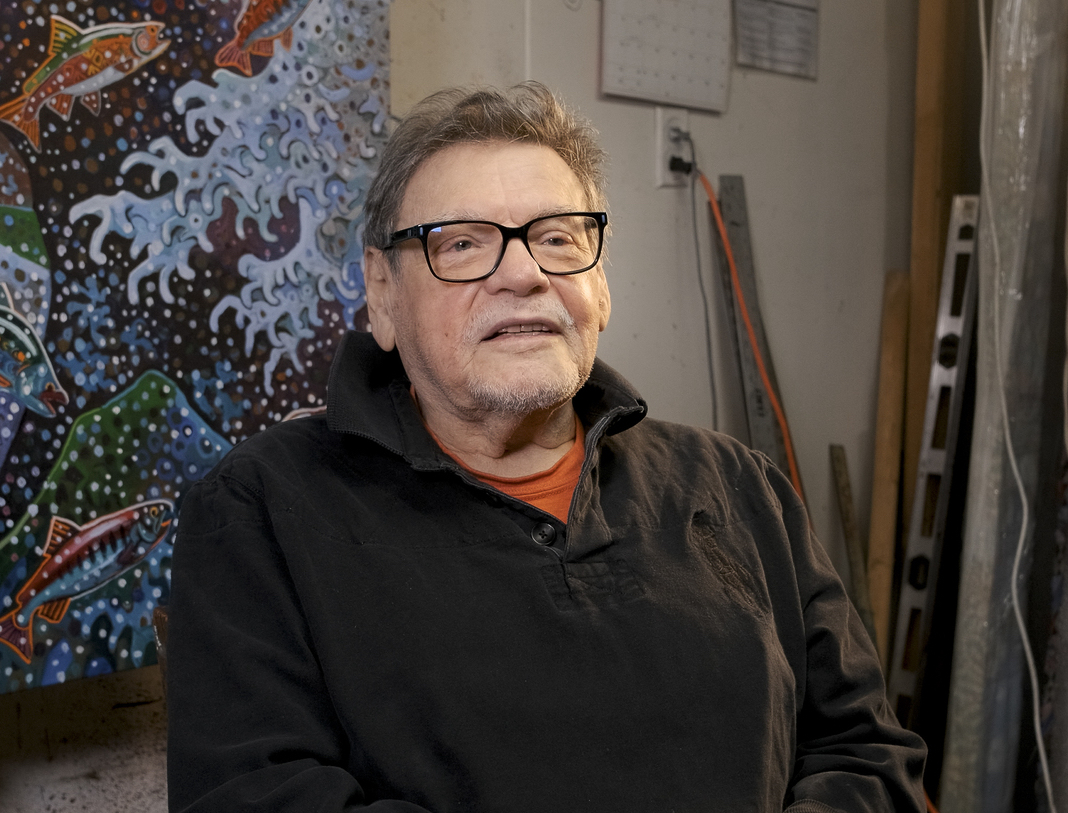 "Art is life. It is a vessel that allows me to express my perception of the world, my sense of beauty and my social concerns–which, I believe, are shared by many other persons around the world."

– Alfredo Arreguín, in an interview with Artophilia
Everyone at the Seattle Art Museum was very saddened to learn of the recent passing of beloved Seattle painter Alfredo Arreguín at the age of 88. Acclaimed for his lavish, intricately patterned, and highly symbolic canvases, he was one of the Pacific Northwest's most prominent Chicano artists. Last year, I had the pleasure of meeting Alfredo when the museum purchased his artwork, Four Self-Portraits (1995) for the collection. We were in the midst of checklist development for our major project to reimagine the museum's American art galleries and were struck by the underrepresentation of Mexican American artists in the museum's collection—particularly given the breadth of this community in our region. Jake Prendez, owner and co-director of Nepantla Cultural Arts Gallery, a member of our Advisory Circle for American Art: The Stories We Carry, and a wonderful resource on Seattle's Chicanx community and its artists, invited me to his gallery to view Alfredo's work. I was hooked. One visit to the artist's studio later, and we were on our way to acquiring the first of his paintings to enter SAM's collection.
Alfredo was born in Morelia, Michoacán in 1935, and was encouraged by his grandparents (who raised him) to begin painting at a young age. When he was nine, he enrolled in the Morelia School of Fine Art, eventually moving on to the prestigious Escuela Nacional Preparatoria at the University of Mexico, from which he graduated in 1956. That same year, encouraged by a local family, he came to Seattle and obtained a permanent visa so that he could attend Edison Tech (now Seattle Central College) to study English, earn his US high school diploma, and enroll at the University of Washington to study architecture. When a condition of his visa made him eligible for the draft, he entered the army and was stationed in Korea and Japan. Upon his discharge in 1960, he returned to architectural studies, eventually transitioning to interior design and, finally, the School of Art. While there, he studied alongside celebrated artists Alden Mason, Michael Spafford, and, for a time, Elmer Bischoff. After receiving his MFA in 1969, he settled permanently in Seattle, becoming a force among artists and an integral member of the local Chicanx community.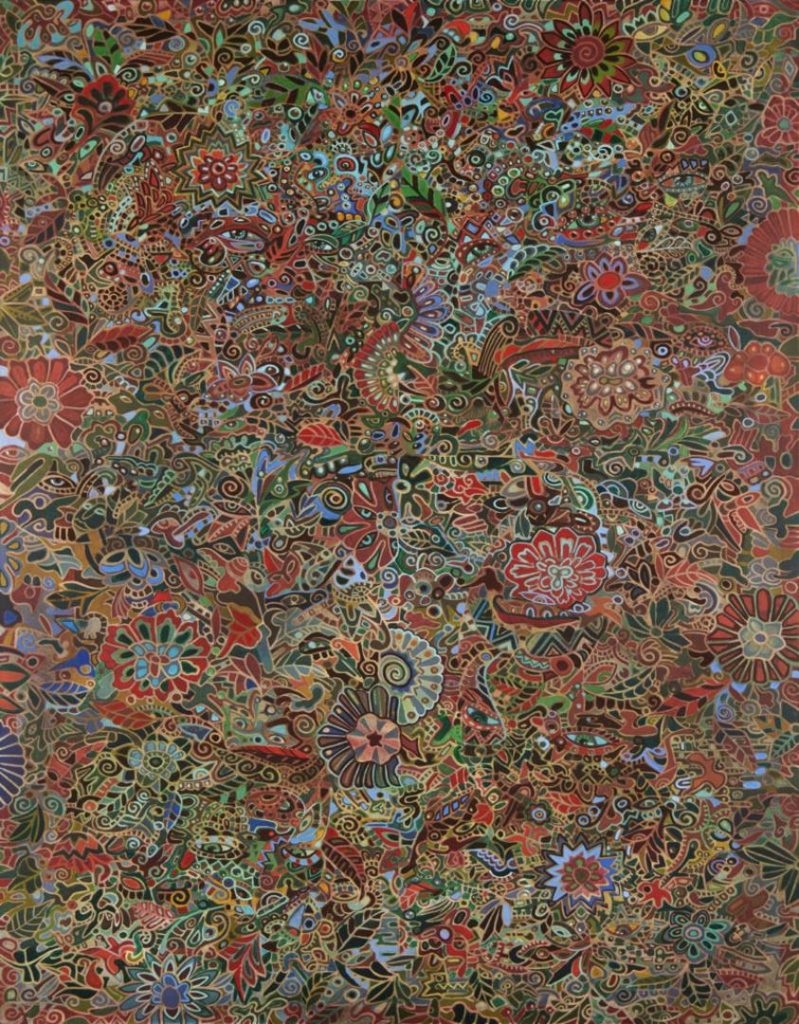 Alfredo is celebrated for his astonishing signature style: exuberant, mosaic-inflected, all-over compositions comprised of motifs derived from the rainforests and Indigenous cultures of Mexico, the compositions of Hokusai and Hiroshige, and the nature and topography of the Pacific Northwest. His work is closely aligned with American Pattern Painting of the 1970s, yet it is also deeply personal and symbolic. A series of paintings of historical figures Emiliano Zapata and Frida Kahlo, for example, pay homage to activists whose interests resonate with his own, while a body of landscape paintings encode the flora, fauna, and natural beauty that inspire him. For him, painting was a form of therapy, a flow activity to which he returned every day.
Arreguín's singular—even autobiographical—approach is nowhere more evident than in his large number of self-portraits, of which Four Self-Portraits is perhaps the most extreme and challenging example. A tapestry of tropical flowers, birds, leaves, arabesques, and ancient symbols interlace to camouflage four distinct portraits of Arreguín: two at the top and two more, mirrored, at the bottom—literally merging the artist with the places and cultures of his ancestry. Remembering Alfredo, I find myself seeing this engrossing painting afresh, grateful that SAM now shares in the legacy of this distinguished artist. Its acquisition will shape our collection strategy for years to come, as we amplify our efforts to bring in artworks—both historical and contemporary—by Chicanx and Latinx artists.
– Theresa Papanickolas, SAM Ann M. Barwick Curator of American Art
Photos: Alborz Kamalizad. Four Self-Portraits, 1995, Alfredo Arreguin, Oil on canvas, Painting: 49 3/8 x 42 3/8 in. (125.4 x 107.6 cm) Frame: 55 x 43 in. (139.7 x 109.2 cm), Bill and Melinda Gates Foundation Art Acquisition Fund, 2022.13 (c) Alfredo Arreguin.