Object of the Week: Study for Aleko's Horse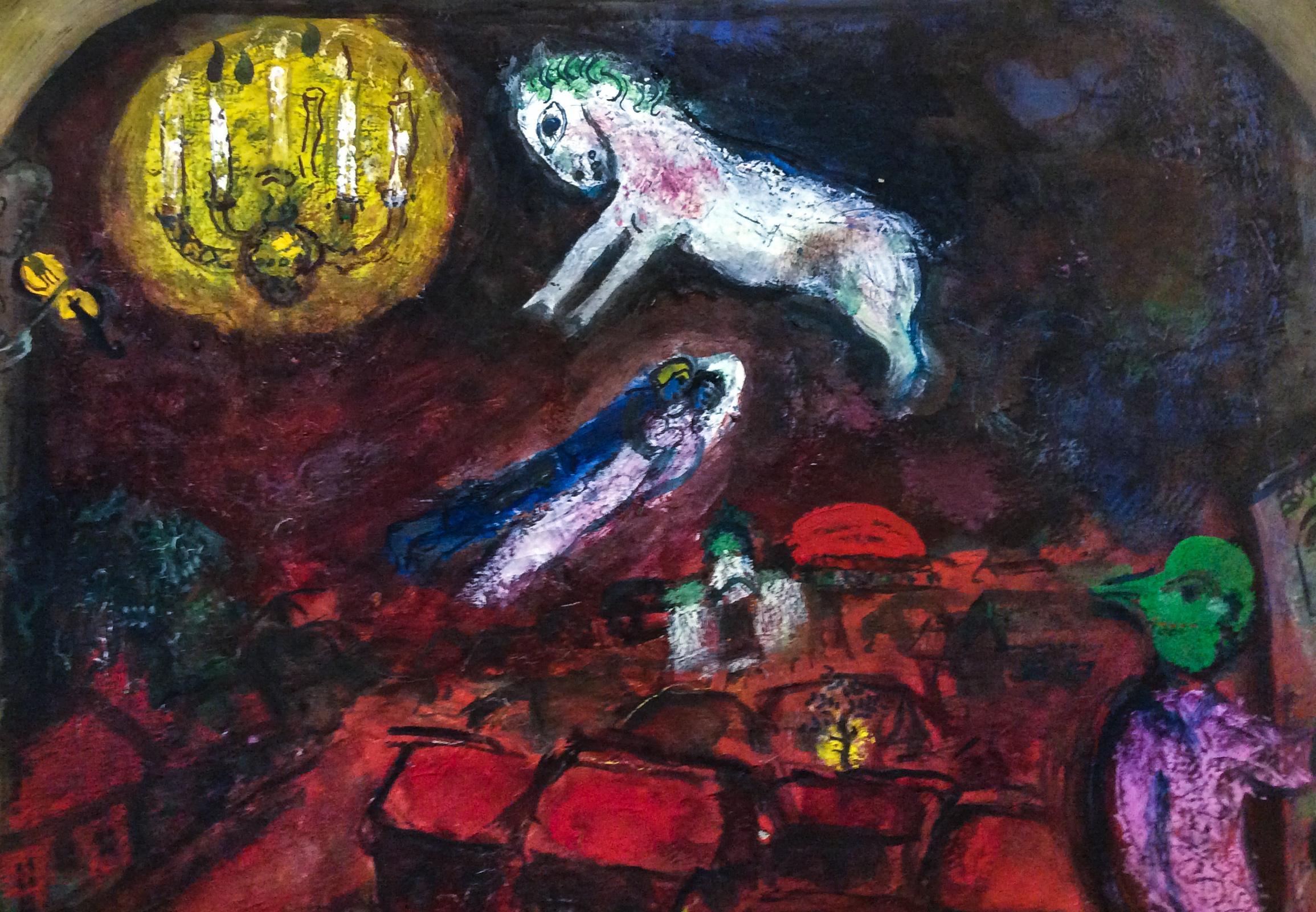 Marc Chagall was a prolific artist, producing numerous pieces in a variety of media. Renowned for his richly colored, idiosyncratic style of painting that weds abstraction and Cubism, some of his lesser-known masterpieces revolved around the theater. Chagall's relationship with the stage began in 1911, when he worked on set designs for the Ballets Russes. He continued to contribute to Russian-based stage designs throughout the '20s, before moving to Paris in 1923.[1] While this was an artistically productive period for Chagall, the Nazi occupation of France made living in Paris unsafe for the artist, who was Jewish. With the assistance of organizations working to extricate artists and intellectuals from Europe, Chagall and his wife immigrated to New York for the duration of World War II, arriving in the United States in 1941.
In 1942, Chagall was hired by the Ballet Theater of New York to design the ballet costumes and sets for a new play. Based on the poem "The Gypsies," by Alexander Pushkin, the ballet Aleko featured music by Tchaikovsky.[2] The ballet follows the story of Aleko, the protagonist who falls in love with a Romani girl named Zemfira. Their love is not everlasting, however, and by the fourth act Aleko kills Zemfira and her new lover in a fit of jealous rage. While Chagall had worked on set designs before, this was the first time he applied his skills to a ballet. He ultimately designed four backdrops—one for each act—and over 70 costumes. While the ballet's production was to be completed in New York, union rules forbade Chagall from painting his own sets. As a result, production moved to Mexico City, an environment which greatly influenced Chagall's designs. Heavily inspired by both Russian folklore and Mexican art and architecture, Chagall produced beautifully whimsical hand-painted ballet costumes and backdrops, including numerous design studies.
Chagall's Study for Aleko's Horse is one such study, merging images from both the second and fourth acts of the play. The study's rich, vibrant colors and whimsical subject matter capture the dynamic and psychological aspects of the story. In the second act, which revolves around a lively carnival, Aleko and Zemfira are still in love. By the fourth act, Aleko dreams of strange and nightmarish fantasies, with images that twist and swirl before his eyes. Aleko's nightmares take him to the brink of insanity—and, jealous and enraged, he kills Zemfira, in love with another man.[3] The juxtaposition of these two scenes represents the dramatic turn of events, synthesized in Chagall's study as a densely layered, colorful dreamscape.
– Hayley Makinster, SAM Curatorial Intern
[3] Leland Windreich, "Massine's 'Aleko,'" Dance Chronicle 8, no. ¾ (1985): 156-160, http://www.jstor.org/stable/1567580
Image: Study for Aleko's Horse, 1953-56, Marc Chagall, Oil on canvas, 18 × 24 in. (45.7 × 61 cm), Gift of Gladys and Sam Rubinstein, 2014.26.9 Estate of Marc Chagall/Licensed by Artists Rights Society (ARS), NY