Object of the Week: Aphrodite Torso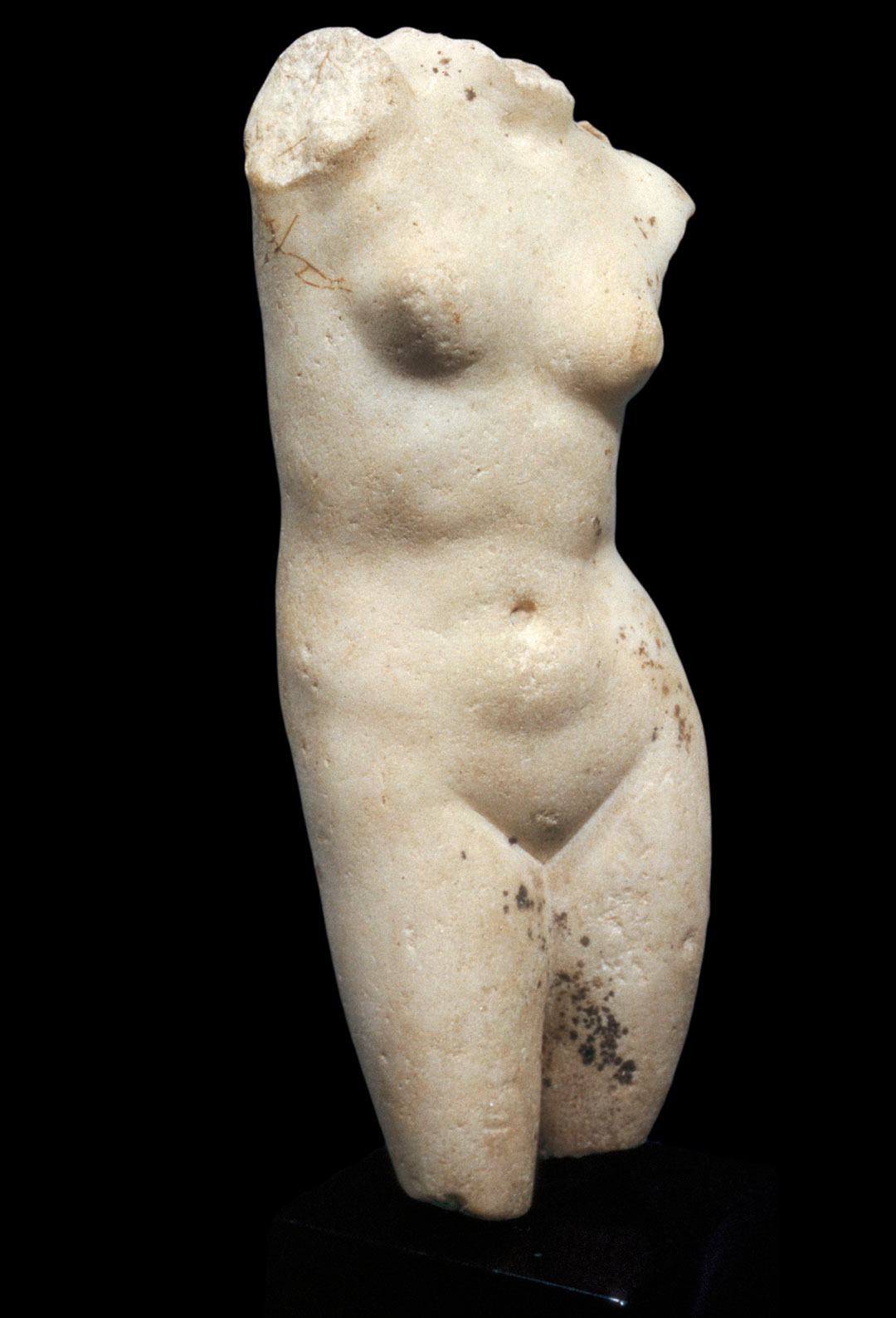 Ancient Greek art is often associated with beautiful marble statuary depicting heroic subjects, and beautiful male and female bodies. However, until the Hellenistic period of Greek history, the female nude was not portrayed in large sculptural works, passed over instead for heroic male nudes. This all changed when Praxiteles, one of the most renowned Attic sculptors of the 4th century BCE, designed the first life-sized female nude statue. Purchased by the Temple of Aphrodite at Knidos, his revolutionary nude portrayal of the goddess Aphrodite became famous, and was a well-known tourist attraction in its day. As was the tradition, the Aphrodite statue would have been brightly and realistically painted. According to historians, this produced a statue so lifelike that men would fall in love with her instantly. Praxiteles' creation led to a new era of Greek sculptural work that now included the life-sized female nude in the artistic repertoire, inspiring thousands of copies and derivations.
Designed during the 2nd century BCE, this statuette in SAM's collection depicts the nude torso of Aphrodite, carved by an unknown artist. While this statuette is not life-sized, the pervasive popularity of Praxiteles' work (lasting well into the Roman Empire) would have influenced both the subject and style of this statuette. Although her legs and arms are missing—most likely broken in antiquity—it appears from the curve of her shoulders that Aphrodite would have been adjusting her hair. While she was often depicted emerging from the sea, this statuette might have portrayed the goddess wringing seawater out of her hair. Discovered in Egypt, this statuette was a byproduct of the constant trade between Hellenistic Greece and their colonized counterparts throughout the Mediterranean. Although Egypt was a Greek state by the 2nd century BCE, the Ptolemaic rulers continued to favor Egyptian art and iconography over Greek works. The presence of this statue in Egypt could mean that it belonged to a Greek government official living in Egypt at the time.
– Hayley Makinster, SAM Curatorial Intern
Image: Aphrodite Torso (after Praxiteles), 2nd century B.C., Egyptian, marble, 13 1/16 x 5 1/4 x 4 3/8 in., Norman and Amelia Davis Classical Collection, 61.74