Muse/News: Riots of color, purple rain in Seattle, and controversy at the Whitney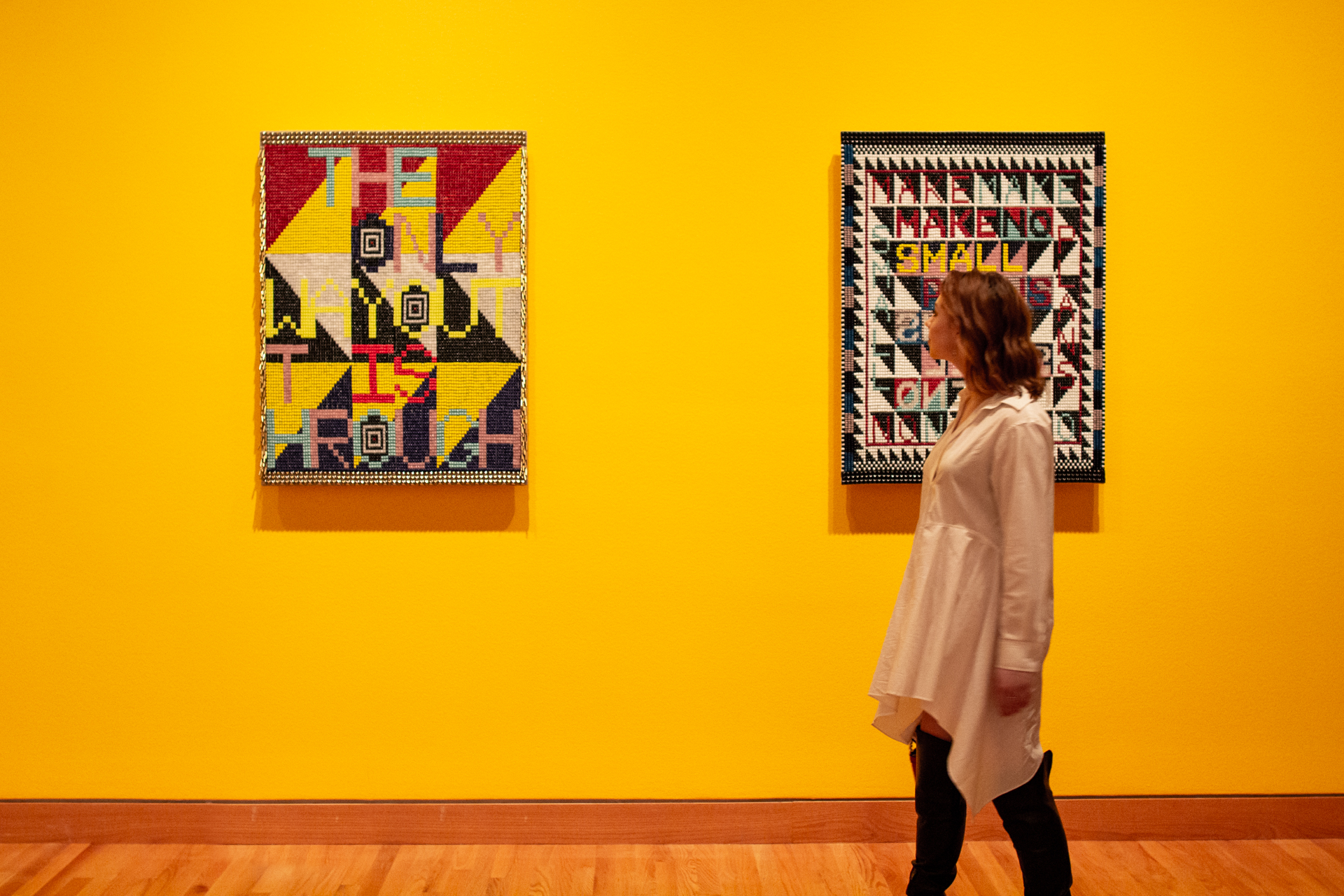 SAM News
Jeffrey Gibson: Like a Hammer is one of Seattle Magazine's "22 Best Things To Do in Seattle in April 2019."
"…a riot of color and texture that playfully draws the viewer into a world—the experience of another human being."
And SAM installation YOU ARE ON INDIGENOUS LAND: places/displaces is one of the "Top Things to Do in Seattle" for the month, according to Seattle Met's Stefan Milne.
Read Crosscut's Margo Vansynghel's conversation with Azura Tyabji, Seattle's Youth Poet Laureate, about the places in the city that inspire her, including the he(art)-warming revelation that she's been a regular at the museum "since 'falling in love' with visual art during the Kehinde Wiley exhibit in spring 2016."
March 29 saw another edition of the SAM's recurring Remix event. In case you missed it: The Stranger's Jasmyne Keimig previewed her "My Favorite Things" tour. You won't want to miss the next edition, held on August 23 at the Olympic Sculpture Park.
Local News
Seattle artists resist call to work in new youth jail: Crosscut's Agueda Pacheco Flores reports on how 4 Culture staff and some local artists are conflicted about the requirement that 1% of funds for the construction of the new jail go to public art projects.
Purify yourself in the waters of Lake Minnetonka: KING5 News covers Prince from Minneapolis, now on view at MoPOP.
The Everett Daily Herald features an exhibition of paintings by former SAM docent, Phyllis Thornton, now on view at the Mountlake Terrace Library.
"Don't all artists take liberty with colors?" Thornton said. "That's why you're an artist. You want to do what you want, and do it the way you want to do it."
Inter/National News
The Do Huh Suh exhibition at the Smithsonian American Art Museum, featuring Instagram-friendly Hub installations of "colorful, life-sized recreations of the artist's past homes in delicate fabric," tops the Art Newspaper's "Art's Most Popular Survey" for 2018, with over 1 million visitors.
The Art Newspaper reports on cause of Rio de Janeiro's tragic National Museum fire.
"The stakes of the demand to remove Kanders are high and extend far beyond the art world," the letter reads, in part. "Alongside universities, cultural institutions like the Whitney are among the few spaces in public life today that claim to be devoted to ideals of education, creativity, and dissent beyond the dictates of the market."
And Finally
Muse/News has missed you! Apologies for missing the last two Mondays, but we were busy on vacation in France.
– Rachel Eggers, SAM Manager of Public Relations
Image: Installation view, Jeffrey Gibson: Like a Hammer, Seattle Art Museum, 2019, photo: Natali Wiseman