Muse/News: Party people, Black pioneers, and surrealist snacks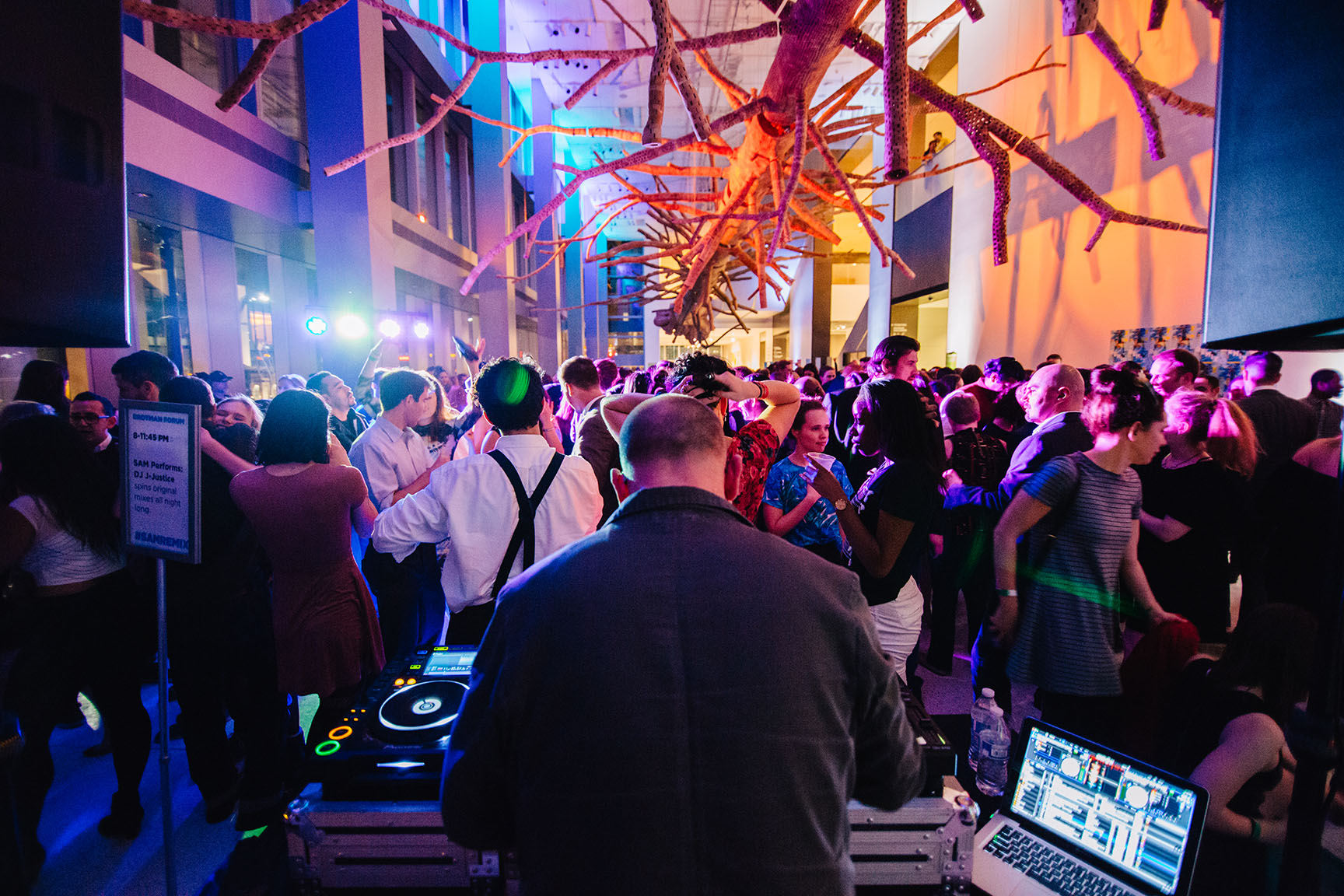 SAM News
Last Friday, SAM presented another edition Remix, its creative late-night out featuring music, tours, and art-making. And as per usual, the beautiful people of Seattle showed up and showed out: Check out these colorful photo slideshows from Seattle Refined and Queerspace Magazine. See you at the next edition of Remix in March!
Local News
Andrew Hamlin for Northwest Asian Weekly on the Wing Luke's new show, Worlds Beyond Here: The Expanding Universe of Science Fiction; Tamiko Thiel, whose augmented reality experience appeared at the Olympic Sculpture Park in 2016, is included in this group show.
The Seattle Times launches Art Outings, in which their critics find places where art and snack & drinks are brought together. First up: The Frye Museum's just-launched Third Thursday Happy Hours.
Real Change's cover story this week: Lisa Edge's review of Tacoma's Washington State Historical Museum show featuring rarely shown works on paper by Jacob Lawrence about Tumwater founder George Bush.
"Lawrence depicting Bush's migration is a convergence of two important pioneers. Bush, in the literal sense as he moved out west a century before The Great Migration, and Lawrence because of the barriers he broke within the art world. The series is an opportunity to learn more about two people who thrived in spite of entrenched barriers."
Inter/National News
Artnet's Sheila Regan reviews Art for a New Understanding, the new survey at the Crystal Bridges Museum, calling it "a serious attempt to redefine what contemporary Indigenous art means today."
Brigit Katz for Hyperallergic on Color Problems, a "widely overlooked, yet staggering" book on color theory by Emily Noyes Vanderpoel first published in 1901—it's now getting a careful reprinting.
Carl Zimmer of the New York Times reports on the extraordinary discovery in Borneo of what scientists are calling "the oldest figurative art in the world"—it's 40,000 years old!
"The early images and figures might have illustrated stories contained vital information for how to survive in hard times, Dr. Conard said. Or perhaps the drawings helped joined people as a group, encouraging them to cooperate—'a kind of glue to hold these social units together,' he said."
And Finally
Snacks – with a Surrealist manifesto.
Photo: Jen Au