Muse/News: Aboard the Ark, a Reporter's Next Move, and a Desert Mystery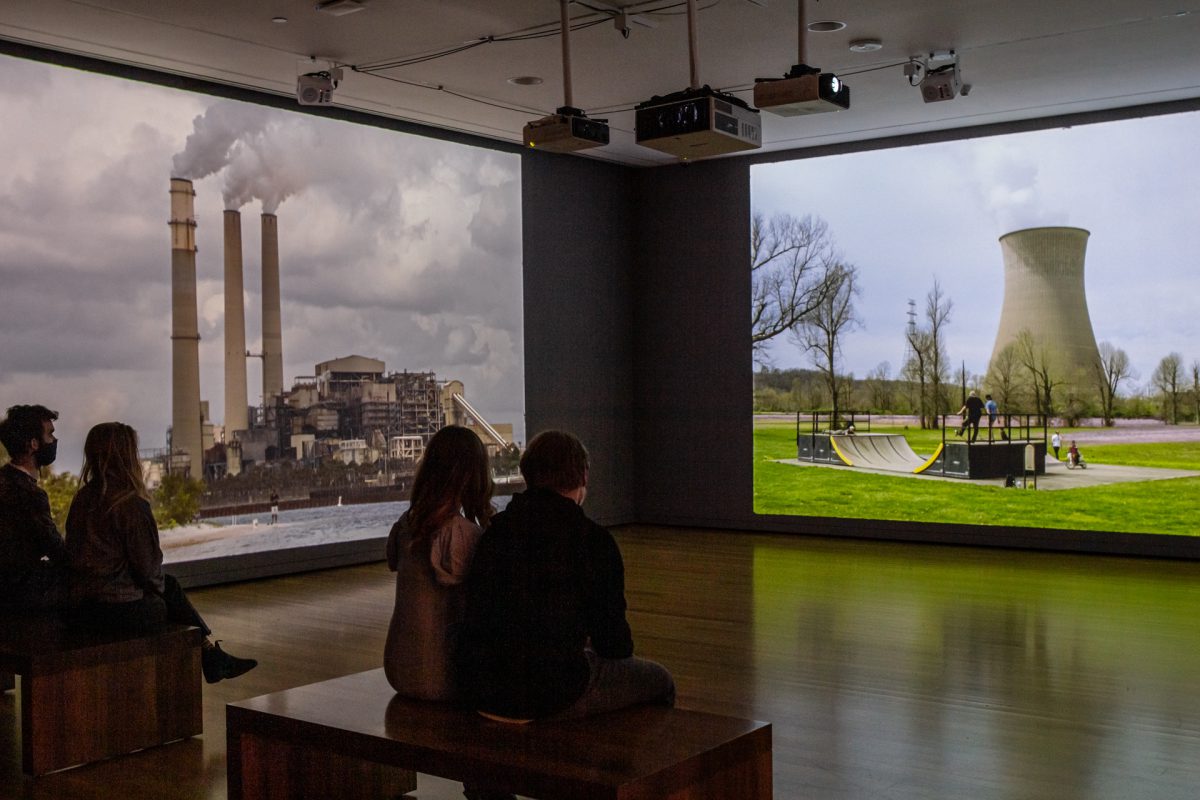 SAM News
All SAM locations are currently closed until further notice. But you can still prepare to board the Ark once SAM reopens; UW Daily's Katie Newman explores the video installation by Lynne Siefert that we can't wait to push "play" on once again.
"On a cruise ship, an eerie voice announces the postapocalyptic realities of our capitalist society. In a snowfield, a man walks alone, children play on a beach, and life goes on — all under the shadows of gargantuan, smoke-belching coal power plants. Welcome to Lynne Siefert's world of film."
SAM Shop remains open, with safety protocols in place, and its awesomely diverse offerings are popping up in holiday gift guides. Seattle Met says yes to the SAM-exclusive "NO" tote by Tariqa Waters, 425 Magazine recommends a museum membership, and ARTFIXdaily toasts the glass wine bulbs by Oliver Doriss. Or: Shop SAM Shop online. Easy!
2020 may not have been the best, but SAM still is. Thank you to the readers of Seattle Magazine, for naming Seattle Art Museum the best museum!
Local News
Isamu Noguchi's Floor Frame (1962) was recently installed on the east terrace of the White House's Rose Garden—the first work by an Asian-American artist to enter its collection. The Stranger's Jasmyne Keimig walks us through this unusual art moment.
Randy Engstrom, the director of Seattle's Office of Arts & Culture, will be stepping down after eight years. Here's the office's full announcement.
And another bittersweet change: Marcie Sillman retires from KUOW after 35 years reporting on the arts. But you won't be missing her thoughtful stories for long; she's planning to launch an arts podcast with Vivian Phillips.
"I think mostly what I want to say is that this isn't a frill," Sillman said of the arts. "It's something that is just central to our lives. During this pandemic, where have we all turned for comfort? I'm sure people are really happy that sports teams are playing again, but you're still listening to your favorite song or watching great movies, streaming online or reading good books or just contemplating beautiful nature in Instagram posts. So, it's something that we need for our souls."
Inter/National News
Pumla Dineo Gqola for the New York Times on the Zanele Muholi career retrospective that has finally opened at the Tate Modern, after some delay due to COVID closures. The exhibition includes works from several of Muholi's series, including Somnyama Ngonyama, which came to SAM in 2019.
"More than a little tumultuous": The editors of ARTnews reflect on 2020.
A 12-foot-tall polished steel monolith appeared in the Utah desert. Then it disappeared. Then it was pondered. Then there were copycats? We can't keep up. What does it all mean?
"We are currently in an environment of epidemic over-explanation, a surplus of commercially incentivized information production. That is literally sending people into the desert looking, not for answers, but for questions."
And Finally
Muse/News Recommends: Poem-a-day in your inbox.
Installation view of Lynne Siefert: Ark at Seattle Art Museum, 2020, photo: Natali Wiseman.