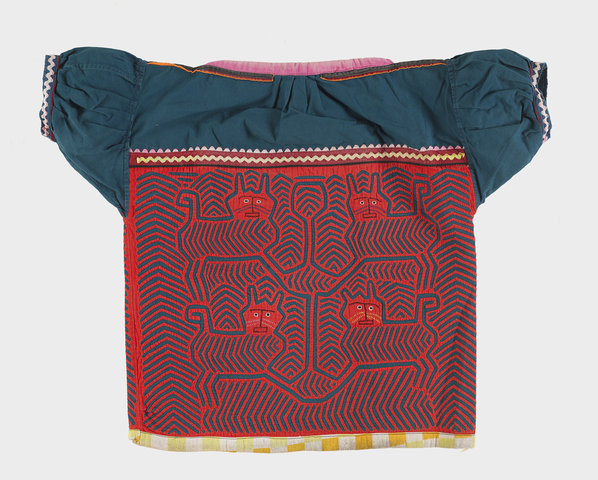 Ancient Andean cultures used complex recording devices known as quipu, fashioned from tally cords, which allowed for the communication and recording of information essential to daily life. The quipu were essential tools for many Andean communities: they were a medium that enabled reading, writing, and, importantly, remembering. Such Indigenous practices nearly disappeared due to colonial suppression. Not unlike the quipu, the Cuna mola—or blouse—produced in the San Blas Islands represents the resilience of a community in the face of colonization.
The Cuna Indians are an Indigenous people who live along the Atlantic coast of Panama and Colombia. In the 16th century they were driven by the Spanish from their original home in Colombia, and moved west toward the coast. Mola, as we know them today, evolved from elaborate body painting. In the mid-18th century, when European settlers introduced cloth to the region, women began to wear simple blouses, painting them with natural dyes in the same manner they had previously decorated their bodies.
To make these elaborate blouses, an artist—importantly a woman—begins with multiple pieces of different colored cloth, and bastes one on top of the other. After cutting multiple designs, the maker then hems the edges with fine stitches. From there additional elements are added, such as embroidery, positive appliqué, or incisions that reveal the layers of cloth below. This reverse appliqué technique is an intricate and time-intensive process that has been mastered and handed down from generation to generation.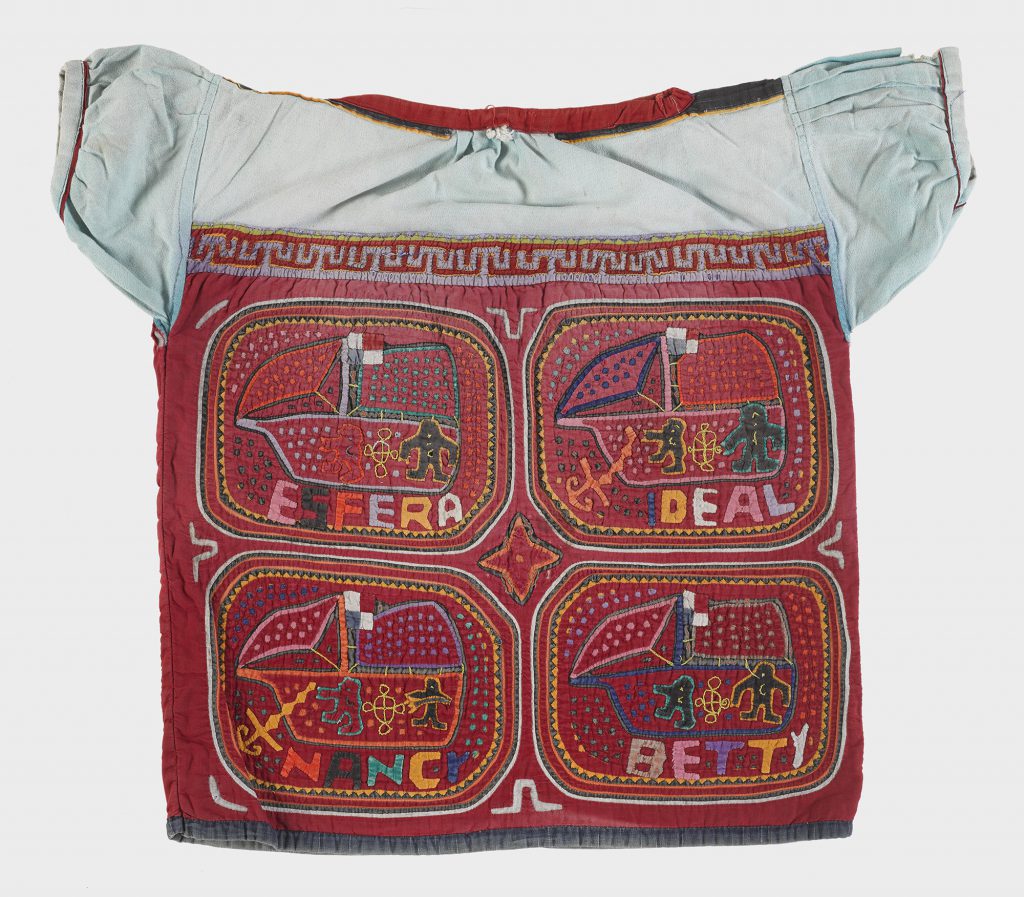 The history of the mola is inextricable from the history of colonialism in Latin America. It evolved in spite of European contact and continues to be shaped by contact with non-Native people today. For example, traditional Cuna designs—on both the body, originally, and the blouses—include abstracted linear patterns, stylized flora and fauna, and figures from Cuna mythology. When interactions with outsiders increased due to the construction of the Panama Canal, motifs such as trademarks, slogans, and American products appeared. Further, in the first decades of the 20th century, the Panamanian government tried to ban many Cuna customs, including their language and traditional dress. A resistance was mounted, and in 1925 the Dule Revolution resulted in the autonomy of the Cuna people, granting them the right to govern their own territory and culture autonomously. The mola can thus be seen as a vibrant textile tradition that represents the strength and resilience of the Cuna people.
– Elisabeth Smith, Collection & Provenance Associate

Images: Mola, 1950s-60s, Cuna, Panamanian, cotton cloth and cotton thread, 21 × 25 in., Gift of an anonymous donor, 2018.26.10 © Artist or Artist's Estate. Mola, 1950s-60s, Cuna, Panamanian, cotton cloth and cotton thread, 22 1/2 × 25 in., Gift of an anonymous donor, 2018.26.6 © Artist or Artist's Estate.