Object of the Week: Daedalus/Upliftment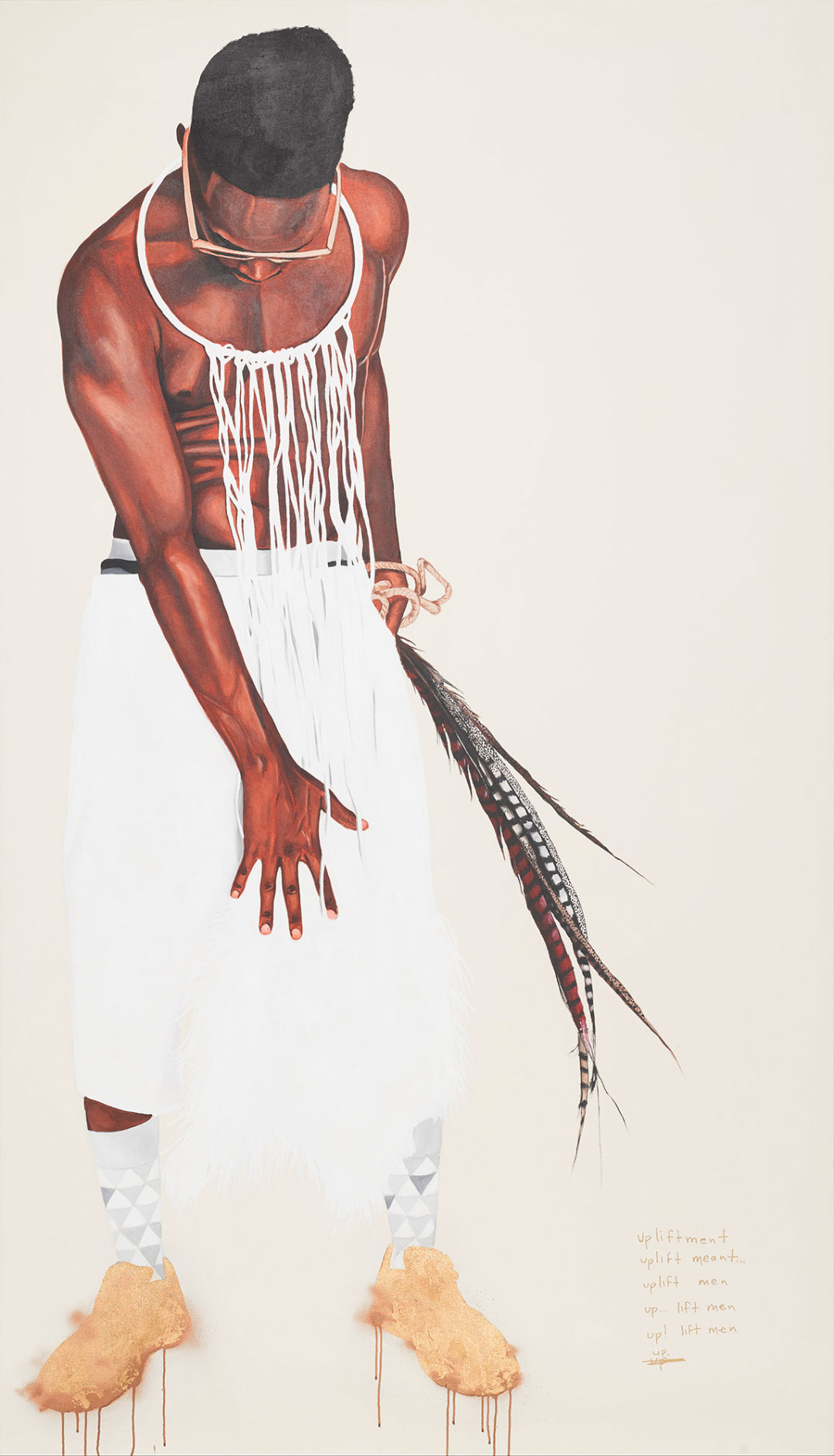 In Daedalus/Upliftment, a young Black man struggles to take flight. His gaze is fixed on the ground instead of the sky, with eyes downcast and obscured by gold sunglasses. One hand is outstretched to conceal himself. The other grasps a plume of pheasant feathers, with a rope tied around his wrist. A wreath of ostrich feathers adorns his neck, draping his chest and blending into bright white pants. The feathers symbolize the deities Yoruba Orisas Obatala of wisdom, and Osun of love.
This full-body portrait portrays someone steady, yet vulnerable, someone who embodies the emotional juxtapositions of freedom and captivity, hope and doubt. The dazzling high-tops—inlaid with gold leaf and spray paint detail, dripping to the edges of the canvas—paired with grayscale triangle-patterned socks are captivating. Although a symbol of value, the gold sneakers carry much weight: a strain against the aspirations and ability to rise.
Daedalus/Upliftment is from Dr. Fahamu Pecou's 2015 series, I Know Why The Caged Bird Blings, the series title inspired by Maya Angelou's poem, "I Know Why The Caged Bird Sings." A visual/performing artist and scholar, Pecou concentrates on Black masculinity in his work. Pecou probes today's media representations, expectations, and images of Black men removed from Black agency—including stereotypes of violence—and their emotional toll on readings and performances of Black masculinity. In 2017, Pecou was the subject of a retrospective exhibition "Miroirs de l'Homme" (Mirrors of the Man) in Paris, France and a recipient of the 2016 Joan Mitchell Foundation "Painters and Sculptors" Award.[1]
Pecou continues to lead speaking engagements across the nation, and gave a TED Talk in Atlanta, Georgia, "An artist's counterpoint to black masculinity and identity stereotypes," sharing his own testimonies as a Black man in America.
Daedalus/Upliftment alludes to the Greek myth of Daedalus and Icarus. Daedalus built wings of feathers and wax for himself and his son, Icarus, to escape their prison. Despite Daedalus' warning, Icarus flew too close to the sun, melting the wax on the wings, falling and drowning in the ocean. Pecou reinterprets this classic tragedy and questions the actions of Daedalus as Icarus' father. Daedalus/Uplifting provokes a meditation on paternalism and masculinity, with "the breakdown of intergenerational communication and the emotional complexities within the Black male experience that trouble the desire and ability to take flight."[2]
In the far-right corner of the stark white background, Pecou leaves us a surrealist poem:
Uplift meant
Uplift men
up… lift men
UP! lift men…
Up.
– Rachel Kim, SAM Curatorial Intern
Image: Daedalus/Upliftment, 2016, Fahamu Pecou, acrylic, gold leaf and spray paint on canvas, 84 × 48 in., Bill and Melinda Gates Foundation Art Acquisition Fund, 2016.20 © Artist or Artist's Estate