Muse/News: Jacob's Story, New Models, and a Will to Equity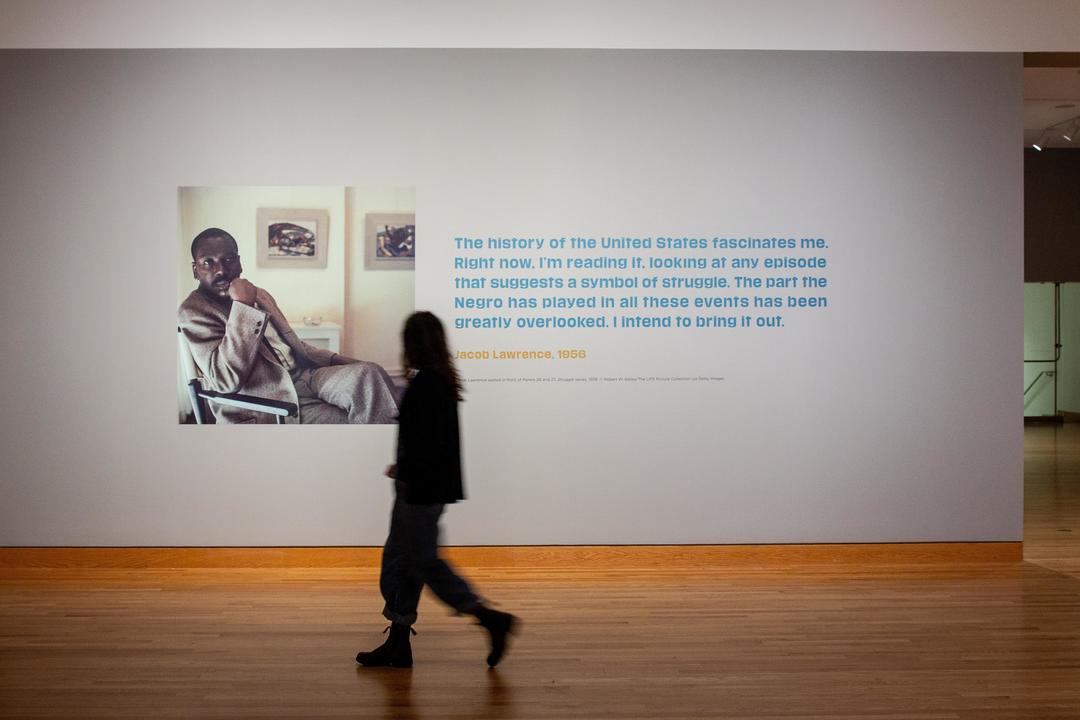 SAM News
The Seattle Art Museum is open, with limited capacity and timed tickets released online every Thursday. Jasmyne Keimig of the Stranger reviews Jacob Lawrence: The American Struggle, now on view at SAM.
"America's persistence as a country and a project was not foretold. Rather, it was violently taken and sketched out, marked by slavery, genocide, war, and immense struggle experienced by those seeking their own freedom and those looking to impose their will on others. It's a point hammered out in the rest of the series."
KING's Evening Magazine toured the exhibition, interviewing SAM curator Theresa Papanikolas. Thrillist recommends the show, and Artdaily also shares the news.
The University of Washington's Daily on the "revolution and inclusion" on view in the exhibition; they also shared details of a Lawrence seminar this spring. And they reported on the museum's recent gift of Lang Collection artworks.
And with this nice weather, don't forget to visit the Olympic Sculpture Park; The Expedition includes it on this list of "best sculpture gardens for families."
Local News
First Hill's Museum of Museums will finally open, reports Capitol Hill Seattle Blog.
And the Wing Luke Museum reopened recently; Sean Harding for South Seattle Emerald checked in on how things are going.
Crosscut's Margo Vansynghel dives deep with a survey of local arts and culture organizations and how they're faring, one year into the pandemic; she finds dramatic losses and tentative hope for new models.
"The arts and culture industry has relied on old models and underpaid, overworked people for decades. Those models weren't cutting it even pre-pandemic, says LANGSTON's [Tim] Lennon. 'The old ways were not that great for a lot of small organizations, artists and culture workers, especially those from BIPOC communities,' he wrote."
Inter/National News
Hyperallergic's Sarah Rose Sharp shares the news that United States Artists (USA) president and CEO Deana Haggag will be stepping down for a position at the Andrew W. Mellon Foundation.
PBS NewHour interviews Peabody Essex Museum curator Lydia Gordon about the two recovered panels of the Struggle series, both of which are now on view at SAM.
Tessa Soloman of ARTnews on how executive roles in equity and belonging are on the rise at museums; she interviews Rosa Rodriguez-Williams at Boston's Museum of Fine Arts, Craig Bigelow at Crystal Bridges Museum of American Art, and others. The article references SAM's appointment of Priya Frank to Director of Equity, Diversity, and Inclusion in August 2020.
"Not all of this work requires funding—it's about changes in procedure and process," [Bigelow] said. "Too often there's a default to slowing the work or stopping the work because there's a perceived lack of funding. But this isn't entirely about funding—it's about will."
And Finally
Oscar nominations have been announced; get going on your watch list!
– Rachel Eggers, SAM Associate Director of Public Relations
Installation view of Jacob Lawrence: The American Struggle at Seattle Art Museum, 2021, photo: Natali Wiseman.