Muse/News: Wrapping up, bobbling macarons, and going to camp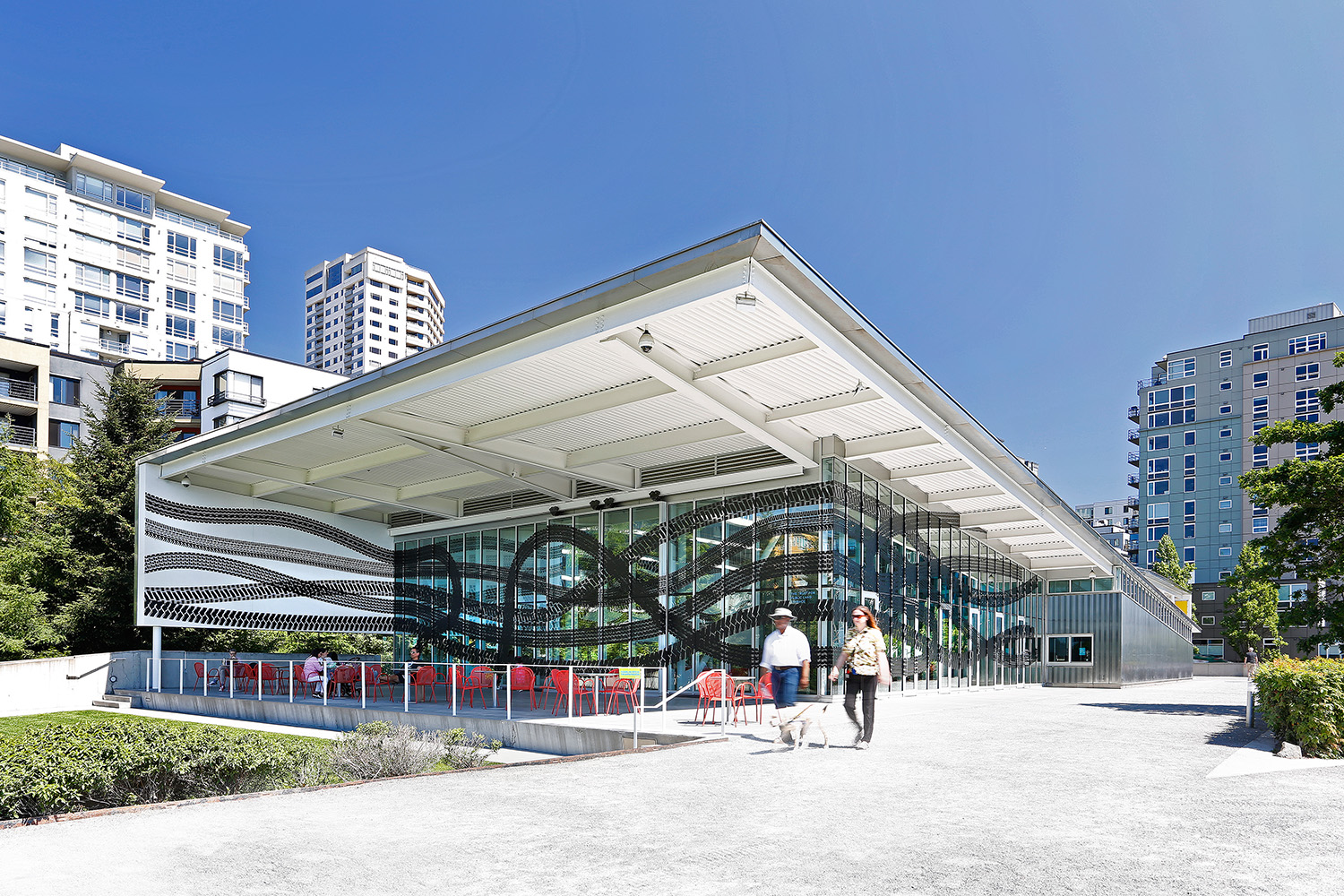 SAM News
That's a wrap on Jeffrey: Gibson: Like a Hammer. As a farewell, here's Emily Zimmerman interviewing the artist for BOMB Magazine.
"I needed to let go of whether I was an artist or not, and I needed to pursue the things that I want to see existing in the world that don't exist. What are the things that would leverage this world that didn't meet my expectations?"
Celebrated Brazilian artist Regina Silveira has debuted a new site-specific installation at the Olympic Sculpture Park's PACCAR Pavilion called Octopus Wrap. A glimpse of the installation process was captured by the Seattle Times' Alan Berner. Seattle Met and Crosscut also previewed the installation, which features a series of tire tracks wrapping around the walls, windows, and floor of the building, looking like the arms of an octopus.
"The startling change to the familiar park building embodies elements of play, but also reminds us of the luxury of presuming our surroundings will always stay the same."
And Smithsonian Magazine featured the sculpture park on their round-up of the "world's most spectacular sculpture parks."
Local News
Seattle's Office of Arts & Culture announced that Christopher Paul Jordan has been selected to create the centerpiece artwork for the planned AIDS Memorial Pathway project on Capitol Hill.
Crosscut's Agueda Pacheco Flores and South Seattle Emerald's Jessie McKenna both wrote up Alexis Taylor's Black Among Other Things, an installation at AURA in the Central District about her experiences as a Black woman.
The art of food: Chef Brady Williams won Best Chef in the Northwest at James Beard Awards; the Seattle Times' Bethany Jean Clement recently picked up a shift at Canlis to learn about their legendary service.
"By the top of the stairs, the macaron begins to bobble; on the penultimate step, it leaps to its death, in its final act somehow managing to shatter on the soft carpeting. A man seated at one of Canlis' well-spaced, snowy-white-linened tables regards me with a mixture of pity and horror."
Inter/National News
But is it CAMP? The Met's latest exhibition—and attendant over-the-top Gala—has everyone reaching for their undergrad copy of Sontag. Here are some thoughts.
The Museum of Contemporary Art (MOCA) announced this week that Mia Locks will be their new senior curator and head of initiatives; interestingly, they don't have plans to hire a chief curator to replace Helen Molesworth.
Nadja Sayej for the Guardian on Augusta Savage: Renaissance Woman, now on view in New York, which traces her work as a "trailblazer of African American arts."
"She said her legacy is in the work of her students," notes Ikemoto. "Even when they didn't have money to buy their own art supplies, she let them use hers. She often said, 'I know much I was put down and denied, so if I can teach these kids anything, I'm going to teach it to them.'"
And Finally
Can we please do something now?


– Rachel Eggers, SAM Manager of Public Relations
Image: Installation view of "Regina Silveira: Octopus Wrap", 2019, Seattle Art Museum site-specific installation, photo: Mark Woods.