Object of the Week: Leaves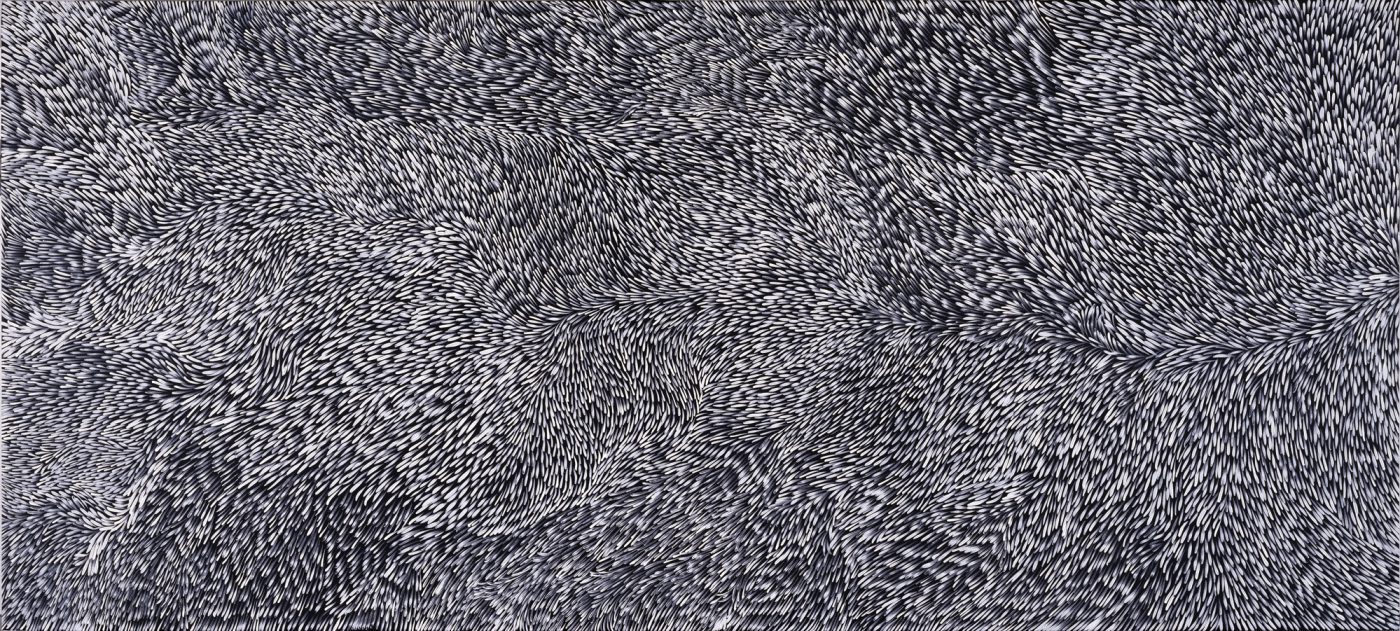 Gloria Petyarre's thirteen-foot-long canvas, Leaves, is a work that stops you in your tracks. It invokes the senses: hearing, seeing, and even feeling. The intricate, seemingly endless, white strokes evoke the movement and gentle patterns of leaves on, or fallen from, trees, the delicate movement of waist-high grass in a wind-swept field, or the long, waving fur of an animal on the move.
This feathery, leafy style that has become a common theme in Petyarre's work was developed over decades. In the late 1970s, Petyarre came to prominence as a batik painter, before taking up painting on canvas in the late 1980s. Her use of sophisticated batik-making techniques, combined with the referencing of body markings associated with women's ceremonies, shaped the unique forms of painting done in the Utopia area of Australia's Northern Territory in the 1980s.[1]
In the 1990s, her work progressively increased in size and painterly precision. She began supplanting her dots and lines with elongated drop-forms in feathery layers "that move over the surfaces of her work with the velocity of wind in foliage or the fluidity of water currents."[2]
This more painterly leaf design seems a natural progression.
"Petyarre grew up learning traditional techniques of reading the landscape to identify foods, medicinal plants, and everything else that was needed to thrive. Sitting under mulga bushes, helping the elder women prepare their seeds for small cakes, she would see the leaves swirl overhead. At the same time, she could listen to elders discussing the days when grasses and wildlife were more abundant."[3]
Gloria Petyarre is part of an extraordinary family of women artists. Her six sisters—Kathleen, Nancy, Ada, Myrtle, Violet, and Jean—are all internationally acclaimed artists. Gloria's niece Elizabeth Kunoth Kngwarray, and great-niece Genevieve Kemarr Loy, are well-known artists, as is her niece, Abie Loy Kamerre, whose work, Awelye "Women's Ceremony," is also in SAM's collection. Petyarre's and her artistic family's work draws on the surroundings and rituals of their community in Utopia, in Australia's Central Desert, Northern Territory. Gloria and her sisters had a classical education in an aboriginal world view that has survived tens of thousands of years in an arid spinifex country. Growing up, they walked across their vast estate, moved according to the principles of rotational land navigation, and honored the other species they learned from.
These Utopian women began painting to enlighten outsiders and rebel against the white cattle ranchers who took over their land. As these outsiders began moving in, they polluted water holes and demonstrated a disinterest in the features of the landscape. An inspiration to create came from recognizing that outsiders were ignorant of the depth of knowledge they had about their environment. These artists turned to painting to demonstrate how they had managed to maintain and honor their country, with all its species, foodstuffs, and medicines. They relied on a seed economy, and noticed that leaves had strong medicines to offer, with particular potency when they were falling off the trees. Petyarre's work offers an urgent reminder of Indigenous knowledge of the landscape—what may seem like scruffy sandhills can be a utopian ideal, filled with vibrant resources that we need to learn to recognize better.[4] She created this work as a study of leaves swirling through space. With her knowledge of the medicinal properties of certain plants, "she takes it upon herself to focus attention on the moment that the leaves fly."[5]
The next time you visit SAM, make sure to spend a few minutes with this work, you'll see it right when you enter the museum. What senses does Leaves invoke in you?
– Traci Timmons, SAM Senior Librarian
[1] Art Gallery of New South Wales, Gloria Tamerre Petyarre Artist Profile, https://www.artgallery.nsw.gov.au/collection/artists/petyarre-gloria-tamerre/, accessed December 2, 2020.
[2] Ibid.
[3] Pamela McClusky, Wally Caruana, Lisa G. Corrin, and Stephen Gilchrist, Ancestral Modern: Australian Aboriginal Art: Kaplan & Levi Collection ([Seattle]: Seattle Art Museum, 2012): 114.
[4] Interview with Pamela McClusky, December 7, 2020.
[5] Pamela McClusky, "Completing the Map," in Chiyo Ishikawa et al., A Community of Collectors: 75th Anniversary Gifts to the Seattle Art Museum (Seattle: Seattle Art Museum, 2008): 76, 81.
Image: Leaves, 2002, Gloria Tamerr Petyarre, synthetic polymer paint on canvas
70 7/8 x 157 1/2 in., Gift of Margaret Levi and Robert Kaplan, in honor of Virginia and Bagley Wright, and in honor of the 75th Anniversary of the Seattle Art Museum, 2012.21 ©Gloria Petyarre