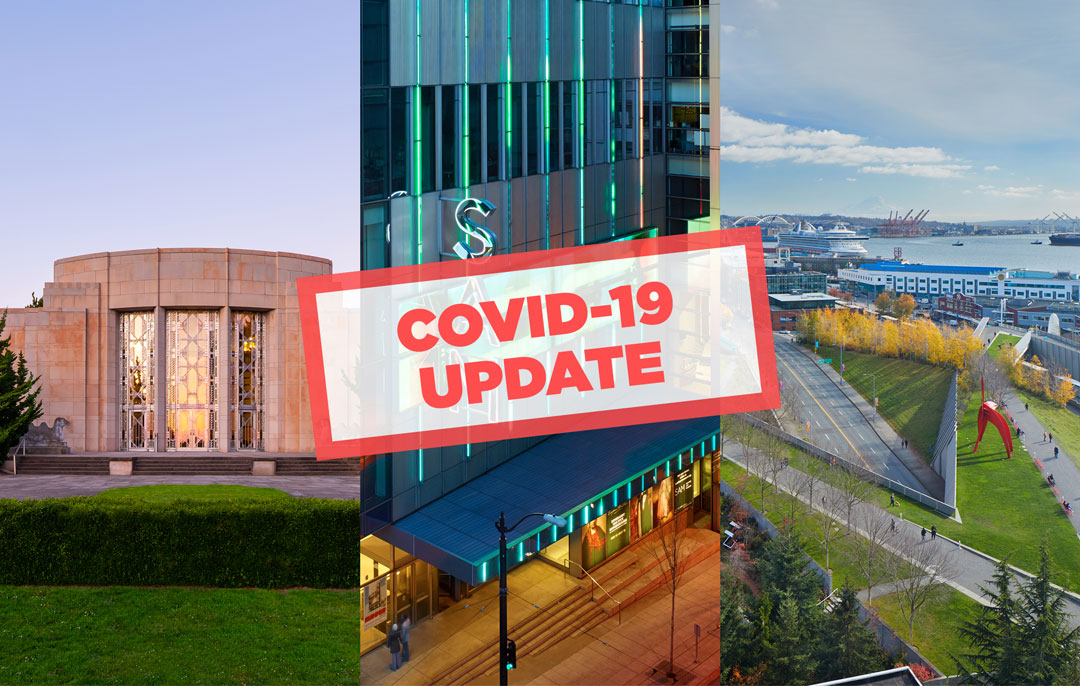 Updates for January 15, 2020
The safety and well-being of our staff, volunteers, and visitors are always our highest priorities. In alignment with Governor Inslee's Healthy Washington—Roadmap to Recovery, SAM is preparing a reopening timeline for the downtown museum dependent on the latest guidance for Puget Sound area. At this time, Seattle Art Museum's downtown location remains closed until advised otherwise by government officials.
What SAM is Doing
In light of the most recent directives issued by the Governor's office to continue to limit the spread of coronavirus, and because the safety and well-being of our staff, volunteers, and visitors are always our highest priorities, Seattle Art Museum's downtown location is closed until advised otherwise by government officials. The Seattle Art Museum, the Asian Art Museum, and the PACCAR Pavilion at the Olympic Sculpture Park will be closed.
The Olympic Sculpture Park remains open, consistent with Governor Jay Inslee's proclamation noting that walks, bike rides, and similar activities are considered essential for everyone's physical and mental health and are not prohibited during this time. We will continue to monitor and follow the guidance of city and public health officials and we will align with any decision to close major Seattle city parks. When the park is open, we ask that visitors keep moving through the park and closely follow physical distancing guidelines, staying six feet away from other park visitors. We strongly encourage park visitors to wear masks. Please note that no groups or gatherings are currently allowed in the park. TASTE Café, the Education Resource Center, and all libraries are also closed. 
The SAM Shop & Gallery is open during museum closure. Capacity will be monitored and masks are mandatory. Shop in store Friday–Sunday, 10 am–5 pm or shop online anytime. Online order shipments may experience slight delays due to reduced hours. Curbside pickup is also available for online orders. Online order shipments may
Stay Home with SAM while we are closed by attending live virtual events featuring artist interviews, curator talks, and art activities for the whole family. Explore SAM Blog for videos, art news, object spotlights from our collections, and more to keep you connected to art. Follow us on Facebook and Instagram for live streamed events and updates on the museum. If you would like to continue to help support SAM's efforts to connect art to life while we are closed, we would be most appreciative. Please visit our website to make a donation.
Please contact us via email at customerservice@seattleartmuseum.org with any questions, concerns, or requests. Responses may take longer than usual.
We are monitoring the evolving situation closely and will announce any further program or operational changes through our regular channels, including our website and social media.
Thank you for your understanding and support as we work together to help our community stay safe and healthy.
What You Can Do
For the safety of everyone in our community we ask that you:
Stay home if you are feeling unwell and practice social distancing when out.
Wash your hands. Do so often. Use soap and water for at least 20 seconds.
If opportunity for hand washing is not available, use hand sanitizers.
Avoid touching your eyes, nose, or mouth.
Avoid close contact with people who are sick
Cover your coughs and sneezes. Hold a tissue over your mouth and nose when you cough or sneeze. Throw that tissue away and, again, wash your hands.
No handshakes or hugs, please. A wave is acceptable for greeting others.
Public Health Seattle & King County is strongly recommending that people at higher risk of severe illness should stay home and away from large groups of people as much as possible, including public places with lots of people and large gatherings where there will be close contact with others. People at higher risk include:
People 60 and older.
People with underlying health conditions including heart disease, lung disease, or diabetes.
People who have weakened immune systems.
People who are pregnant.
We encourage you to stay informed and to follow the guidance provided by public health officials.
Here are some links to resources that can provide more details on these and other recommendations:
kingcounty.gov/depts/health/news/2020/March.aspx
cdc.gov/coronavirus/2019-ncov/about/symptoms.html