Muse/News: History at SAM, Overheard at the Frye, and Sculptures with the Blues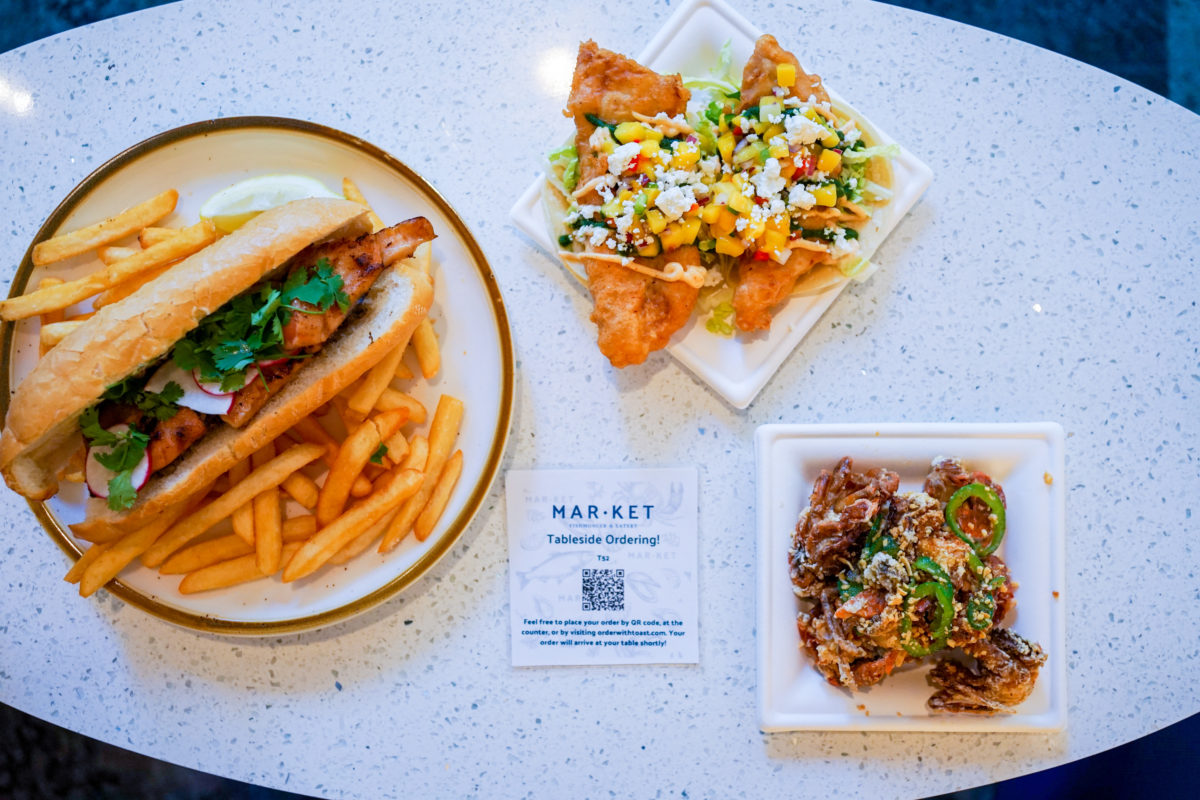 SAM News
"SAM picks new board chair, making national history." That's the Seattle Times headline announcing that Dr. Constance W. Rice is the museum's new board Chair. She is believed to be the first Black woman to assume the role at a major US art museum. ARTnews, Artdaily, The Seattle Medium and others also shared the news.
"She says she wants to 'keep doors wide open' in the museum to communities that might not see the museum as a place they belong, in the way she felt comfortable roaming the halls of MoMA when she was younger. 'For me, every citizen of Seattle owns the art museum,' Rice says. 'I want them, when they walk in, to feel like I felt years ago as a kid: welcome.'"
The Seattle Times' Tan Vinh reports on restaurant openings, including MARKET SEATTLE, SAM's new restaurant partner.
"Arguably the most popular seafood spot in the North End…expands to downtown Seattle with a 60-seat restaurant inside the Seattle Art Museum. All of its greatest hits are here: lobster rolls, fried soft-shell crab, seafood chowder and fish and chips."
Local News
All aboard: Brangien Davis of Crosscut on the new public art debuting along with the expanded light rail. Also mentioned: The Frye Art Museum's new exhibition of recent acquisitions, including a work by SAM's 2021 Betty Bowen Award-winner, Anthony White.
The Stranger's Jas Keimig on Alden Mason: Fly Your Own Thing, now on view at the Bellevue Arts Museum through October 10.
The Seattle Times' Brendan Kiley has their "A&E Pick of the Week": Duane Linklater's new exhibition at the Frye Art Museum. Kiley dives deep with five of the works on view.
"There are stories and ideas in "mymothersside," currently occupying several rooms at Frye Art Museum, but we only catch fragments and echoes, like we're overhearing something — or being permitted to overhear little bits of something that isn't ours to fully comprehend."
Inter/National News
Artnet's Melissa Smith has the first major interview with Naomi Beckwith since she became chief curator and deputy director of the Guggenheim; Beckwith talks about why she's exactly where she needs to be.
The MacArthur Foundation named its 25 new fellows (yep, "geniuses"), including visionaries from the art world such as painter Jordan Casteel, art historian/curator Nicole Fleetwood, and sculptor/painter Daniel Lind-Ramos.
"Woody de Othello's ceramic sculptures give Funk art a musical twist." That's Glenn Adamson for Art in America on the artist's "heartbreaking" sculptures that have roots in face jugs, the blues, and the Funk art movement.
"Pathos is very much the point, but the effect is anything but delusional: one object, one figure at a time, Othello is making a world that's almost too true to bear."
And Finally
– Rachel Eggers, SAM's Associate Director of Public Relations
Image: Courtesy of MARKET Seattle.
Alden Mason: Fly Your Own Thing, Anthony White, Bellevue Arts Museum, Betty Bowen Award, Daniel Lind-Ramos, Dr. Constance Rice, Duane Linklater, Frye Art Museum, Guggenheim museum, Jordan Casteel, MacArthur Foundation, MARKET Seattle, muse/news, Naomi Beckwith, Nicole Fleetwood, SAM Board of Trustees, SAM News, seattle art museum, Woody de Othello