Muse/News: Seeing at SAM, Homes for Artists, and an Afrofuturist Room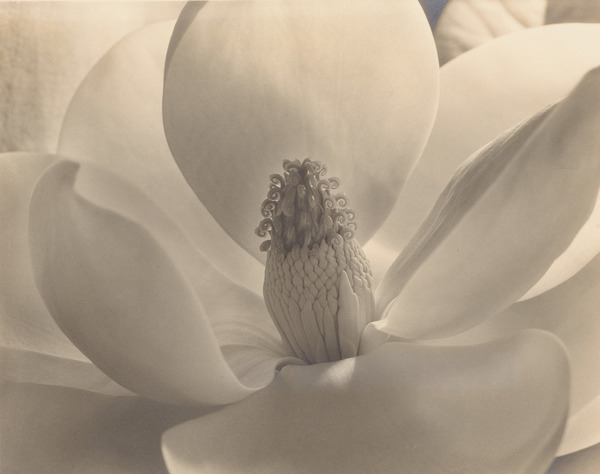 SAM News
Imogen Cunningham: A Retrospective opens at SAM this Thursday! Peter Saenger of the Wall Street Journal previews the exhibition of the endlessly innovative photographer who "championed new ways of seeing."
"In a 1952 portrait, the sculptor Ruth Asawa holds one of her celebrated wire sculptures in front of her head, forming a rough square. The Seattle show will include a video of a Graham performance and a number of Asawa sculptures. Cunningham formed a close friendship with Asawa that lasted decades, and Carrie Dedon, who curated the exhibition for Seattle's presentation, notes her ability to connect with fellow artists."
Frisson: The Richard E. Lang and Jane Lang Davis Collection is also on view at SAM. Seattle Magazine highlights it in their arts scene overview in their October edition. And Crosscut's Margo Vansynghel wrote about the show in their "things to do in Seattle in November" round-up.
"It's no exaggeration to say the Langs assembled a world-class collection with a keen eye, particularly for artists who have only recently been getting their due, including Helen Frankenthaler, Lee Krasner, Joan Mitchell and Philip Guston."
Local News
"An arts critic and a hockey fan go to a Kraken game." The Seattle Times' Moira Macdonald and Trevor Lenzmeier, along with the Kraken, make for a journalistic hat trick.
Crosscut Talks podcast talks with the owners of Seattle fine dining institution Canlis about the creative ways they rethought their business during the first year of the pandemic. Also in Crosscut Land: They have a new executive editor! Welcome, M. David Lee III!
Sarah Anne Lloyd for Seattle Met speaks with musician/realtor Pearl Nelson, who wants to help artists find nice places to live.
"Artists move where it's affordable. So finding places that are affordable so you can live in Seattle eventually again, whether it's through programs where it's a multigenerational household or friendships that can acquire property and hopefully build equity, it might be the way…. I really want to see the artists and musicians and creatives find places here. That's it. I hope we can have places to be."
Inter/National News
The American South is the theme of Art in America's November/December issue; explore essays and interviews on "trauma, joy, and the arc of America's national story."
Nicolas Rapold on a new documentary about another American photographer: Gordon Parks. A Choice of Weapons traces his journey from a Kansas family farm to his photo essays on Black life to making history as the first Black artist to produce and direct a major Hollywood film.
Darla Migan for Artnet on Before Yesterday We Could Fly: An Afrofuturist Period Room, now open at the Metropolitan Museum of Art.
"To root the exhibition in the reality of specific historical erasure, the curators created a space that embraces the memory of Seneca Village, a thriving 19th-century New York City community of predominantly Black property owners and tenants. It was situated not too far from the Met, on what is now the western perimeter of Central Park, or what remains the unseated lands of indigenous Lenape peoples, potentially representing multiple displacements and migrations."
And Finally
– Rachel Eggers, SAM Associate Director of Public Relations
Image: Magnolia Blossom, negative 1925; print 1930, Imogen Cunningham, American, 1883–1976, gelatin silver print, 9 5/16 × 11 5/8 in., Fine Arts Museums of San Francisco, Museum purchase, M.H. de Young Memorial Museum, 54042, Photo: Randy Dodson, © 2021 The Imogen Cunningham Trust.
Before Yesterday We Could Fly: An Afrofuturist Period Room, Frisson: The Richard E. Lang and Jane Lang Davis Collection, Gordon Parks, Imogen Cunningham, Imogen Cunningham: A Retrospective, John Akomfrah, muse/news, Pearl Nelson, Richard E. Lang and Jane Lang Davis Collection, SAM News, seattle art museum, Seattle Kraken