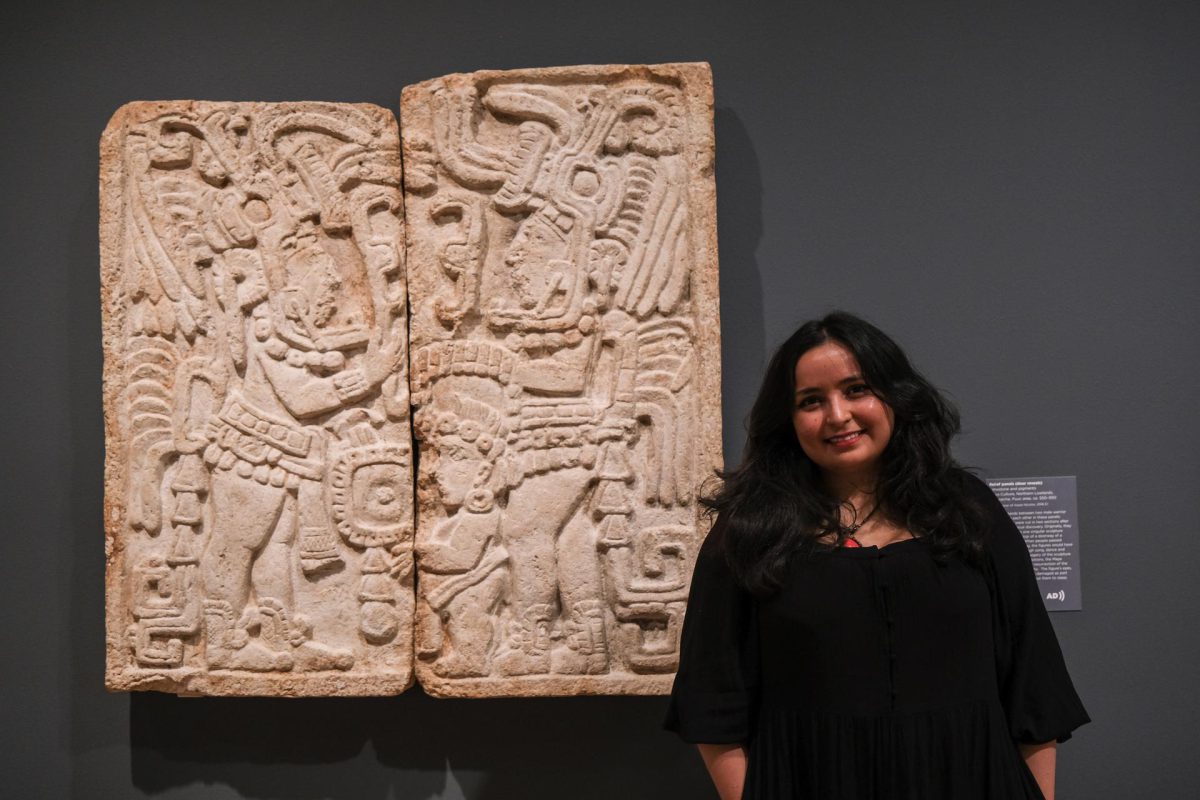 The first time I came to the Seattle Art Museum was in 2020. I was just starting my Master's program at the University of Washington and I was missing home more than ever before. The first time I walked through Cosmic Beings in Mesoamerican and Andean Art, I was looking for home. That searching is what guided me to apply for the Emerging Arts Leader Internship—I wanted to help to create a bit of home for myself and other Latin Americans when they visit the Seattle Art Museum.
From the very start of my internship, I knew I wanted to bring contemporary art and music into the space to reinvigorate the gallery. Ancient art often feels far away from contemporary life, particularly for those from a diverse community that has lived through several colonizations, displacements, and major transformations.
One of the biggest questions I had in starting this internship was scale—how much could I reasonably do over two months? Having worked in museums and non-profits now for over 7 years I know how important this question is. I had and continue to have a lot of ideas for the space, but I am very conscious of being one person that can only do so much. The initial part of my internship was spent getting to know the Seattle Art Museum and dreaming up what can be done, what has been done, and what is possible.
Eventually, and with a lot of help from my supervisors Pam McClusky, Barbara Brotherton, and Ramzy Lakos, we scaled my project to focus on one artwork in Cosmic Beings in Mesoamerican and Andean Art. I chose a Mayan work, Relief Panels (Door Reveals) (ca. AD 550-950), because it is positioned at the center of the exhibition. Originally being a lintel (a horizontal support in a doorway), it would have been one of the first artworks someone would have seen when entering a palace or temple. Around this one work, I developed a smartphone tour, a verbal description, an in-gallery presentation, a new wall label, and educational resources for the piece. It was important to me to create and explore a variety of different ways for visitors and staff and to connect with the work and show how ancient artworks can be activated.
An important part of developing this interpretive content for Relief Panels (Door Reveals) was consulting with other experts. Mary Miller, Meghan Rubenstein, and Virginia Miller were invaluable in the help and enthusiasm they provided. For the smartphone tour's music, I brought in Juan Francisco Cristobal, my friend, former colleague, and Q'anjob'al Maya UCLA Ethnomusicology doctoral candidate. I also selected two paintings from the Arte Maya Tz'utuhil collection, available online as part of the Latin American Cultural Center's Maya Spirituality: Indigenous Paintings 1957–2020 exhibition.
Another key part of my research was conducting an expansive review of work in the Northern Maya area during the Late Classic Period in topics varying from architecture to ethnobotany. There were a lot of moving parts in this project and learning how to balance everything was an interesting challenge that I would not have been able to do without the support of SAM staff.
The opportunity to engage with an artwork that is a part of my heritage has been one of the most meaningful experiences of my internship. Hope, pride, identity, memory, and healing are just a few words that come up for me; they are integral ideas that underlie everything I created. I hope that I made my community and family proud, and that the content I developed for Relief Panels (Door Reveals) can serve as a bridge to inspire all of SAM's visitors. I hope everyone visits Cosmic Beings and spends time with its art, engages with the smartphone tour, and considers how the art connects to the thriving Latin American community today.
– Lena Ishel Rodriguez, SAM Emerging Arts Leader Intern
Photo: Natali Wiseman.