Elevating the Spirit: Dr. Renée Cheng on Architecture's Role in Our Lives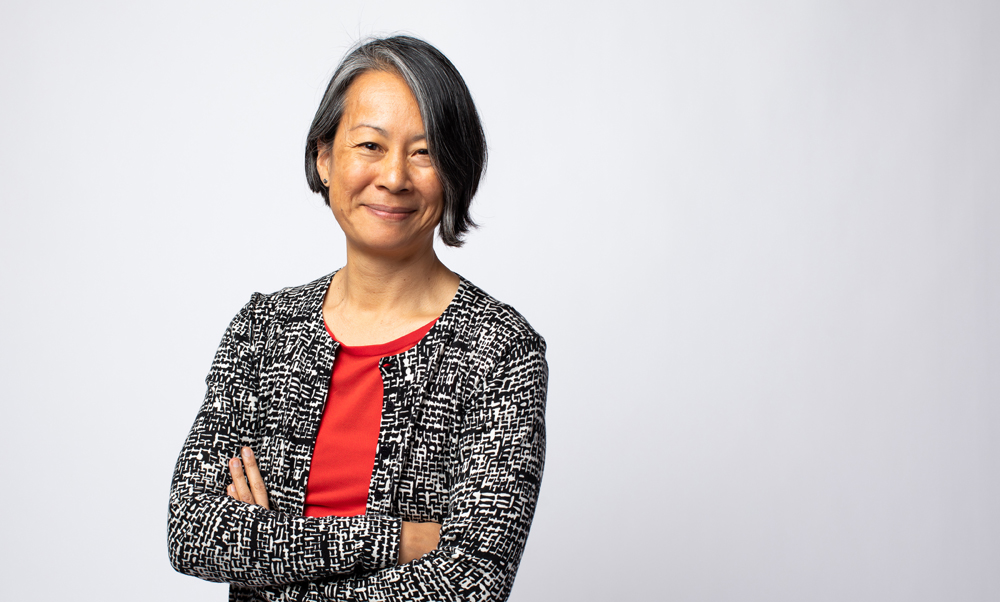 SAM's Gardner Center for Asian Art and Ideas presents the 2022–23 season of the Saturday University Lecture Series, with nine talks by leading scholars exploring the social power of architecture. Renée Cheng, Dean of the College of Built Environments at the University of Washington and a catalyst for advocating diversity and inclusion in the field, kicks off the series on Saturday, September 10 at the Seattle Asian Art Museum with a discussion of cultural identities and their expression in the built environment. Haley Ha, SAM Manager of Public Engagement at the Asian Art Museum, spoke with Cheng about her background, why equity matters in architecture, and how architecture can respond to ecological concerns.
"Space and culture are interconnected—they shape and reflect one another. When we understand the cultural messages conveyed via sacred architecture, we become aware of how those messages are heard differently depending on cultural identity."

– Dr. Renée Cheng
Haley Ha: Tell us about your background. How did you first become interested in architecture?
Dr. Renée Cheng: I grew up in the Midwest—the daughter of a painter and an engineer—and in so many ways architecture is something of a combination of the two. I always enjoyed making things when I was a child. I did a lot of painting and sculpture, but it was messy stuff. It wasn't like a kit of Lincoln Logs or Legos; it was clay and paint and messy things that were much more open-ended in what they would lead to. So I wouldn't say that it was a straight line to architecture by any means. I actually considered medicine at one point, but I grew into really understanding my passion for making things and making beautiful things.
Later, I started realizing that it had to do with spaces, not objects, and my focus shifted over time to be increasingly oriented towards people and the collaborative ways that you have to work to build buildings. I became more interested in the interaction between people aligning around shared goals for occupied spaces and the use of space and places.
Ha: How would you describe your work and research to someone who has never heard of the ideas you explore?
Dr. Cheng: I am an architect and I maintain my license, but I don't build buildings. I don't design buildings. I teach those that will be building buildings. I also study the field itself and look at ways that it could be more innovative and beneficial to more people. There's a lot of the stereotype of an architect like Frank Lloyd Wright in a cape, working for wealthy clients, or even, you know, primarily working for a limited number of people. I am really trying to promote an idea of architecture that positively affects more people, the idea that a well-placed window to a view or a sequence of spaces that allow you to be part of a group ceremony can elevate the spirit. It's something that an individual might be able to do, but working together with others, really understanding the different points of view that go into making a space that works for more than one person, creating a space that's large, larger than what one person can build is really what I what I look at in in my work.
It was not a practice in the same way that an architect would practice in an office, where there are buildings that you can show and point to and say we did that; but it's more of a development of programs and looking at ways that the entire discipline and profession can change. My work has been primarily US-based, but I look at a lot of international examples, often in terms of the way they incorporate new technologies or legal structures of financing that allow for different ways of working. So it encompasses more than just the practice of architecture itself.
Ha: You're an advocate for diversity and equitable practices in the field of architecture and built environments. Can you briefly describe built environments in both research and practice? And what role does diversity, equity, and inclusion play in it?
Dr. Cheng: Built environments really include all of the areas that are not natural, that are actively built by shaping of land and the infrastructure. It includes smaller-scale spaces, rooms like where you woke up this morning, with a particular light condition and orientation, or the transit you use for shopping or working. The room that you were in, the living structure, the transit, the infrastructure were all planned. It's part of a city that was planned.
Volunteer Park was planned and laid out in certain ways to emphasize or enhance certain aspects through the choice of what to plant. Some of it might have been growing here and preserved, and others might have been added. So there's all those aspects of what makes up our built environment. They were all planned, designed, and executed. Someone had to figure out how to pay for it, had to logistically make it happen, and get all of the permissions to make sure that it would work and function in the way that it was intended.
So, what role does diversity, equity, and inclusion play, when you think of that broad definition of built environments? Historically those designers were hired by a small group of people, often very wealthy, and the input was usually fairly limited. And so in the end you ended up with some really beautiful spaces and places for sure, but also certain decisions that really negatively impact communities—often communities of color—whether it was in the placement of highways or the general economic investment in affordable housing. You had a lot of communities that were left out and negatively impacted by architecture. And so what I have worked for is to find ways to include more voices, to include more factors. When we consider what is good design and to find ways that we can accomplish them effectively, not only economically but with sustainable and good practices.
Ha: In the past, architecture has been viewed as a male-dominated field. As an Asian American architect and a woman of color, what challenges have you faced in the field?
Dr. Cheng: There is a definite stereotype of architecture as a male-dominated field and definitely the dominant culture is white males; if you look across the leaders and award winners, they tend to be white men, especially in America. In my experience as a Asian American architect, I'm the first woman dean of the college. I'm the first person of color. But I've also been the first or often the only designer or practicing architect in a group of academics, academic architects, or woman in a very dominant technology-related field. So, quite often these are even more white male dominated than the general population of architects. I've definitely experienced being the only woman in the room. This can have some positives in that you get noticed, and some negatives in that you get scrutinized, or you sometimes feel like you're speaking for an entire group and can be tokenized.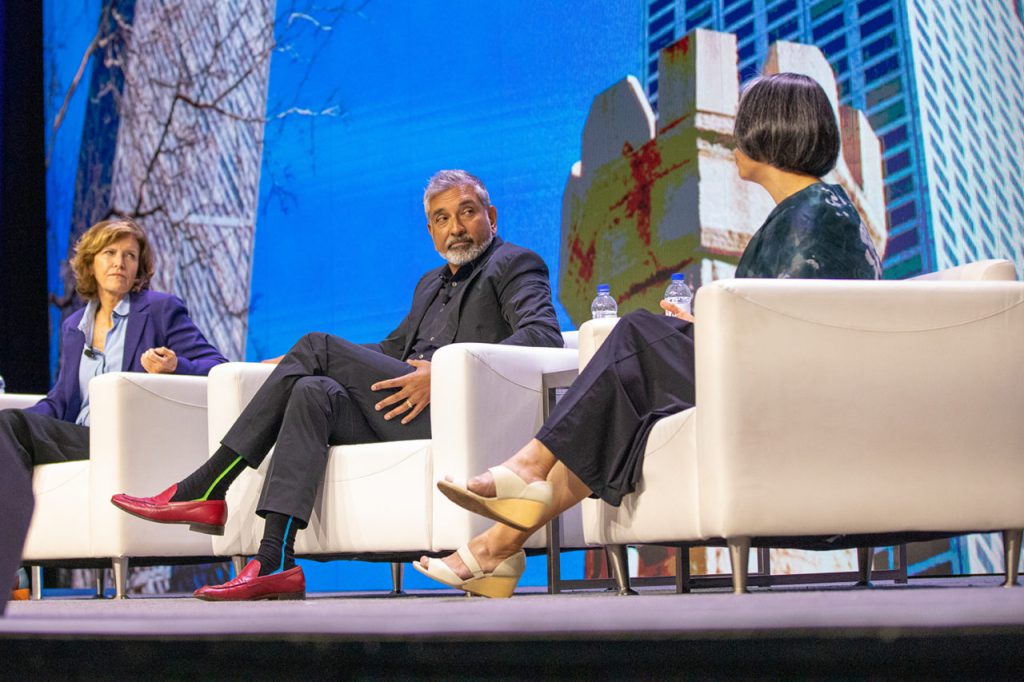 I've been committed to increasing the number of women in architecture in particular since I was in school. I had an experience when I was in graduate school, where our class was composed of about 30% women who went on to do amazing things like become firm leaders, these women were just really incredible. And there was a time in our graduate studies where there were no women faculty on a fairly large faculty group. And we talked to the dean about this, and his response was: there were no qualified women to hire for teaching, and that statement was so shocking to me, and made me renew a commitment that I think I hadn't articulated before then to change that by setting up systems and programs that mentor and initiate faster pathways through the education and the professions for women and other identities that were underrepresented in the field.
A lot of the work that I do is centered on the experience I had in graduate school, of feeling like there's got to be another way. It's not that there were no qualified women. It's that they were not easy to find, or that they weren't retained, promoted, and made visible. Because I knew that my female classmates had a lot to offer. We were probably losing a lot of amazing input as well by not having the role models to help us succeed in our field.
Ha: What are some of the biggest challenges for ecological issues of our time, and how can architecture play a role in solutions?
Dr. Cheng: Worldwide, buildings are forty percent of the energy consumption and they can make up eighty percent of what goes to our landfills through construction and demolition processes. You can say that you know buildings and cities bear a disproportionate share of energy consumption, and also they have a disproportionate responsibility of being a solution to the problem.
Let's use embodied carbon, for example: the carbon that is used while you produce a building, maintain a building, and disassemble a building. It's actually a more sophisticated way of thinking, not just of the cost of your electric bill for your air conditioning. Or consider a materials decision, and how much transportation it takes to transport this piece of wood from a place that maybe doesn't have natural forests. Would concrete be a more economic, ecologically, and carbon-reducing choice? So, it gets pretty complicated, pretty fast, but the overall impact of the development on sustainability and climate is really pretty clear. Architects, building contractors, real estate developers, and landscape architects, we all bear a disproportionate responsibility for climate solutions, because the product of our work bears a disproportionate share of the energy consumption.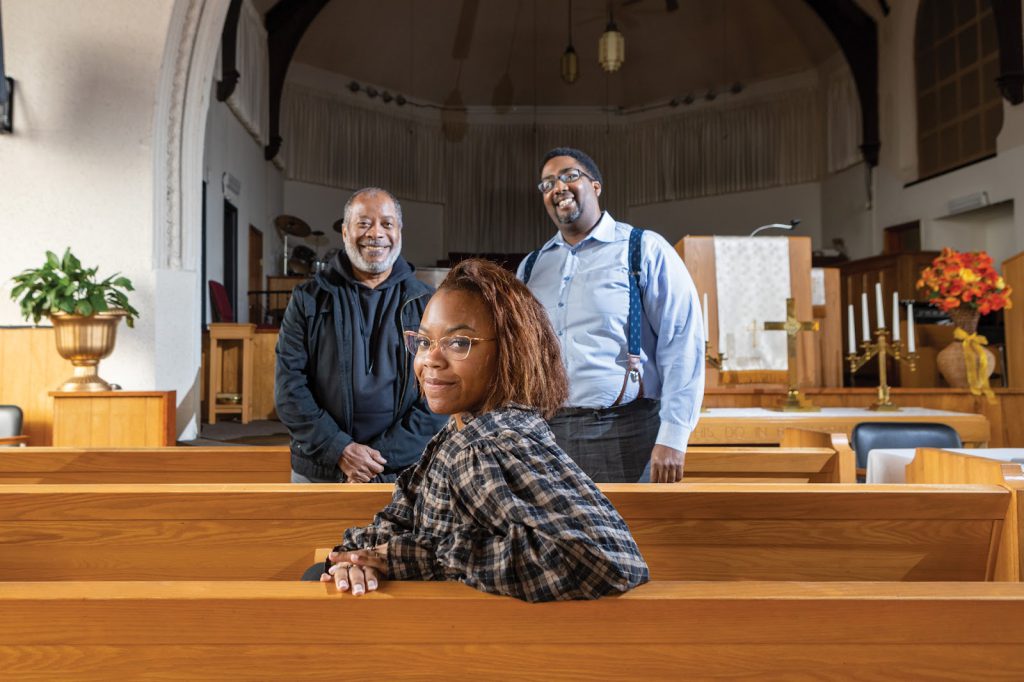 Ha: This Saturday University lecture series is focused on sacred spaces in urban settings; I'm interested in the collaborative work between UW's College of Built Environments and the Nehemiah Initiative for faith-based congregations and the communities they serve in the Central District. It seems to have been vital for these places to survive the socioeconomic challenges in the historically black neighborhood. Can you tell us more about this collaborative effort and how this initiative played a role?
Dr. Cheng: This project is a multi-year commitment to the Nehemiah Initiative, which is a group of Black churches in the Central District of Seattle who are working together to promote their beloved community. Our college hosts a series of studio classes where students work with church leaders and community members to study the potential for church property to be developed in ways that provide housing and community spaces that can support the Black community.
We have an interdisciplinary team of faculty and I teach about the intercultural aspects of working across differences. The differences that I focus on for the class include disciplinary differences in how an urban planning student and a real estate student might think about the best use of the land. It also includes how our students can work with a Black faith-based community while bringing in their own experiences and expertise in respectful and effective ways.
– Haley Ha, SAM Manager of Public Engagement at the Asian Art Museum
Photo: Renée Cheng, dean of the College of Built Environments at the University of Washington. Image courtesy of Sean Airhart, NBBJ.