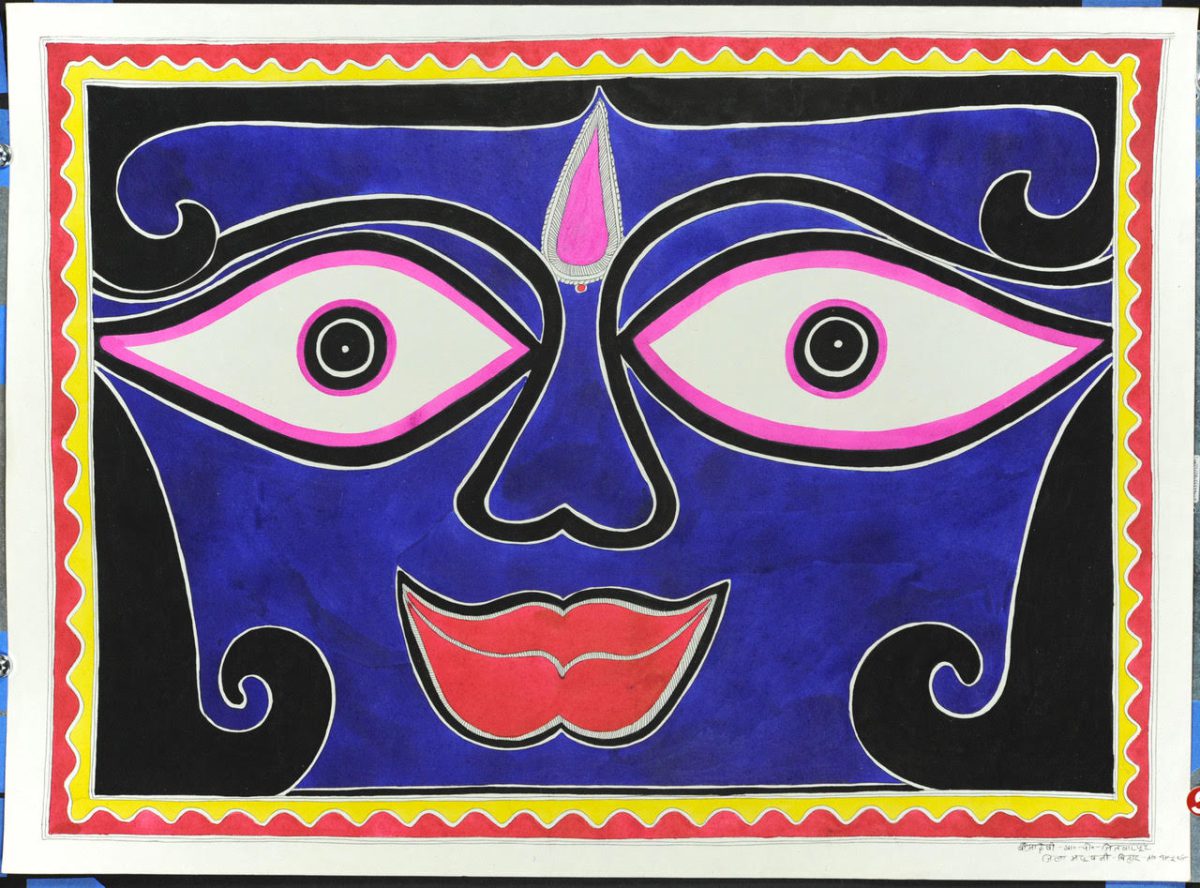 This week's SAM Object of the Week was written by University of Washington student Ji In following a presentation given by SAM Assistant Curator of South Asian Art Natalia Di Pietrantonio to the class "Gender and the Hindu Goddess" in the spring of 2022. This essay has been edited from its original form by SAM staff for brevity but the overall content remains the same.
Painted in 1986 by Baua Devi, Kali, as the title explains, is a portrait of the Hindu goddess Kālī. Most recently on view in Embodied Change: South Asian Art Across Time at the Seattle Asian Art Museum, this artifact is a medium sized painting made on paper with ink and color. This essay will explore the format and iconography of the painting that illustrates the goddess's benevolent yet captivating assertion of power by focusing on the gaze depicted in the portrait. Stylistically, the painting belongs to Maithili art. Historical background on the art style, including a brief biography of Baua Devi, will help explain the significance of Maithili art which has given female artists renewed identities and empowerment adding special elements of power to this painting.
Format
The format of the painting—ink and color on paper—and its technical features, bring out the intensity of Kālī's gaze focused straight at the viewer, lending an aspect of assertiveness. The painting depicts the face of the goddess colored in vibrant and saturated colors. The range of colors Devi uses is limited to a palette of white, black, and dark blue, filling most of the painting to depict the goddess's skin. Meanwhile, the colors pink, red, and yellow are used as accent colors to bring out certain features like the outline of the goddess's eyes and lips. Kālī's features are made up of mostly thick and bold lines, except for the bindi/tikkā on her forehead, suggesting her third eye, elaborated with fine lines of black ink. The overall simplicity of this painting with bold strokes and a limited range of color, allows the viewer to easily focus on the essential aspect of strength in Kālī's glare that Baua Devi portrays.
Iconography
The iconography depicts the goddess lacking the typical visual features of Kālī and mainly focuses on the eyes and her benevolent assertion of power. Some elements of Kālī's typical characteristics are portrayed in this painting, such as her deep black and blue skin, as well as her three eyes. However, the painting lacks a lot of other features associated with the goddess. Kālī is recognizable as a fearsome and destructive female deity, often visualized holding a sword and a severed head, wearing a garland of skulls and a skirt of arms, and with her tongue protruding and dripping blood.1 Baua Devi's painting lacks these features and focuses only on the goddess's face with no hint of ferocity. Her typical menacing appearance is replaced with a smile aimed toward the viewer. Normally, a scary portrayal of Kālī's distinguishable characteristics is important as Kālī's is known to lead people to liberation, moksa, allowing people to face their fear and the uncertainties of life, while enabling them to be conscious overcome realities.1 At the same time, Kālī still had benevolent elements with iconography of her right hand in a mudra hand gesture that grants boons and assures her people to not fear.1 Such shows how it is only the physical appearance of Kālī that might be unsettling, because Kālī is compassionate to those who worship her and grants them something beyond what this physical world can offer. And possibly, Baua Devi wanted to focus more on such a benign, yet still powerful aspect of the goddess.
Stylistic Composition of Mithila Art
As mentioned previously, the main stylistic composition of this painting is that this artwork is done in Maithili/Madhubani style. Not only the fact that this painting is done by Baua Devi, who is a renowned Maithili artist, there are detectable elements of the Maithili style painting such as bordering of the painting, and usage of bright natural pigmented colors. The artwork has a painted frame that borders around Kālī's depicted face in a pink and yellow zigzag pattern. Such framing pattern is typical in a lot of Baua Devi's work and that of many other Maithili artist. The bright colors of the painting can also be a clue to distinguish the work to be Maithili art, which appears to be done intentionally to maintain the original style of this art. In an interview with The Better India, a digital media platform covering popular news, Baua Devi emphasizes the importance of maintaining authenticity by keeping the traditional style of using twigs, fingers, and natural pigments of colors like black from charcoal, yellow from turmeric, white from rice, blue from indigo, and saffron from marigold.
History of Mithila Art
The history of Mithila art and its various associated artists—like Baua Devi—comes from an ancient cultural region of India, located in the Northeastern part of Bihar, made up of small rural villages.2 This art form originated from their wall art depicting images of various Indian epics of many deities in people's personal homes. Such paintings were done by a particular practice known as Bhitti chitra where Maithili women painted on the walls and floors of their mud homes.3 It also served a common social purpose which is to summon gods to bless newly married couples with love and fertility.4 In the same interview with The Better India, Baua Devi also said, "According to the custom, all the women in the village gather during a wedding or a special occasion to draw complex geometric and linear patterns on the walls of the house. The art would usually be scenes from mythology and nature as symbols of love and prosperity."2 This art was originally very personal, kept only as a regional cultural practice, and wasn't known to a much greater public. Carolyn Brown Heinz, a professor of Anthropology at California State University Chico, noted on such seclusion of the art until a fateful event of earthquake in 1934 that hit the area and exposed many of the wall paintings to be seen by several people, including William Archer who was a young British official visiting the area to assess the damage.4 Archer was amazed at images of the vibrant colors of goddesses with various features of the deities like water lilies, snakes, and the sun in natural pigments painted in the interior of the houses. Sometime after, a drought in 1966 prompted an urgent need to improve the economy in the area. Chair of All-India Handicraft Board, Pupul Jayakar who was aware of beautiful images of Mithila's wall art, sent an artist, Bhaskar Kulkarni to Madhubani (city in the Mithila region) to look for female artists of the Mithila to produce paintings on a paper, that could easily be sold. Baua Devi was one of many female artists who were recruited. Heinz highlights how such movement of the art from wall to paper as medium brought many changes to the region and its people. First, it fulfilled its main goal by bringing significant economic relief, especially in the impoverished area of Bihar. Mithila art also became known to a much wider public like tourists and foreigners, bringing a cultural awareness of Madhubani, a region previously rarely visited, which brought a significant change to the artists. Most of the well-known Maithili artists were women. These female artists, who used to make no profits from their art works, now became the main source of income to support their families. Being in a fairly patriarchal society, such an art movement empowered these women by allowing them to gain greater respect and support, and to contribute greatly to not just their families, but to the greater region of the location with its economic and cultural growth.
History of Baua Devi
Baua Devi was also one of the female artists who became successful after contributing to the transfer of Maithili art on paper. She was born in Jitwapur village in Bihar and was taught Maithili art as the usual tradition by her mother when she was 13.2 Her talent was discovered by Kulkarni, the artist sent to recruit Maithili artists, when she was 19 after her infant's death and was suffering from a physically abusive husband. Kulkarni influenced her art to change from typical Maithili art form to a place where she can be expressive of her thoughts. He advised her to freely paint out of her imagination.3 Such teaching might explain the unconventional portrayal of this painting of Kali. However, his advice to the Mathila artists might have also influenced the deterrence of traditional aspects of Maithili art. Heinz also noted how one negative impact from the movement to paper was that the art might have lost its religious meanings in order to better cater towards foreigners who have no interest in knowing its significance.4 This raises concern about the authenticity of Maithili style art and that it only focuses on the elaborated and visually appealing aspect of the artwork to attract the public's interest. However, Baua Devi's artworks testify to how the artist still appreciates and maintains the traditional aspects of the art by continuing to portray Hindu deities and conserving traditional art technique methods like using natural dyes in her art work, while not being limited to add her personal identity through abstract elements as well. She is now an incredibly successful Maithili artist who is recognized all across the world. Devi has won many awards such as the National Award in 1984 and Padma Shri in 2017, and her work is sold in various countries across the globe like the United States, Spain, France, and Japan.5 With such success, this new form of Maithili art has given Devi a new identity and freedom in various aspects. She found the freedom to express her thoughts through her paintings, and to no longer be subjected to patriarchal bondage. Devi often discusses how she can't choose her favorite painting because she views Madhubani painting as her identity and says, "All my paintings are amalgamations of customs, history, and love."2 Her statement shows how she believes the Maithili paintings have given her a new identity that has connected her with history.
Conclusion
The artwork Kali made in ink and color on paper depicting the frontal profile of goddess Kālī lacks typical iconographic features to instead focus on the goddess's intense gaze and benevolent yet dominant assertion of power. The Maithili style of painting, and Baua Devi's own personal story together embodies the theme of female assertion of power. Kālī being the goddess with power of time, lives as the goddess to many from the ancient times of Vedic era to contemporary period among Maithili artists including Baua Devi.
– Ji In, University of Washington Student
---
1 Foulston, Lynn, and Stuart Abbott. Hindu goddesses: beliefs and practices. Sussex Academic, 2009. "Behind Painted Walls: The Story of Baua Devi & Mithila Painting." Sarmaya, March 26, 2019.
2 "Painting Is My Everything: Art from India's Mithila Region – Exhibitions – Asian Art Museum." Asian Art Museum, May 4, 2020. https://exhibitions.asianart.org/exhibitions/painting-is-my-everything-art-from-indias-mit hila-region/.
3 Rinder, Lawrence. Baua Devi and the Art of Mithila. University of California Berkeley Art Museum, 1997. https://bampfa.org/program/baua-devi-and-art-mithila-matrix-175.
4 Heinz, Carolyn Brown. 2006. "Documenting the Image in Mithila Art." Visual Anthropology Review 22 (2). Oxford, UK: Blackwell Publishing Ltd: 5–33. doi:10.1525/var.2006.22.2.5.
5 "Behind Painted Walls: The Story of Baua Devi & Mithila Painting." Sarmaya, March 26, 2019. https://sarmaya.in/spotlight/behind-painted-walls-the-story-of-baua-devi-mithila-painting/.
Image: Kali, Baua Devi, 1986, Indian, born 1942, Ink and color on paper, Private collection, T2021.23.10.