Object of the Week: Iroke Ifa and The Seated IV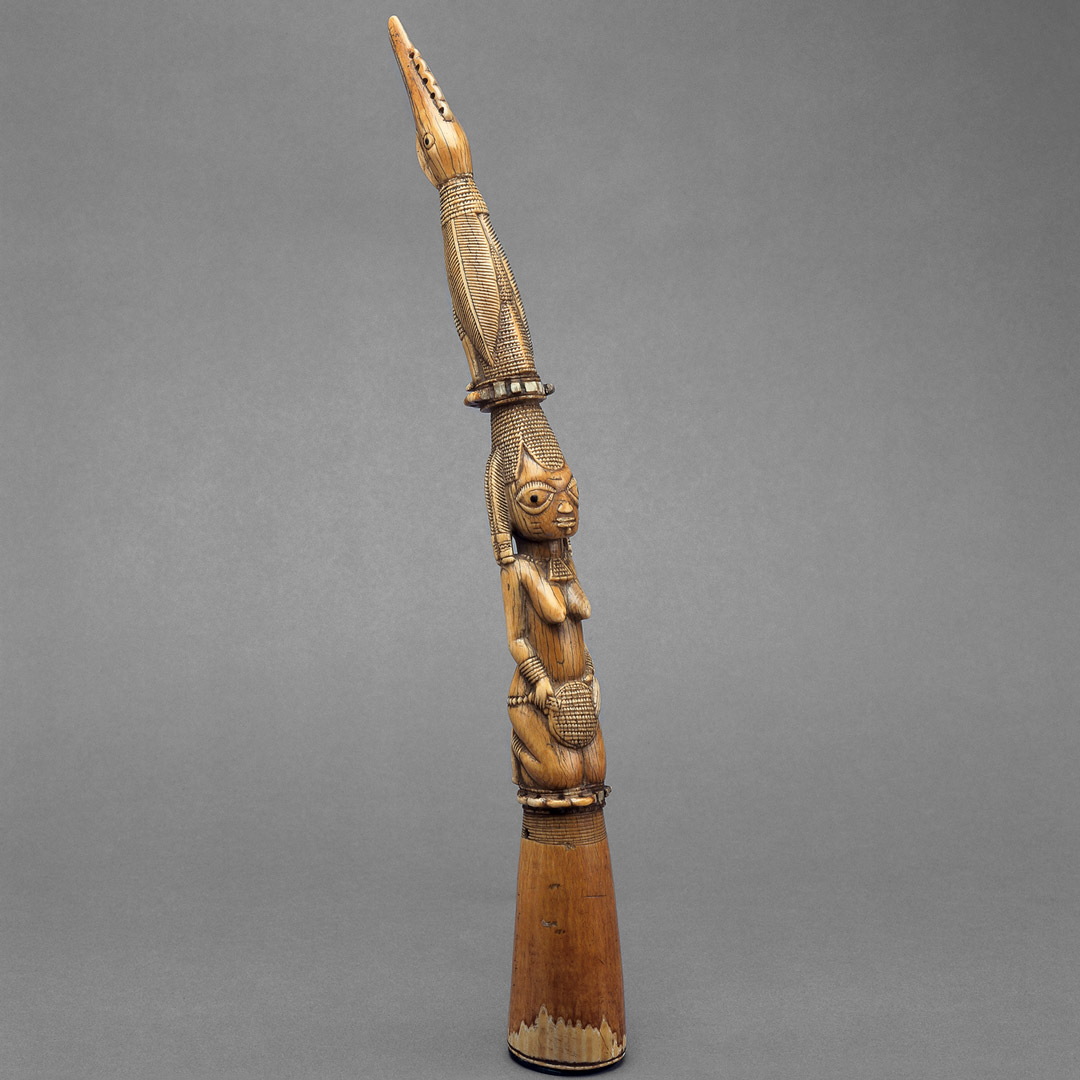 Two feminine beacons of African futurism are now on view in Seattle. One is in the Seattle Art Museum and another arrived this spring on the University of Washington campus. Both encourage taking a moment to reflect on one's destiny, and consider ways of approaching the future with new insights.
When chaos and disorder overtake your confidence in Yoruba culture, it is time to consult a babalawo, or "father of secrets." The woman in the museum would appear to assist him. She kneels, just as Yoruba belief specifies that each person kneels to choose a destiny before being born. She wears only waist beads and holds a fan, showing modesty and respect. Her head extends into a long cone which is where one's destiny is stored. The babalawo uses this divination tapper to call upon Orunmila, a deity who knows more about the hidden possibilities in your life that you are not aware of.
This is just a short summary of a highly evolved Ifa divination system, a living oracle that, in 2008, was inscribed by UNESCO as intangible cultural heritage of humanity. A video issued by UNESCO provides a brief overview with a visit to Nigeria and offers a chance to see the tapper in use.
Moving outdoors, a newly installed woman presides over a campus soon to be activated by students in their quest for new destinies. She sits, embodying calm, while her body is covered with slithering tendrils. Her face merges with a shining disc, evoking a means of connecting with unidentified essences that hover in the air, stirring questions about what lies ahead. The Seated IV (2019) is part of a group of four entitled The NewOnes, will free us, by Wangechi Mutu, a Kenyan-born artist. Her explanation about why and how these visionary women came to be is encapsulated the below video.
– Pam McClusky, SAM Curator of African and Oceanic Art
Images: Iroke Ifa (Divination Tapper), 20th century, Yoruba, Nigerian, Ivory, 15 1/2 x 1 3/4 x 7 5/16 in., Nasli and Alice Heeramaneck Collection, 68.26. The Seated IV, 2019, Wangechi Mutu (Kenyan, born 1972), Bronze, 80 1/2 x 33 3/8 x 36 3/4 in., University of Washington, Plaza of the Hans Rosling Center for Population Health, Gift of the Bill and Melinda Gates Foundation.