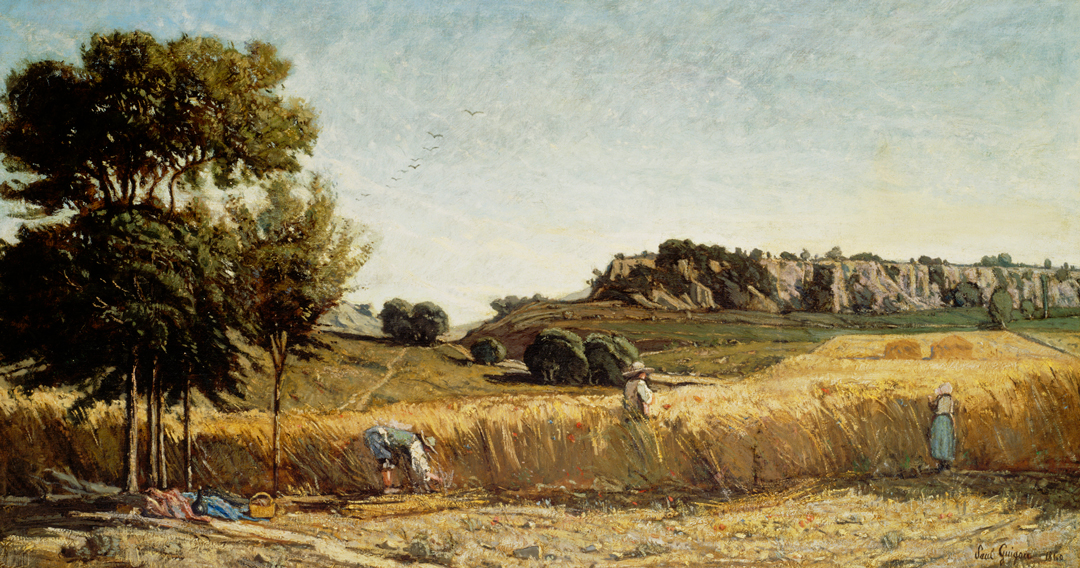 Joyeux quatorze juillet! As our French friends celebrate La Fête nationale, we're looking at a painting by Paul Camille Guigou, an artist we categorize as French—although he really identified only with the region of southern France called Provence, where he was born and spent much of his life. His story illustrates that national identity is complex and nuanced, and being French—or American, or anything else—means different things to different folks.
Guigou was immensely proud of Provence. Its landscape, inseparable from the unique quality of light that illuminates this part of the world, inspired nearly all of Guigou's paintings. A reclusive type, he would wander the hills near town by himself, a solitary figure seeking communion with his muse. On his hikes Guigou would make a point of going to out-of-the-way spots where few had visited, and where the views were unknown. The un-fame of these places seems to be part of what drew Guigou there; by visiting and painting them, he was drawing attention to something he knew was special and yet somehow overlooked. We can read his visions of rural Provence as a kind of journalism, enlightening those who wouldn't see it for themselves.
Guigou's program as an artist involved more than producing realistic, flattering pictures of places that were meaningful to him. He painted during the 1850s and 1860s, a period when France, under Louis-Napoléon, made efforts to naturalize its southern citizens, who had maintained a sense of cultural independence and local pride. Much of the Provençal cultural heritage revolved around the language spoken there, langue d'oc. Guigou and many others who cherished the region's culture and history saw the government insist that French, and not the local language, be spoken in Provence schools. The threat to their language was a literal and symbolic one, and for Guigou, part of a larger problem in the lack of appreciation for Provence's identity. Meanwhile, the industrialization of the area exacerbated Guigou's sense of cultural loss. With his paintings, he became an advocate for the land, its people, and its story.
In Wheat Field, the artist's heartfelt connection to Provence shines. Waving strands of golden wheat, warmly lit from above, and enlivened by flecks of red and blue, fill the center of the painting. Three working figures wading into the field honor the region's agriculture. Rugged hills loom above quiet valleys. Guigou is a very textural painter, leaving nothing refined or smooth, visibly preferring a coarseness evocative of the country. I love the little footpath that he includes on the left. This unassuming trail seems just the type he would have sought out on his painting excursions.
Poet and activist Frédéric Mistral, who had been a fellow champion of Provence with Guigou, wrote in 1908:
I consider Paul Guigou the greatest painter of Provence. No one could paint better than him the luminosity of our beautiful land, the rugged poetry of its rocky and powdery soil. With great sincerity of vision, he made a truthful and faithful portrait of his little nation. He does not yet have the place in the world of art which he deserves, but that will come.¹
Anything but a detached observer, Guigou makes no attempt to hide his nationalistic affection for his subject. His way of romanticizing Provence will be too sentimental for some, but I appreciate that he clearly loved what he painted. He felt it worth recording and celebrating, especially in the face of cultural domination and industrial intrusion.
– Jeffrey Carlson, SAM Collections Coordinator
Image: Wheat Field, 1860, Paul Camille Guigou (French, 1834-1871), oil on canvas, 25 3/8 x 45 13/16 in. Seattle Art Museum, Gift of Mr. and Mrs. Corydon Wagner, 60.49
¹Quoted in Paul Guigou: 1834-1871. Exh. Cat. New York: William Beadleston, Inc., 1987.