Object of the Week: Rummage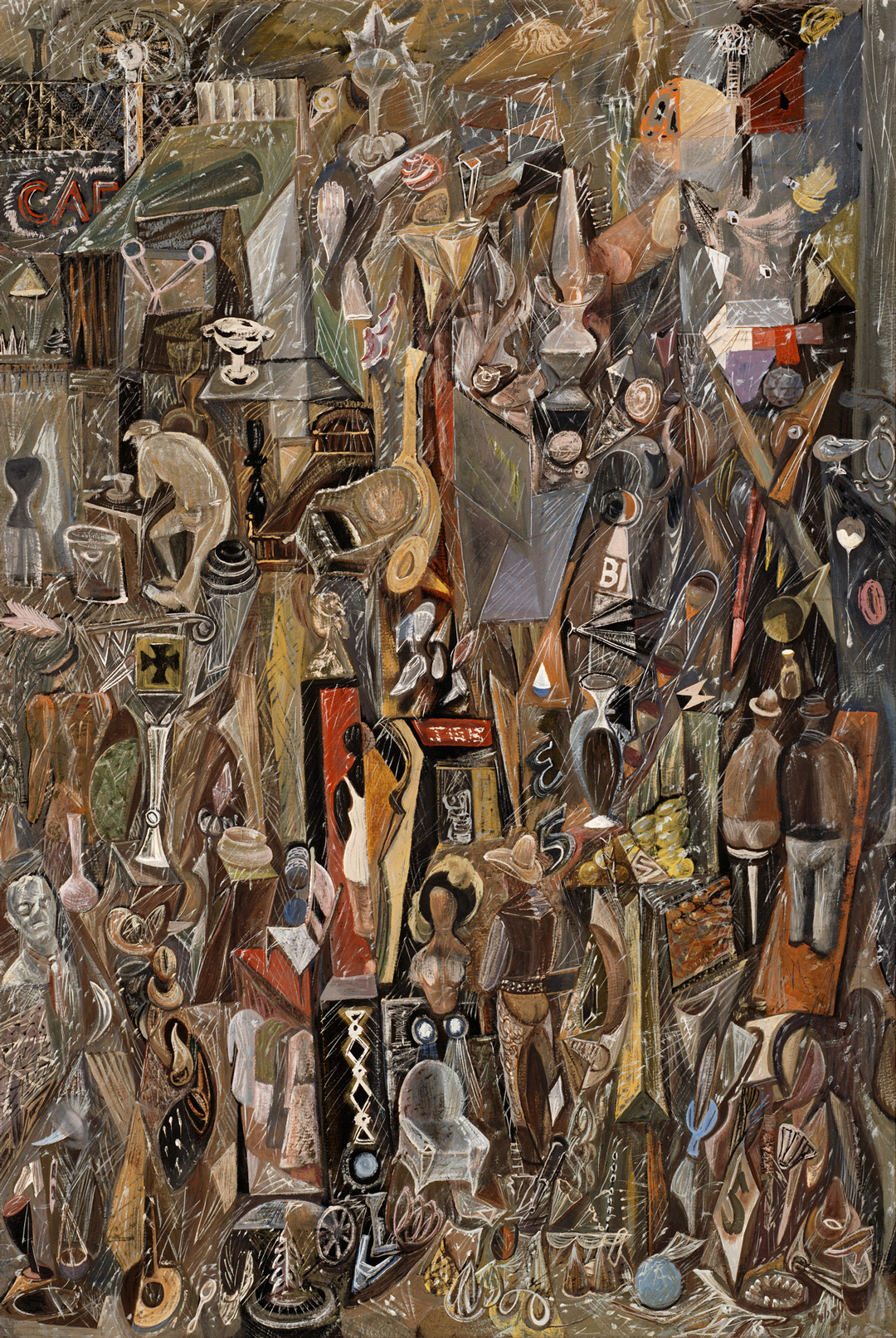 The word "rummage" has satisfying and nostalgic connotations for me. Hearing it triggers memories of summertime outings to what my grandma called rummage sales, where I'd pore over knick-knacks and tchotchkes in search of another person's junk that would be my treasure. To rummage is to search with a kind of directionless mind—to not know what we're looking for until we find it. When we rummage we're also navigating through a mass of objects, of all varieties, without neat structure or organization. If you think about it, it's the disorganization and diversity of these things that gives us something to do: We sort the unsorted according to our principles and desires.
In the season of spring cleaning it's much easier for me to imagine contributing to the rummage pile than doing any rummaging of my own. Still, it seems a fitting time to reflect on Mark Tobey's important 1941 painting Rummage, celebrating the barrage of sights and sounds found at the Pike Place Market.
The market became a touchstone for Tobey, and in the art of Pacific Northwest modernism, Tobey's work pictures the market most and best. The connection he felt to the energy, the people, and the goods was quasi-spiritual. Tobey called the market "a refuge, an oasis, a most human growth, the heart and soul of Seattle."1 His visits to the market were restorative and cathartic, and they also provided plentiful aesthetic stimulation for his work. While he would return to Pike Place for subject matter at various points, the years 1940–1942 saw Tobey complete the greatest number of market studies. Rummage, painted in 1941, fits into this period of concentrated attention.
Tobey gives us a maelstrom of '40s Seattle symbols: lounge chairs, mannequins, spoons, wheels, neon signs, birds, and clocks, arranged haphazardly, and pictured from different vantage points. His figures join the scene quietly and timidly, their presence overwhelmed by the visual noise around them. Looking at this painting, I picture Tobey doing his own rummaging, perusing the market's stimuli and selecting his subjects from it. In a broader sense, he was also selecting from Western art's tradition of forms in space, Cubism's rethinking of those forms, and Asian art's different emphasis on line.
One of the Seattle Art Museum's best-traveled pictures, Rummage has greeted viewers in Tacoma; Portland; San Francisco; Detroit; New York City; Poughkeepsie; Palm Beach; Cincinnati; Baton Rouge; Utica, New York; Albany; Buffalo; Baltimore; Andover; Copenhagen, Denmark; Frankfurt, Germany; Berlin; Nuremburg; Munich; Hamburg; Essen; London; Colorado Springs; Pasadena; Milwaukee; Valparaiso, Indiana; Fort Worth; Los Angeles; Oakland; Cortland, New York; East Lansing, Michigan; Columbia, Missouri; Newark, Delaware; Tucson; Aurora, New York; Macon, Georgia; Geneseo, New York; Jacksonville, Illinois; Lafayette, Indiana; Neenah, Wisconsin; Madison; Chicago; Pittsburgh; Interlochen, Michigan; Dallas; Osaka, Japan; Omaha; Miami; Des Moines, Iowa; Philadelphia; and of course, right here in Seattle.
Here's proof that rummaging—seeking and finding—translates well.
–Jeffrey Carlson, SAM Collections Coordinator
1 Mark Tobey, Mark Tobey: The World of a Market, Seattle, Wash.: University of Washington Press, 1964, introduction
Image: Rummage, 1941, Mark Tobey (born Centerville, Wisconsin, 1890; died Basel, Switzerland, 1976), transparent and opaque watercolor on paperboard, 38 3/8 x 25 7/8 in. Seattle Art Museum, Eugene Fuller Memorial Collection, 42.28