Object of the Week: Tapestry of America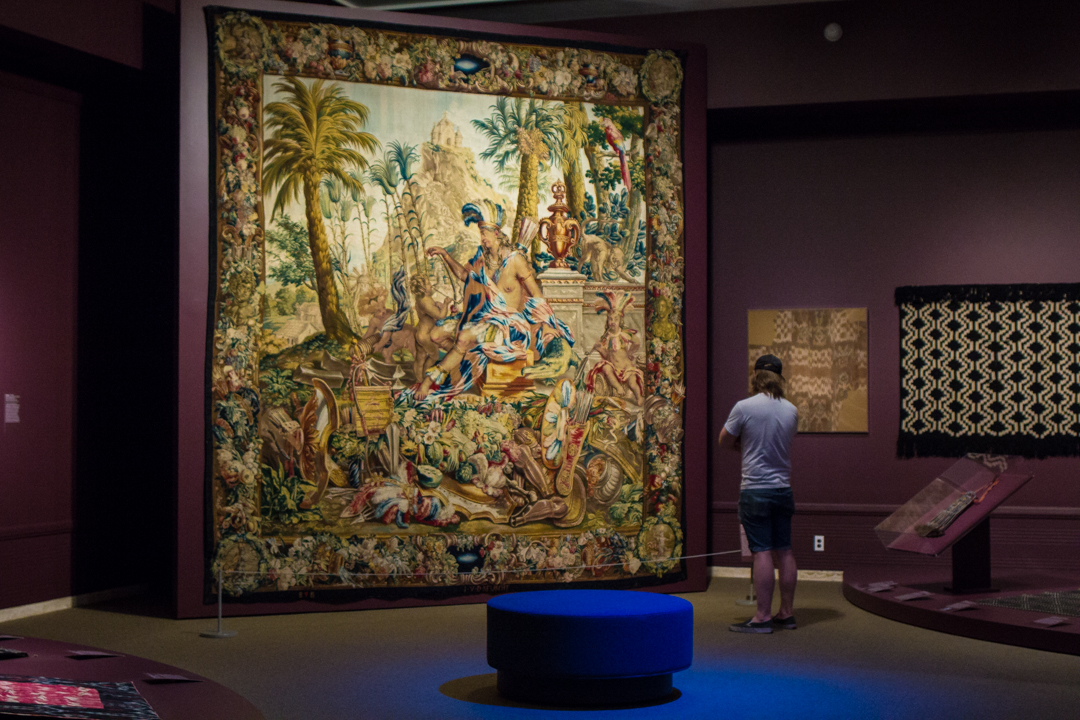 The tapestries of the continents that feature in Mood Indigo: Textiles from Around the World at the Asian Art Museum are simply stunning art objects, almost too much to see, each offering a near-constant barrage of decorative detail that takes time and energy to decipher. Happily, their aesthetic abundance encourages return visits. As particularly exaggerated allegorical portrayals, the tapestries provoke more thoughts about the values of the culture that produced them than the actual life of 17th-century inhabitants of Asia, Africa, and America. Or maybe we think Native women did lounge about, attended by tobacco-smoking cherubs, petting alligators?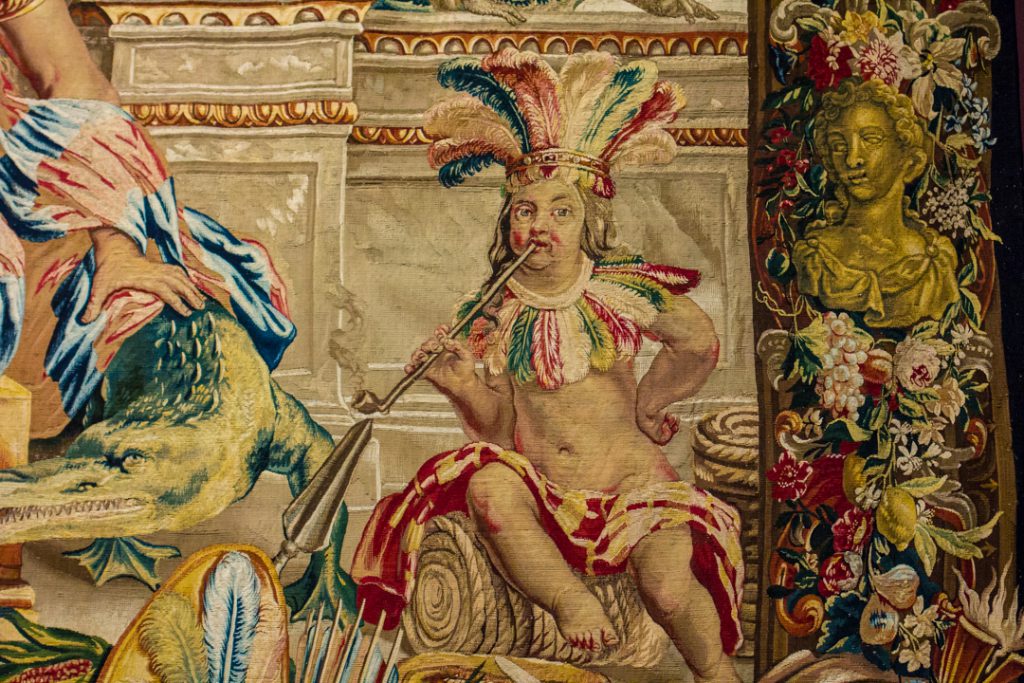 As an American citizen, I find the Tapestry of America especially interesting to consider. On a staff tour of Mood Indigo, SAM curator Pam McClusky pointed out one detail that has echoed in my brain since, prodding me to think on it whenever I see the tapestry. Near the feet of the enthroned lady of America stand three stacks of gold coins, with a small pile next to them. The coins are ignored by the figures and occupy an unimportant place in the composition; they are as easily overlooked by the viewer as by America and her active attendants. With this detail, the makers of the tapestry commented on the value of money in cultures other than their own. America, we see, is laughably uninterested in gold and riches.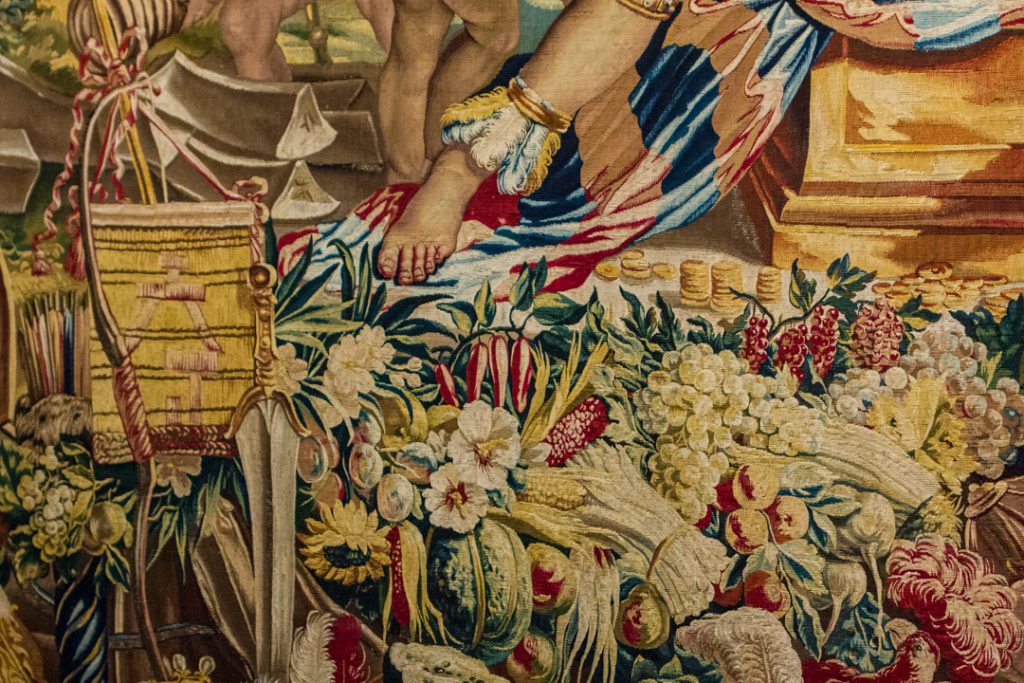 It's clear that cultural tensions are surfacing here, but what exactly are they, and where do they originate? University of Washington professor of history Benjamin Schmidt helps us to identify what's happening in the tapestry in his 2015 book Inventing Exoticism: Geography, Globalism, and Europe's Early Modern World.
Writing on the late 17th and early 18th centuries in Europe, Schmidt points to maps and other material objects that reflect consistent opinions on what was European, what was not, and how the European related to things non-European. Of course, implicit in those ideas was an assumption that Europeans did it better. Take, for instance, commodities. Schmidt writes that "Europeans, even as they dearly coveted them, believed only they understood an object's 'true' material value, while non-European peoples, notwithstanding their casual regard of them, failed to grasp the worth of those very goods they so richly possessed."1 The maddening judgment present in the picture visualizes Schmidt's thesis perfectly: Gold coins would sit at the feet of the Natives; they just didn't understand true value.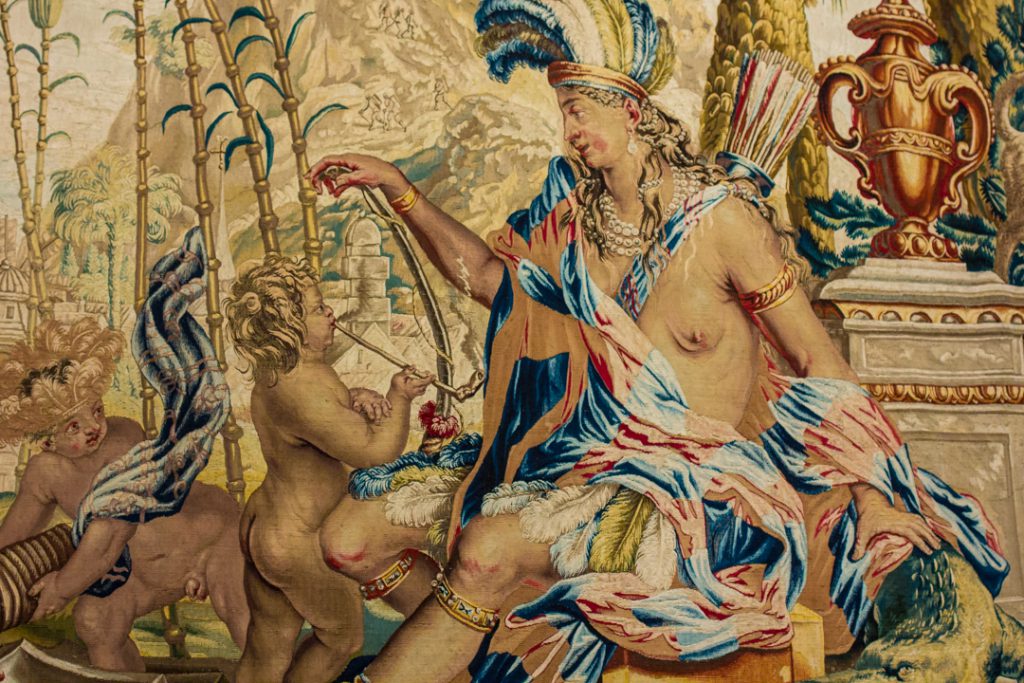 A related point revealed in the tapestry is the Europeans' readiness to take. Schmidt explains how, in their portrayals of exotic lands, early modern Europe developed a habit of thinking about the broader world as a consumable commodity, theirs for the taking.2 This "exotic" other world was essentially "agreeable" and ripe for plundering. So, even as the makers of the tapestry ridicule its subject for valuing anything above gold, we also see Europe's greedy desire for tobacco reflected in the smoking cherub. Tobacco, like everything else, could probably be taken, because it probably wasn't valued rightly.
Profound cultural differences and centuries of difficult history have made the Tapestry of America a charged work, one that is rewarding to engage.
—Jeffrey Carlson, SAM Collections Coordinator
1 Benjamin Schmidt, Inventing Exoticism: Geography, Globalism, and Europe's Early Modern World, Philadelphia: University of Pennsylvania Press, 2015; 256-257
2 Schmidt, Inventing Exoticism, 228.
Images: Installation view of Mood Indigo: Textiles from Around the World at Asian Art Museum, © Seattle Art Museum. Photo: Natali Wiseman. Tapestry of America (detail), late 17th c., Jacob van der Borcht (Flemish) and Jan Cobus (Flemish), wool, 156 x 144 1/8 in. Seattle Art Museum, Gift of the Hearst Foundation, Inc., 62.1991, Photos: Natali Wiseman.