Object of the Week: Woman and Girl (Frau und Mädchen)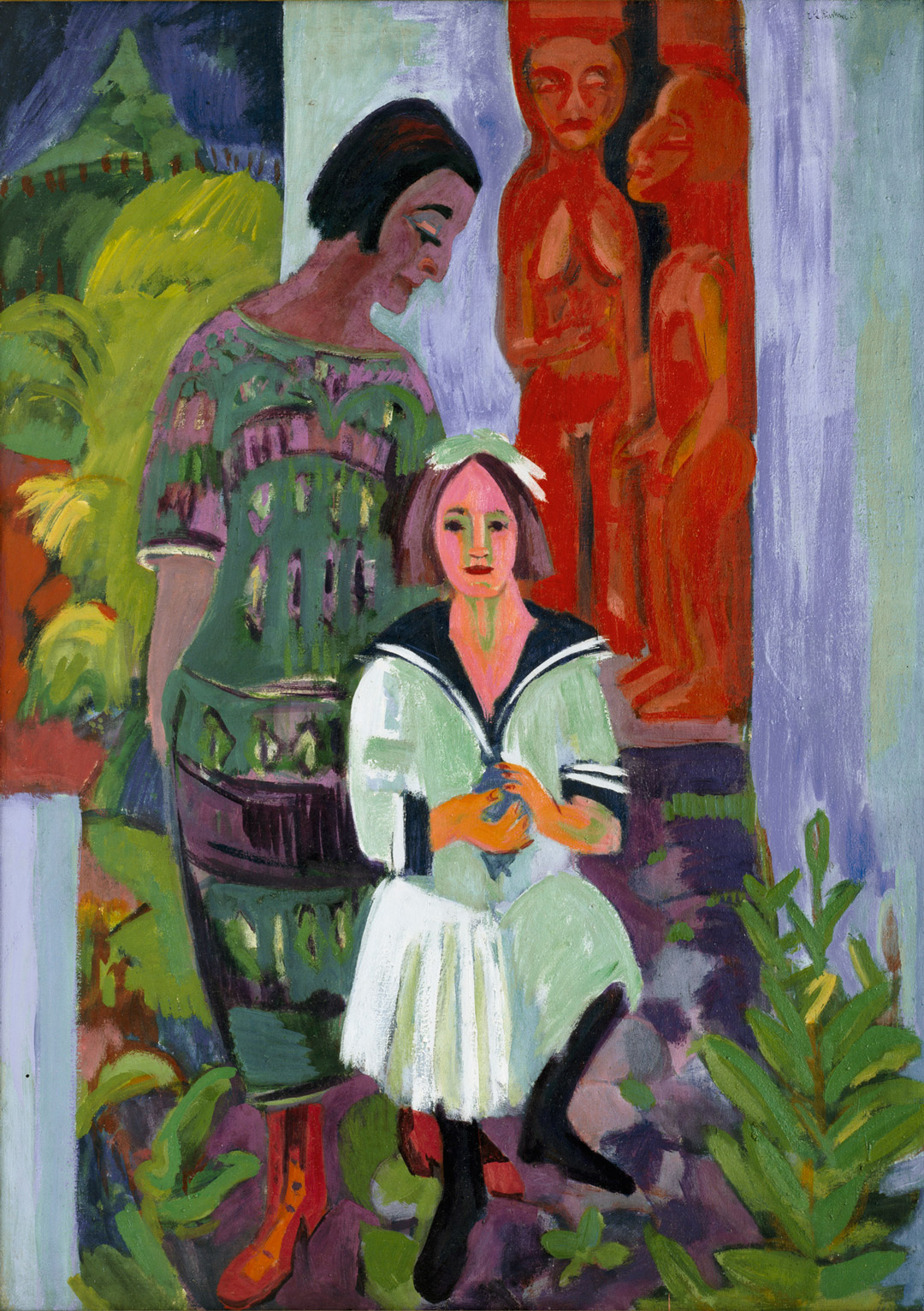 In the 1960s Donald E. Gordon, a scholar of the German artist Ernst Ludwig Kirchner, was producing a new catalogue raisonné on the artist, with the help and cooperation of Roman Norbert Ketterer, a collector and dealer who also served as executor of the Kirchner Estate. Gordon was a professor of art history at Dickinson College in Pennsylvania, where he served as chairman of the Department of Fine Arts. He had secured two Fulbright fellowships that took him to Germany for direct study of many Kirchner works, first at the University of Hamburg in the mid-1950s, and then at the University of Marburg in the mid-'60s. By way of his study and connections Gordon familiarized himself with the entirety of Kirchner's oeuvre. He successfully produced the catalogue raisonné, published by Harvard University Press in 1968, a herculean effort because of Kirchner's productivity in painting and graphic arts. The same year marked the premiere of a retrospective exhibition on Kirchner that Gordon had organized, and for which he also authored the exhibition catalogue. The Seattle Art Museum Pavilion, this museum's first space dedicated to the display of modern and contemporary art, was the first of three venues to host the Kirchner exhibition. Ernst Ludwig Kirchner debuted there on November 23.
Amid impressive amounts of researching and writing Gordon was wheeling and dealing, too. He came upon Woman and Girl (Frau und Mädchen) in the collection of Mrs. Maria Möller-Garny, the widow of Ferdinand Möller, a Nazi-era art dealer. Woman and Girl (Frau und Mädchen) had fallen under Hitler's ridiculous category of "degenerate art," prompting Nazi officials to remove the painting from the Staatliche Gemäldegalerie in Dresden. Because it was taken from a state-funded museum by the government in power, it was a legal seizure at the time. Tellingly, Möller, though in the business of dealing, recognized it as a fine example of Kirchner and kept the painting in his private collection until he died. In April of 1968, seven months before the doors opened on the Kirchner retrospective in Seattle, Gordon provided the connection between Frau Möller-Garny and SAM (for a small fee, of course). Gordon's letter to Möller-Garny notifying her of the museum's intention to buy, part of which we have reproduced here, is fun whether or not Sie lesen Deutsch.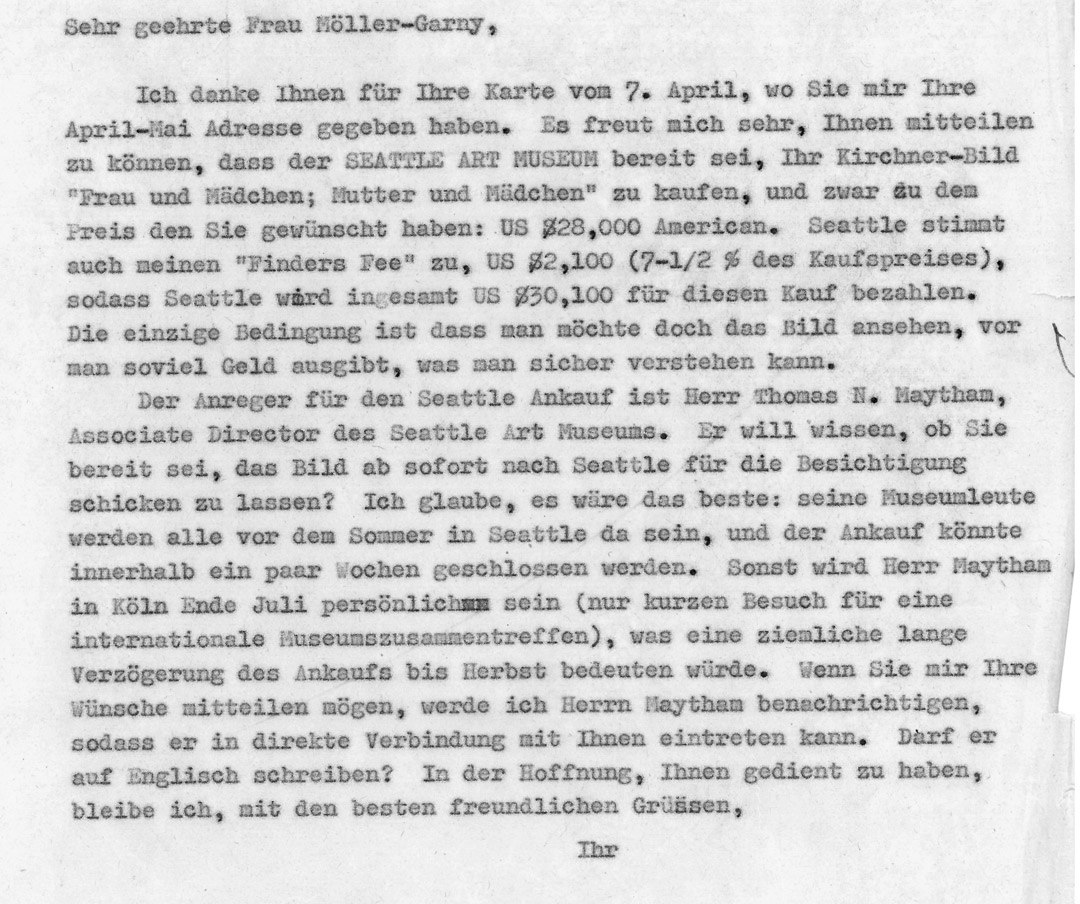 The next week, Gordon wrote to Thomas Maytham, then Associate Director at SAM,
Both Mrs. Möller-Garny and I are pleased that you were able to secure the Seattle Art Museum's decision so promptly, and hope that the sale may be consummated with similar dispatch. From my long knowledge of and admiration for this masterpiece, I am also personally happy at the prospect of its permanent entry into a major American museum collection.
The purchase was heralded in Seattle, timely because of the Kirchner retrospective in which it featured, and high-profile because of Kirchner's importance in the history of Modern art. On November 17, 1968, Seattle Post-Intelligencer's Northwest Today featured a color reproduction on the front page—unfortunately adjacent to a rhetorical headline wondering about this city's aesthetic potential.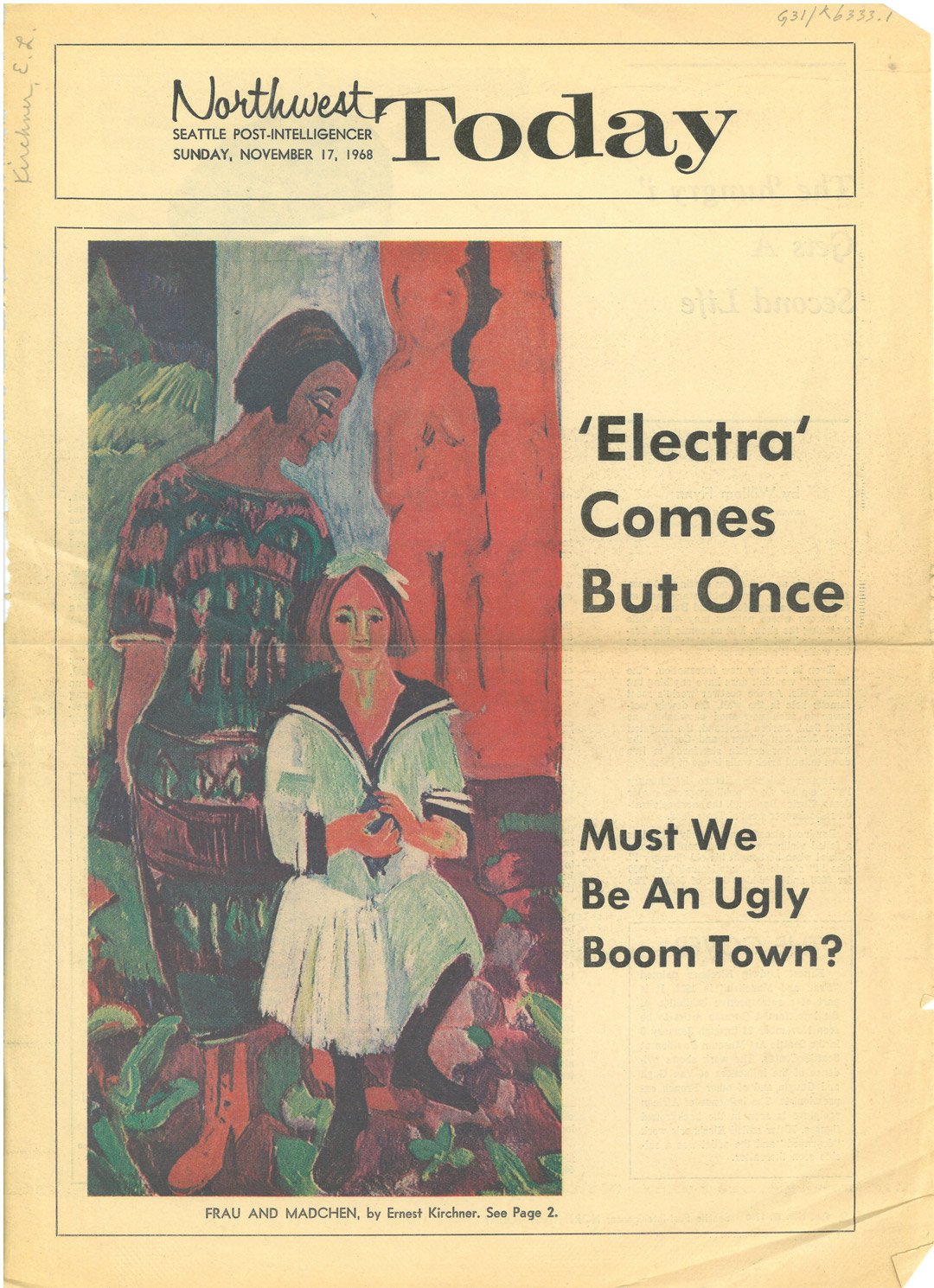 —Jeffrey Carlson, SAM Collections Coordinator
Image: Woman and Girl (Frau und Mädchen), ca. 1922-1923, Ernst Ludwig Kirchner (German, 1880-1938), oil on canvas, 66 1/8 x 46 7/8 in. Seattle Art Museum, Gift of Dr. and Mrs. Richard E. Fuller, 68.120, Photo: Paul Macapia.