Object of the Week: Persephone Unbound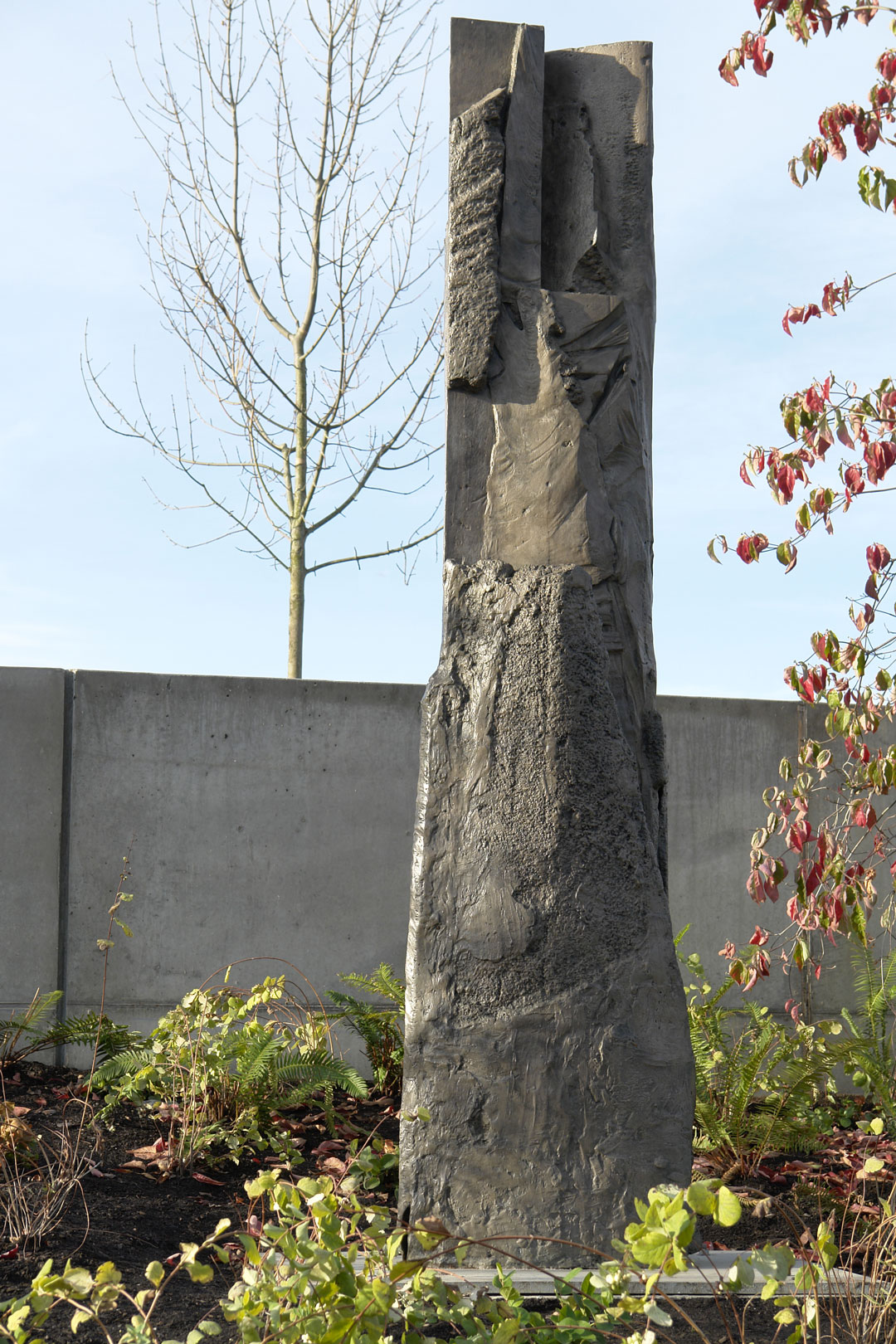 Beverly Pepper's Persephone Unbound draws out a tension that is central to the human experience, echoed in our mythology, and enacted in both art and life: the contrast between restraints and the desire to be released from them.
A work in cast bronze, the varied textures of the sculpture's several facets give the appearance, instead, of poured concrete, in various states of leveling and finish. Near its base the surface of the sculpture bears the kind of textural depth that marks stucco walls, but here they are magnified to the sculpture's monumental scale. As the eye scans upward to take in ten feet of vertical mass, passing over gravelly sections and dripping globs, more discrete forms begin to emerge, and the visual impression of human manufacture and intervention becomes more acute. The sculpture's tallest arm is clean-cut, smoothly finished. Where initially the work might seem a monolithic rock formation roughly hewn, it emerges as a precisely chosen crystallization of contrasts, something in between natural and (wo)manmade. It's a work that strikes me as if it's perpetually in formation.
The artist has given us a particularly leading title as a way into her thinking. Persephone's role in Greek mythology elicits sympathy for the character, and for the reader, a sense bitter loss. Persephone is an aching reminder of what could be. Hers is a pure beauty only sometimes accessible; her abundance, pleasant as it is to enjoy, is fleeting, ever accompanied by the foreboding of its imminent end. She wishes to be free, we wish her to be free, but that's not the way of things.
What would it mean if Persephone were unbound? What if the goddess of spring growth were also the goddess of growth all the time, everywhere, forever?
The myth explains the reality of changing seasons, an immutable truth of the natural world. But Persephone Unbound begs us to imagine what restrictive realities exist that are of our own making—how have we limited ourselves, and one another, by lack of imagination, or belief, or desire? What about our world is not as good as it could be?
Persephone Unbound is one of seven works by Beverly Pepper in SAM's collection. A widely recognized sculptor, Pepper has been the subject of solo exhibitions at the Metropolitan Museum of Art, the Brooklyn Museum of Art, Ohio's Columbus Museum of Art, the Albright-Knox Art Gallery, and the San Francisco Museum of Modern Art. The sculpture has been an integral part of the Olympic Sculpture Park since the park's opening in January of 2007.
—Jeffrey Carlson, SAM Collections Coordinator
Image: Persephone Unbound, 1999, Beverly Pepper (American, born 1924), cast bronze, 122 x 31 1/2 x 21 in. Seattle Art Museum, Gift of Jon and Mary Shirley, 2009.14 © Beverly Pepper, Photo: Paul Macapia.