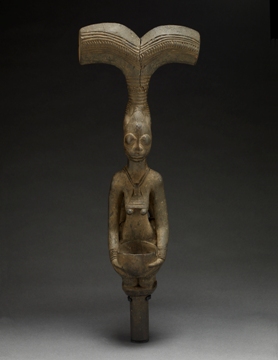 Shango is a Yoruba deity who harnesses bolts of lightning and thunder and uses them to reward worshippers and punish deceit. Oral praise poems say he is the one "who destroys the wicked with his truth, leaves in confusion the contentious man, and dances in the courtyard of the impertinent."
Double axes adorn this woman's head to show her alliance with Sango's moral fire. She kneels before his authority to present an offering. Such generosity is considered a noble gesture of morality and ensures that Sango will consider blessing her with children and wealth.
"Dance wand for Sango," date unknown, Yoruba, Nigerian, wood, 19 7/8 x 7 9/16 x 4 5/8 in., Eugene Fuller Memorial Collection, 67.91, Photo: Susan A. Cole. Currently on view in the African Art galleries, fourth floor, SAM downtown.