Rare Peruvian Book on View: Antigüedades Peruanas, 1851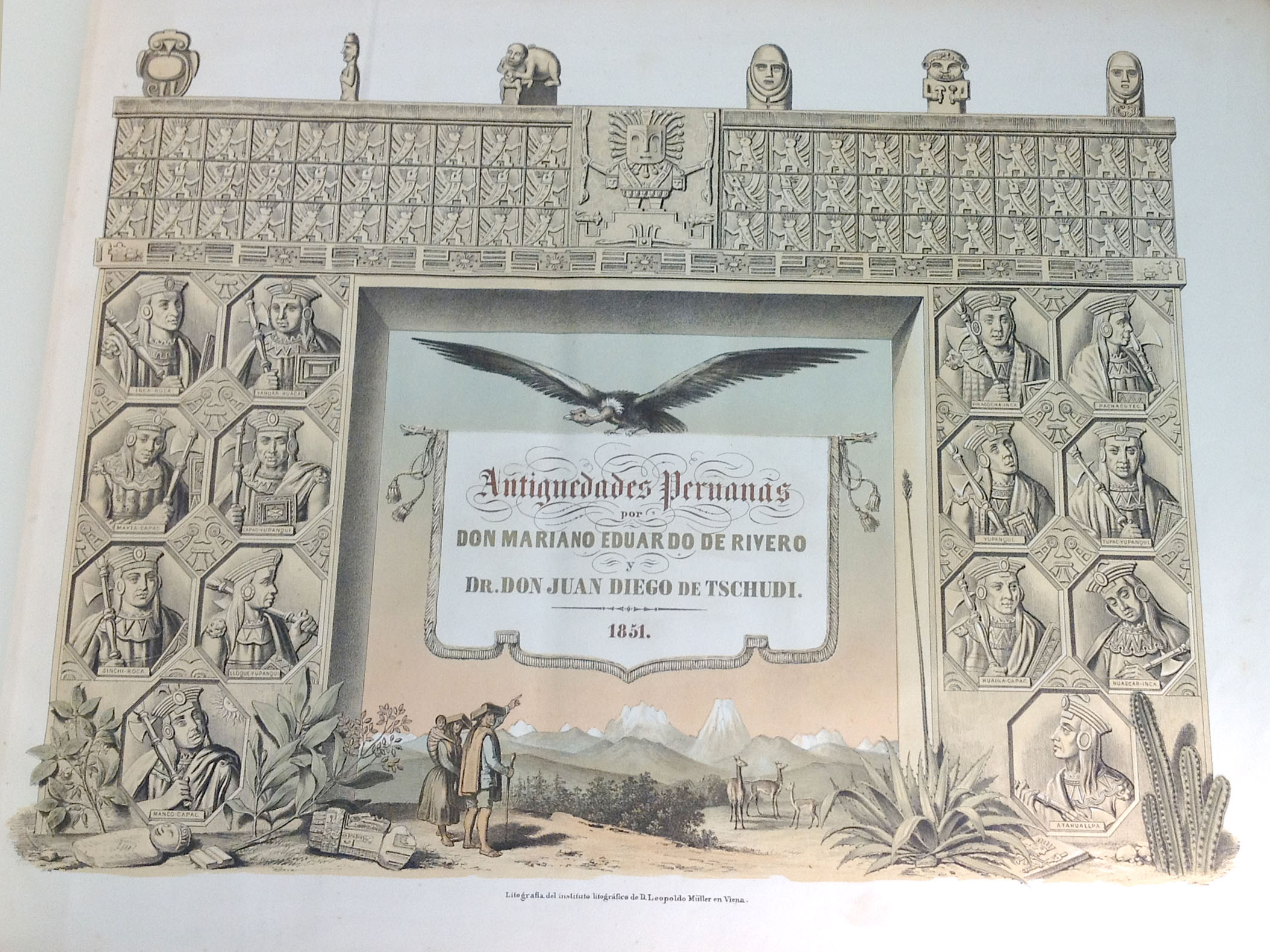 In addition to the many amazing objects in SAM's current exhibition, Peru: Kingdoms of the Sun and the Moon, in SAM's special exhibition galleries, there is another important Peruvian object on view just one floor up. The two volume set Antigüedades Peruanas, or Peruvian Antiquities, is currently being displayed just outside the Dorothy Stimson Bullitt Library on the fifth floor in the South Building.
Antigüedades Peruanas was published in 1851 in Vienna and consists of a large folio edition of rich lithographic plates and a smaller quarto size volume of explanatory text. It was authored and illustrated by curator Mariano Eduardo de Rivero y Ustáriz (Peruvian, 1798–1857) and naturalist Johann Jakob von Tschudi (Swiss, 1818–1889). This work is a rare first edition, with less than sixty complete sets available in libraries throughout the world, notably including: the Bodleian Library at Oxford, the British Library and the Bibliothèque Nationale in Paris.
The chromolithography work, created by D. Leopold Müller (Austrian, 19th century), is significant. It includes an impressive title page, depicting portraits of Incas carved on a massive "puerta" with a view of the Peruvian landscape. Other large-scale images throughout the folio volume include those of mummies, ornaments, tapestries, monuments, weapons and objects similar to those on view in the Peru exhibition.*
Come see why this work has been called "One of the most important and comprehensive works on Peruvian archaeology, virtually the earliest by a Peruvian, and the first of its kind."
This work is on view during library hours, Wednesday through Friday 10am – 4pm. To learn more about the Bullitt Library, and the other libraries at SAM, please visit this link.
*PLEASE NOTE: Each week we will turn to a new page. Please return often to see another illustration from this exceptional work. Reproductions of the complete set of lithographs are also available for viewing.
– Traci Timmons, Librarian, Dorothy Stimson Bullitt Library
Top image: Frontispiece to Antigüedades Peruanas (1851). Photograph by Phil Stoiber. From a private collection.