Wonder with Mann und Maus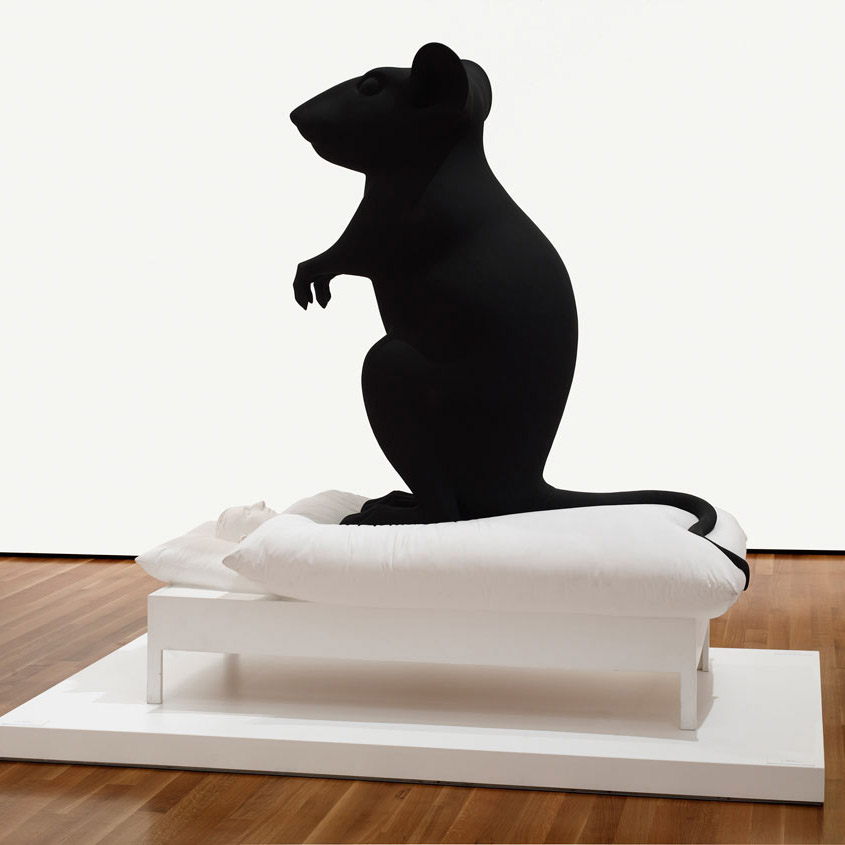 I am concerned with the point where you start to wonder about the existence of things.

– Katharina Fritsch
The artist Katharina Fritsch creates sculptures of familiar objects but adjusts them through changes in scale and color. Looming over a sleeping man, the rat in Mann and Maus inspires many interpretations. Although the delicate figure is seemingly crushed under the giant rodent, the man appears to slumber soundly. In the 1980s and '90s a generation of German artists emerged who were deeply distrustful of dominant social and historic narratives and broke from the art movements that preceded them. Fritsch wields her dark strand of irony as a tool for critical commentary. Fritsch says this about her work: "The results are often jarring and may remind you of a dream or perhaps a nightmare."
Take some time to let your wonder wander as you listen to storyteller Jéhan Òsanyìn's response to Mann and Maus above.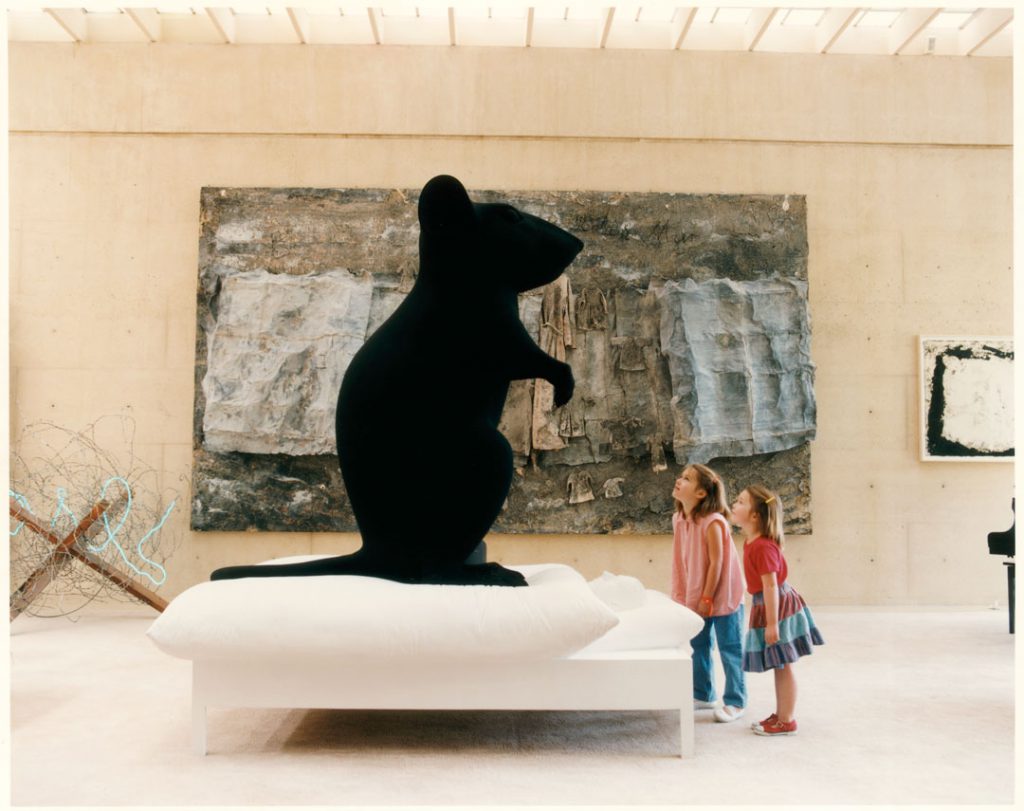 Now take a listen to Sylvia Fisher, SAM docent and former docent for The Wright Space, discuss her view on Jinny connecting audiences with art, both as a collector and a docent herself. Jinny collected contemporary works of her time that are often simultaneously complex and broadly appealing. Created in 1991–92, German artist Katharina Fritsch's Mann und Maus combines the emotional response of animals with the psychological impact of larger-than-life scale, making it a popular artwork for audiences of all ages. In the photo above, her grandchildren admire the sculpture at The Wright Space.
The Wright Exhibition Space was a noncommercial gallery designed purely for the enjoyment of art that opened on Dexter Avenue in 1999. Jinny curated different thematic exhibitions and invited friends, family, and curators to organize shows, drawing on the holdings of their growing collection. Free to the public, it became a gathering space and a favorite place to mingle and discuss art.
We're celebrating Jinny's collection in City of Tomorrow: Jinny Wright and the Art That Shaped A New Seattle. The works in our galleries are a transformative gift for SAM and a foundation on which we will build. As we consider the pressing issues of our time, the museum envisions the city of our tomorrow with new collection priorities and artists that represent and reflect our broader community. Unfortunately, City of Tomorrow has to close before the museum will be able to open due to the recently updated WA State official public health restrictions on indoor gathering. We're sad we won't be able to share this stunning exhibition with you, but thanks to Jinny's incredible generosity and legacy, visitors to SAM can see artworks like Mann und Maus on view as part of our collection.
Credits: Mann und Maus, 1991-92, Katharina Fritsch. Polyester resin and paint, 90 1/2 x 51 1/2 x 94 1/2 in., Gift of the Virginia and Bagley Wright Collection, in honor of the 75th Anniversary of the Seattle Art Museum, 2007.118. © 2013 Artists Rights Society (ARS), New York / VG Bild-Kunst, Bonn. Jinny's grandchildren with Katharina Fritsch's Mann und Maus, photo courtesy of Jan Day. Audio produced by Ambassador Stories, 2020 © Seattle Art Museum.