Object of the Week: Gray Jar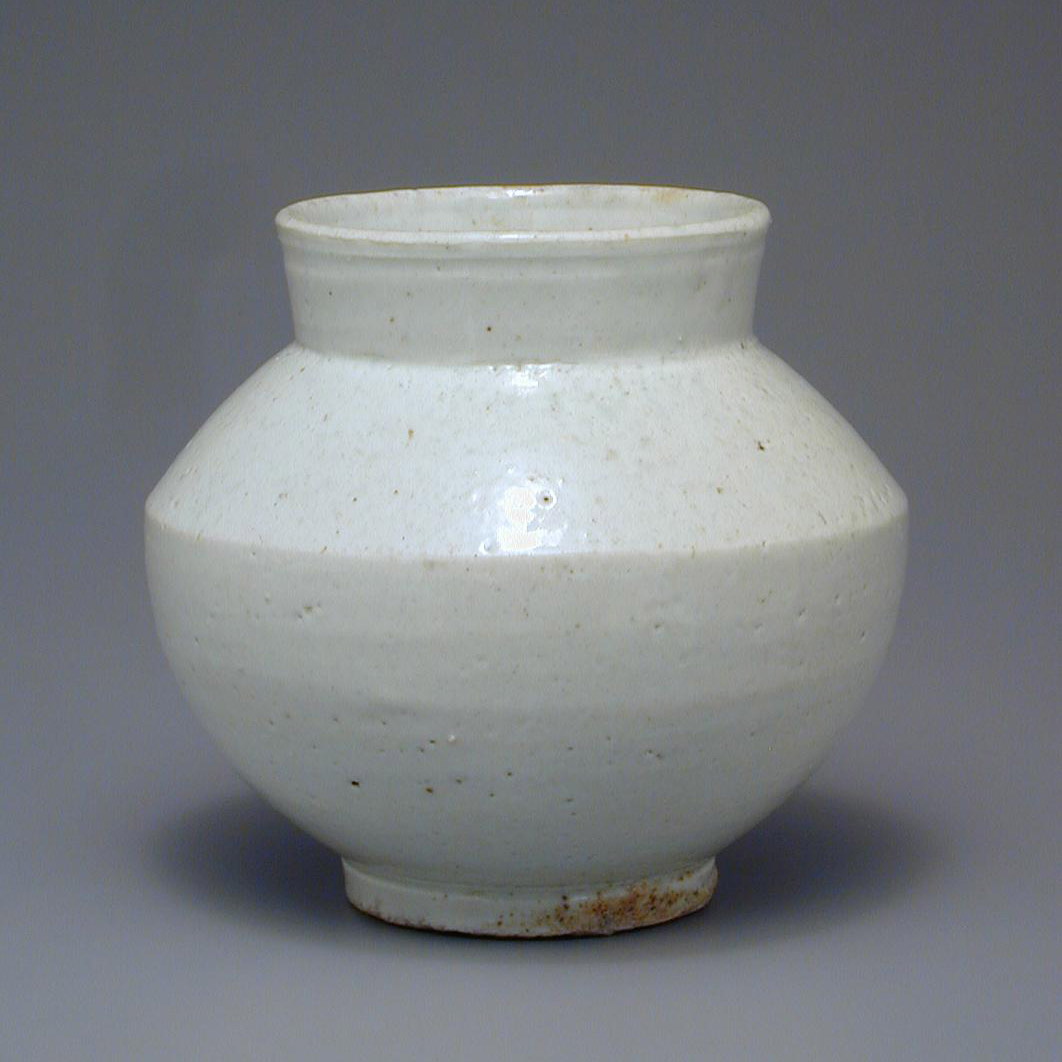 With a simple and rustic appearance, this gray jar embodies an unassuming aesthetic that proliferated throughout Korea's Joseon Dynasty (1392-1910). Utilized for a wide range of objects including tea cups, utensils, and kimchi jars, this style of pottery became emblematic of everyday items and was produced in great quantities during this period.
Despite the seemingly mundane appearance of items such as this jar, Japanese philosopher Yanagi Soetsu (1889-1961) saw a beauty in them that had been taken for granted. As a young man living in Korea in the 1920s, he quickly became enamored with Joseon pottery, considering it to be equal to the fine art of scroll painting across China, Japan, and Korea, as well as the exquisite sculptures of Europe.[1] Yanagi began avidly collecting various items and within a year opened a small folk museum in Seoul where he encouraged the masses to come and celebrate the simple beauty of his featured items, which he categorized as mingei. Meaning "art of the people," mingei aesthetics embodied what Yanagi outlined as the "criterion of beauty," which declared that objects should be made not by great masters of the arts, but rather by anonymous craftspeople; furthermore, the objects should be simple, functional, and made of natural materials.[2]
In his critical collection of writings, The Unknown Craftsman, Yanagi describes the concept of mingei in detail: "It is my belief that while the high level of culture of any country can be found in fine arts, it is also vital that we should be able to examine and enjoy the proofs of the culture of the great mass of the people. . . . The former are made by the few for the few, but the latter, made by the many for many, are a truer test. The quality of the life of the people of that country as a whole can best be judged by the folkcrafts."[3]
Epitomizing the mingei aesthetic, this gray jar includes unique regional features that are easily overlooked but situate it as a one-of-a-kind piece. For example, the grayish-white surface of the jar is rough and uneven as it was made from clay with impurities that produced bubbles during the firing process. This small feature of individualism speaks to the rarity and perhaps unintended beauty of the jar, as well as countless other simple and functional objects that Yanagi Soetsu held in such high esteem.
– Caitlin Sherman, SAM Blakemore Intern for Japanese and Korean Art
---
[1] https://mingei.org/about/history-of-mingei
[2] Curatorial remarks, Xiaojin Wu
[3] https://mingei.org/about/history-of-mingei
Image: Gray jar, 17th or 18th century, Korean, stoneware with glaze, 6 3/8 in. x 4 3/8 in. x 22 3/8 in., Gift of Allen Parrot, 51.228