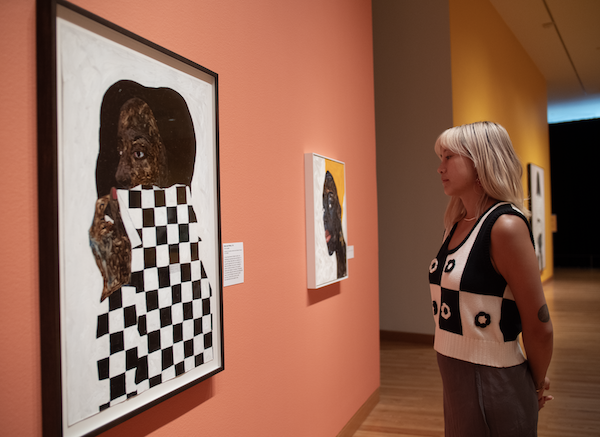 SAM News
Amoako Boafo: Soul of Black Folks, the solo exhibition now on view at SAM, is the pick of the week for arts reporter Mike Davis of KUOW.
"Throughout this exhibit, the subjects in Boafo's portraits, who are all Black, have a vibrancy in their eyes that you can't miss. As I moved through the gallery, gazing at the subjects in the paintings, it felt like my stare was returned. As if the portraits were gazing at me!"
"These are fearless and fascinating paintings." Gayle Clemans reviews the exhibition for the Seattle Times, speaking with curator Larry Ossei-Mensah and the artist about his techniques and goals.
"Asked what a solo exhibition means for him, Boafo says, 'In Ghana, my studies were solid, but many artists don't have access to opportunities. With time, I learned how important a solo exhibition can be, how it can cement an artist's place in history.'"
File under: "Something to Look Forward To": CBS Sunday Morning's Serena Altschul interviews artist Jaune Quick-to-See Smith about her retrospective. It's now on view at the Whitney Museum of American Art and headed to SAM in February 2024. (The whole episode is interesting; her segment plays 15 minutes into the episode.)
Local News
South Seattle Emerald's Sarah Goh on Guma' Gela': Part Land, Part Sea, All Ancestry, now on view at the Wing Luke Museum, an exhibition featuring artwork across many disciplines from a queer art collective for people from the Mariana Islands and its diaspora.
Via Seattle Times arts and culture staff: "8 PNW road trips for music and arts lovers in summer 2023."
Crosscut's Nimra Ahmad interviews artist Brandon Vosika, who has a solo show opening July 27 at Hologram Art Gallery.
"Vosika still leans into 'messed-up' art—with his folk-art-esque paintings of people who don't exist. His figures often have skin tones in watery blues and reds, their cheeks accented with clown-makeup circles of color. His work emanates a dark sense of humor and sometimes the absurd (see: skeletons hanging out together; legs made of cigarettes)."
Inter/National News
Don't miss this very fun New York Times interactive on "How Manga Was Translated For America."
Artnet's Caroline Goldstein tees up the outlet's latest video collaboration with Art21, this one featuring Hank Willis Thomas.
Via Karen Chernick of ARTnews: "Long-Lost Arshile Gorky Portrait of Artist Anna Walinska Turns Up in Rhode Island."
"The foundation made a 'HAVE YOU SEEN THIS PAINTING?' ad for the work using a faded slide kept in Walinska's records, and began circulating the flyer at art fairs, with the hope that new leads would lead to its rediscovery."
And Finally
"She Steals Surfboards by the Seashore."
– Rachel Eggers, SAM Associate Director of Public Relations
Photo: L. Fried.