Muse/News: Compelling at SAM, Bruce Lee's Mind, and Guston's Influence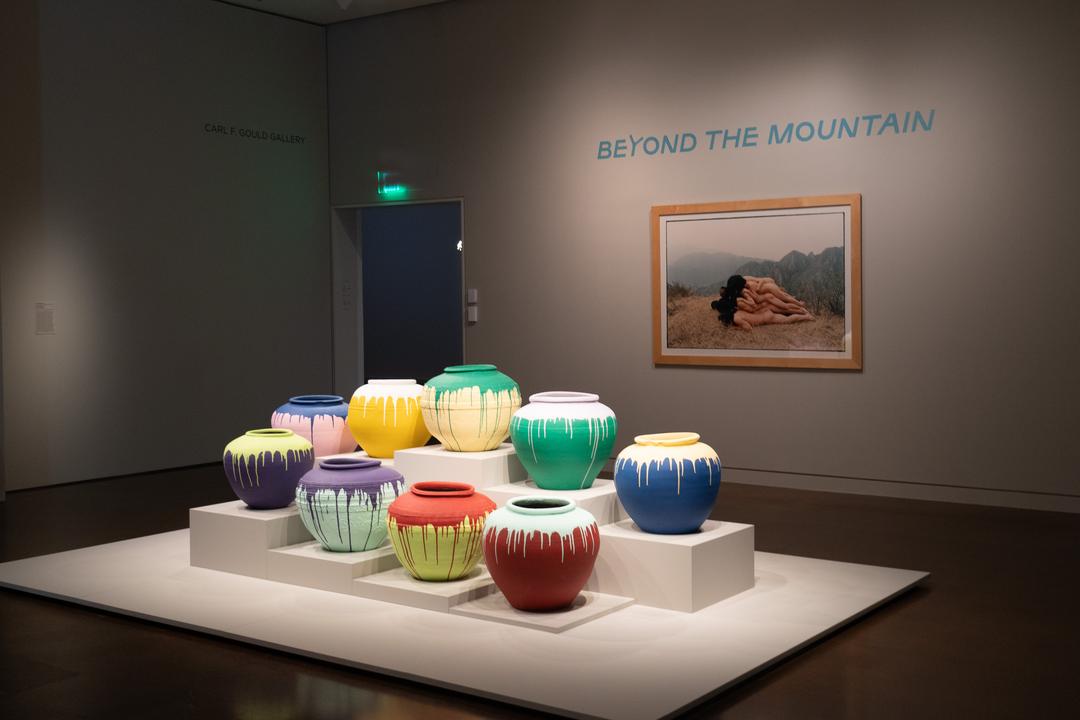 SAM News
"Where we all want to go": Kai Curry for Northwest Asian Weekly on Beyond the Mountain: Contemporary Chinese Artists on the Classical Forms, now on view at the Seattle Asian Art Museum.
"The beauty of the museum is that it allows for interesting juxtapositions of artworks against architecture from the 1930s, and the ability to move works already on view into different configurations to satisfy new goals."
Crosscut's Brangien Davis also featured the "compact but compelling" new exhibition, which is just one show on view now in Seattle about people's relationship to nature. (Margo Vansynghel also blurbed the show for their August things to do list.)
"Sit for a spell as the black-and-white images emerge slowly from the mist. Squint and you'll start to see jagged mountains appear—but look even closer, and you'll notice that these monoliths are made from so many skyscrapers. A rushing waterfall proves to be a highway packed with cars. Those trees? Construction cranes. The artist created these astonishing works by combining thousands of photographs and videos from megacities, thereby painting a natural landscape from man-made ambition."
You don't want to miss the triumphant return of SAM Remix, the 21+ after-hours art experience, held at the Olympic Sculpture Park on Friday, August 26. Curiocity fills you in on the details.
Speaking of the sculpture park: join Will Harris of Seattle Refined on his favorite jaunts in his Belltown neighborhood.
"I like to go head back up the incline and into the SAM park that zig-zags over the train tracks and street to that big orange structure with the orange chairs – another great place to rest in the shade, adjust your playlist or take out a sketch pad for a while before heading back into Belltown and home again."
Local News
KUOW's Katie Campbell reports that the Seattle City Council has appointed nine Indigenous Seattle residents to serve on the city's first Indigenous Advisory Council. Artist Asia Tail, who has worked with SAM many times, is among those who will advise the city.
"A window into Ukraine-Russia tensions": The Seattle Times' Jayce Carral on The Middle Seat, now on view at Ballard gallery Das Schaufenster.
Ann Karneus for Seattle Met on Be Water, My Friend, the new interactive exhibition at the Wing Luke Museum exploring the guiding principles that shaped Bruce Lee's life.
"Bruce Lee could blast a man backwards with one punch, but his identity as an intellectual and voracious reader was far less known. 'You think of Bruce Lee as a martial artist and as an actor, but you don't necessarily think of him as a philosopher,' says Jessica Rubenacker, exhibit director of Wing Luke Museum."
Inter/National News
Artnet's Vivienne Chow highlights two exhibitions on view in two European holiday destinations that offer an opportunity to consider the work of Catalan sculptor Jaume Plensa; if tickets to Europe aren't in the cards, head down to the Olympic Sculpture Park to see Echo.
Watch artist Coco Fusco in conversation with Artforum editor-in-chief David Velasco about her 2021 video, Your Eyes Will Be an Empty Word, featured in the 2022 Whitney Biennial 2022 and on the cover of Artforum's summer issue.
Olivia McEwan on A Thing for the Mind, on view at London gallery Timothy Taylor, which takes a 1978 Philip Guston painting as a starting point for exploring his influence on 12 contemporary artists. Hot tip: You can see two Guston works at SAM in Frisson: The Richard E. Lang and Jane Lang Davis Collection.
"Guston makes the imagery more visually striking by sticking strictly to variations on red and blue; the bluntness and obtuseness of its iconography is compellingly mysterious, as disembodied fingers, pointing hands, and crude painter's canvas float monumentally but awkwardly around each other in space. Its painterly surface is tinged with naiveté. What a rare pleasure to see his painting up close."
And Finally
– Rachel Eggers, SAM Associate Director of Public Relations
Photo: Chloe Collyer.