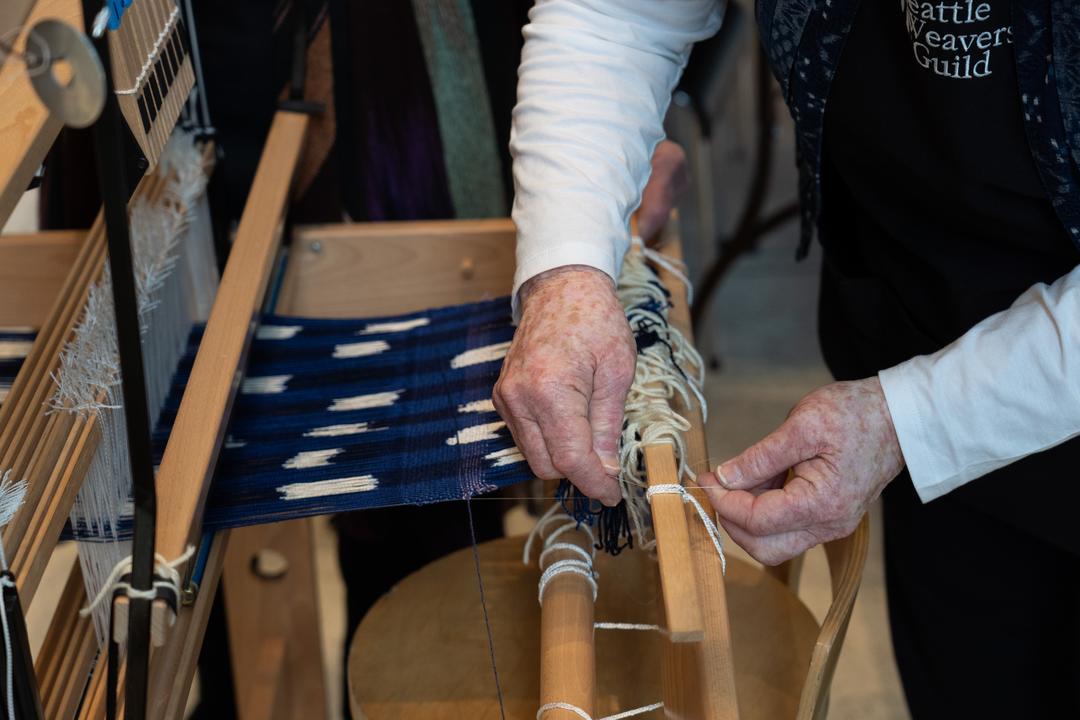 Join SAM and the Seattle Weavers' Guild (SWG) for a free and public art-making workshop on Thursday, May 4 and Friday, May 6. Members of SWG will offer a hands-on demonstration of the steps involved in the ikat weaving process with participants having the opportunity to try their hand at weaving with magic heddle looms that have been pre-warped with thick fiber "dyed" using markers to simulate the resist dye process used to create an ikat pattern. Then, purchase your tickets to explore SAM's ongoing exhibition Ikat: A World of Compelling Cloth at the museum's Ticketing Desk and head upstairs to see outstanding examples of ikats from across the globe.
Public programs like this art-making workshop invite visitors to explore art on view at SAM in exciting and hands-on ways. SAM is fortunate to have Amazon's sponsorship of our exhibition-driven public programs, which create a deeper connection to the museum's exhibitions and installations. These programs are free for visitors, and typically offered on Free First Thursdays when the museum is free to all, all day, bringing more people into the museum engaging with the art on view.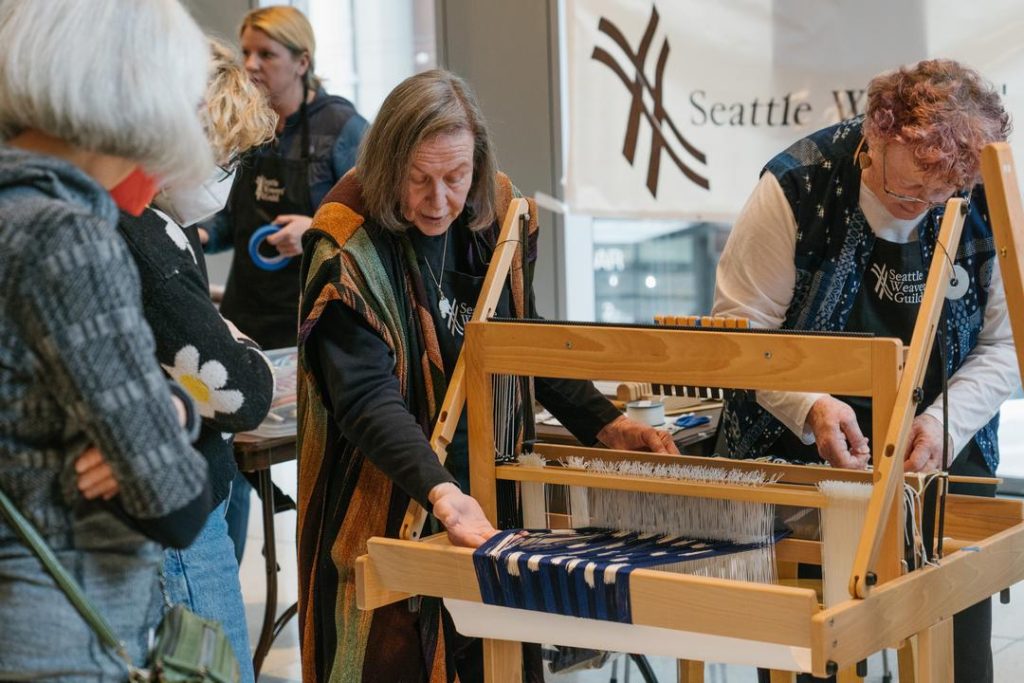 SAM hosts community programs in conjunction with our exhibitions year round. Regular events include My Favorite Things tours, drop-in art-making workshops, and pop-up performances. Recently, Claudia Webb, an artist and member of the Pacific Northwest African American Quilters (PNWAAQ), hosted a My Favorite Things tour focused on two quilt pieces on view in American Art: The Stories We Carry. At another workshop, participants worked with artist and educator Valencia Carroll to explore drawing techniques and tips for sketching, and later with artist Klara Glosova to practice drawing from a live model. These programs are vital to ensuring that all members of our community have access to interactive and enriching artistic experiences.
Amazon is an important supporter of the arts and cultural sector, and we are grateful to have their partnership. In addition to their support of SAM, Amazon is known for its Artist in Residence program, which awards grants and studio space to seven local artists annually. Their dedication to our region includes giving more than $96 million to over 180 local organizations, and last year they won the Puget Sound Business Journal's Corporate Citizenship Award for Arts & Culture.
Keep your eyes on our website to see what free programs and events we'll be hosting next. We can't wait to see you at an upcoming event!
– Kelly Buck, SAM Institutional Giving Coordinator
Photos: Chloe Collyer.