Women in Film: Reel Girl tours and Riot Grrrl scores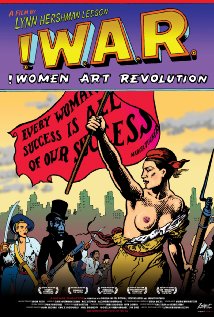 Tonight SAM downtown is centering its lens on women in film with tours by local leaders in the film world and a special screening of Lynn Hershmann Leeson's recent documentary !Women Art Revolution (2010, 83 mins) starting at 7:30 pm in Plestcheeff Auditorium.
!Women Art Revolution traces the impetus and organization of the Feminist Art Movement during the 1960's through its rise from a subculture of women artists during the anti-war and civil rights era to its difficult acceptance into our cultural narrative.  The film, for which Leeson collected footage and interviews for 40 years to create, discloses the Feminist Art Movement through interviews with artists such as Yoko Ono, Carolee Schneemann, Eleanor Antin, Judy Chicago, Rachel Rosenthal, and the Guerrilla Girls among others. The candid interviews describe how women artists took a cue from groups such as The Black Panthers to organize and speak out against cultural institutions for engaging in gender discrimination.
The film features an original soundtrack by Carrie Brownstein, guitarist of Washington Riot-Grrrl rockers Sleater-Kinney, whose roaring guitar riffs provide a very pertinent sonic landscape to the film. Sleater-Kinney, named after I5 off-ramp No. 108 in Lacey, Washington, declared an indefinite hiatus in 2006. You can check out Brownstein's current group Wild Flag performing "Romance" live from Mellow Johnny's Bike Shop during KEXP's broadcast at South by Southwest in 2011 here. The soundtrack also features songs by Janis Joplin, Laurie Anderson, The Gossip (Olympia natives), Erase Errata, and Tribe 8.
In addition to the screening of !Women Art Revolution SAM is hosting two My Favorite Things: Highly Opinionated Public Tours by local women working in the film world; Beth Barrett and Robin Held. As Programming Manager of the Seattle International Film Festival Beth Barrett will share her favorite works and, hopefully, have a couple of highly opinionated comments of her own to offer. Robin Held, Executive Director of Reel Grrls a local organization that empowers young women through creating film and digital media, will co-lead a tour of Elles with local dancer-choreographer Catherine Cabeen.
– Ryan Peterson, Program Assistant
!Women Art Revolution movie poster