My Favorite Things Tours: Where Picasso Meets Lil'Wayne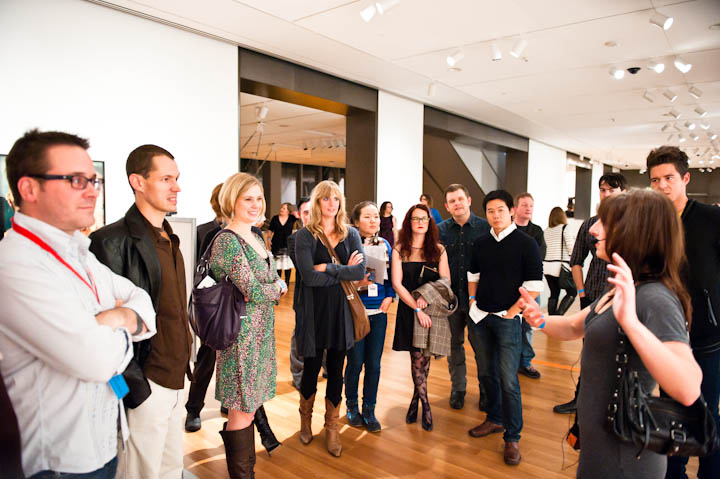 So it's a Friday night and you made it to SAM, waited in line (admiring Cai Guo-Qiang's twinkling cars suspended above your head, of course), purchased your ticket to Picasso, followed the orange line up 2 floors, fidgeted with the audio guide while you wait in line again, entered the Picasso exhibition and you're ready to earn your way onto Team Picasso. Normally what takes place from this point on is around an hour of doing the "museum shuffle" with your fellow audio guide aficionados. Here's where we like to shake things up a bit.
For the past 3 months I (Mark Rosen, the Adult Public Program Intern) have been coordinating what we at SAM call our "My Favorite Things: Highly Opinionated Public Tours" series, otherwise known as eclectic spins on the exhibitions, led by leading creative folks from throughout the city. These tours are where, "you know, Picasso and Lil' Wayne have something major in common;" this is where art history and total subjectivity can collide and are encouraged to do so.
I've come to think of these as itty, bitty versions of Remix (minus the extreme crowds and thumping music); they are opportunities for the institution to let its hair down and get its hands dirty. Some of you probably have experienced these tours at one of SAM's Remix events, but let me assure you, "My Favorite Things" tours happen every Friday night, and you never know what you're going to get. I've listened to a discussion of the pink penguin in Jeff Koons's John the Baptist, a chat about macro-to-micro viewing of artwork in relation to eco-friendly design, a defense of why we should learn to love artists we hate, a talk on how Picasso went about manipulating an excessively large canvas for Guernica in his insufficiently small studio, and so on.
Perhaps my favorite part of these tours is the prevalent grappling with the unspeakable questions of art history. At some point in your life (myself included, and I work at SAM) you have probably wondered what the big deal is with Picasso, correct? You might have experienced any number of pieces and thought "How on earth is that art?" These tours offer you the opportunity to go fist to cuff with these kinds of ponderings, guided by an opinionated somebody in a creative field who, above all else, is sure to leave you thinking.
Check the SAM website for future tours; they take place every Friday night at 6:30 p.m.  Tonight we are looking forward to a great tour by a group of students from the University of Washington.
Please let us know in the comments section if you have any ideas or questions.
-Mark Rosen, Adult Public Programs Intern
"My Favorite Things" tour at SAM Remix on November 13, 2010. Photo by Robert Wade.