Object of the Week: Hair Portrait #20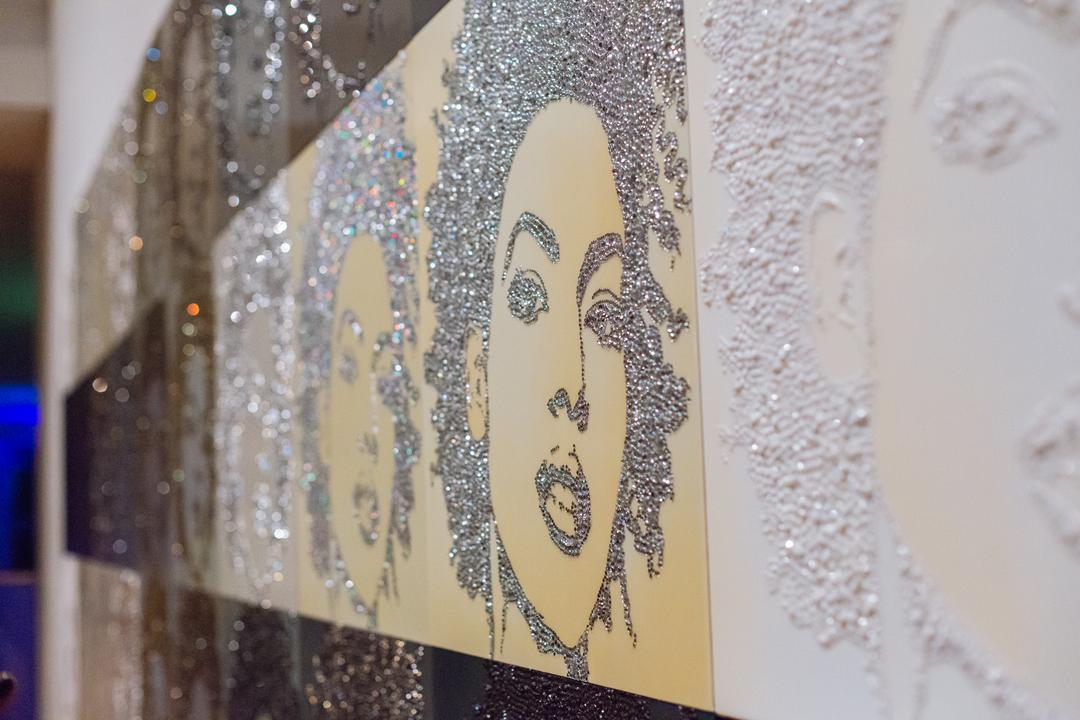 In honor of Black History Month, Object of the Week will feature artworks from SAM's collection that explore Black art and artists. Black lives matter every day of the year, but this month is a particular opportunity to celebrate the accomplishments and legacies of Black leaders in civic and cultural life. Exploring and reflecting on the past and present of Black lives is one important way to continue to imagine better futures. Here's the first of four reflections from four different SAM voices on one artwork and what it means to them.
In January of 2016, I began working at the Seattle Art Museum. It was like going to a new school—I felt ready with an open heart, looking to shake up my norm, help me step out of my comfort zone, and provide me with something that I didn't know how to express with words quite yet. After 16 years of working at the University of Washington, I left the stability of what had become a predictable world and delved right in. Part of this terrifying new world that I was immediately immersed in included giving a public tour for Free First Thursday, talking about artworks in our collection that I loved and connecting them to my life. My background was in communications and American Ethnic Studies, and so art was something I knew and loved, but not from an academic perspective. It seemed like everyone at SAM knew so much more than me, but I have always tried to lead with authenticity and leaned on that to guide me.
The artwork I knew I wanted to end the tour with that night was my favorite in our collection: Hair Portrait #20 by Mickalene Thomas. The beautiful Swarovski crystals, the powerful face depicted over and over again, the magnitude of its size… all of those things drew me. I wore a sequined top so I could match. The piece stood out. It was so much different from everything else I saw at SAM and so different from all the neighboring art in that gallery. It felt… like me at that time. I felt so out of place, with such a different perspective and aesthetic from everyone else. But I kept remembering that that was why I was hired: to beat to my own drum and do things the way I do them. Hair Portrait #20 brought me comfort, and it reminded me that it was okay to do things differently, to stand out unapologetically and shine brightly, as a beacon of hope, light, and realness.
Thomas's work continued to come back to me over the years, reminding me of the valuable lesson that MORE is MORE and not to be less in order to make others more comfortable. In 2018, the museum presented Figuring History: Robert Colescott, Kerry James Marshall, Mickalene Thomas, exploring the work of these three pivotal Black artists. By then I was feeling more comfortable at SAM, and it helped that I had my colleague David Rue, who had become my SAM soulmate. He and I started working at SAM the very same day, and we had a similar love for all things bright, extravagant, beautiful, and authentic. David helped me feel so much more comfortable in my skin, and when Figuring History opened, it meant so much to both of us. We brought everyone we knew and created programming and partnerships that are still talked about in our community today. We reveled in the glory of Thomas's muse, Racquel Chevremont, and dreamed of what it might be like to be someone's muse (David has since pretty much become EVERYONE's muse so there's that!).
After years of working from home, I recently made the commitment to spend more time in SAM's galleries in order to inspire my own creative practice, which is a big focus for me this year. And lo and behold, I ran into an old friend: Hair Portrait #20, back on view again as part of a reinstallation in the modern and contemporary galleries called Reverberations. Immediately, I broke out into the biggest smile, thinking of all of the times that that piece made David and I feel like we were home. There she was: a continued beacon of hope. These last seven years have been the best of my life, and I continue to live unapologetically, unwilling to take shit, and more willing to shine bright like the Swarovski crystals that Thomas interweaves into this room-filling artwork. Getting to see a whole new generation of folx also experience the piece for the first time is the greatest joy. A few weeks ago, the UW Sisterhood Initiative came for a visit, and there was a gorgeous impromptu photoshoot in front of that pivotal piece. The mission of SAM is to connect art to life, and this piece provides exactly that: an opportunity to feel seen, and not just tolerated but acknowledged, celebrated, and seen. Unapologetically.
– Priya Frank, SAM Director of Equity, Diversity, & Inclusion
Photo: Jen Au.
Black History Month, David Rue, Director of Equity Diversity and Inclusion, Figuring History, Free First Thursday, Hair Portrait #20, Kerry James Marshall, Mickalene Thomas, My Favorite Things, object of the week, Priya Frank, Racquel Chevremont, Reverberations: Contemporary Art and Modern Classics, Robert Colescott, seattle art museum, UW Sisterhood Initiative