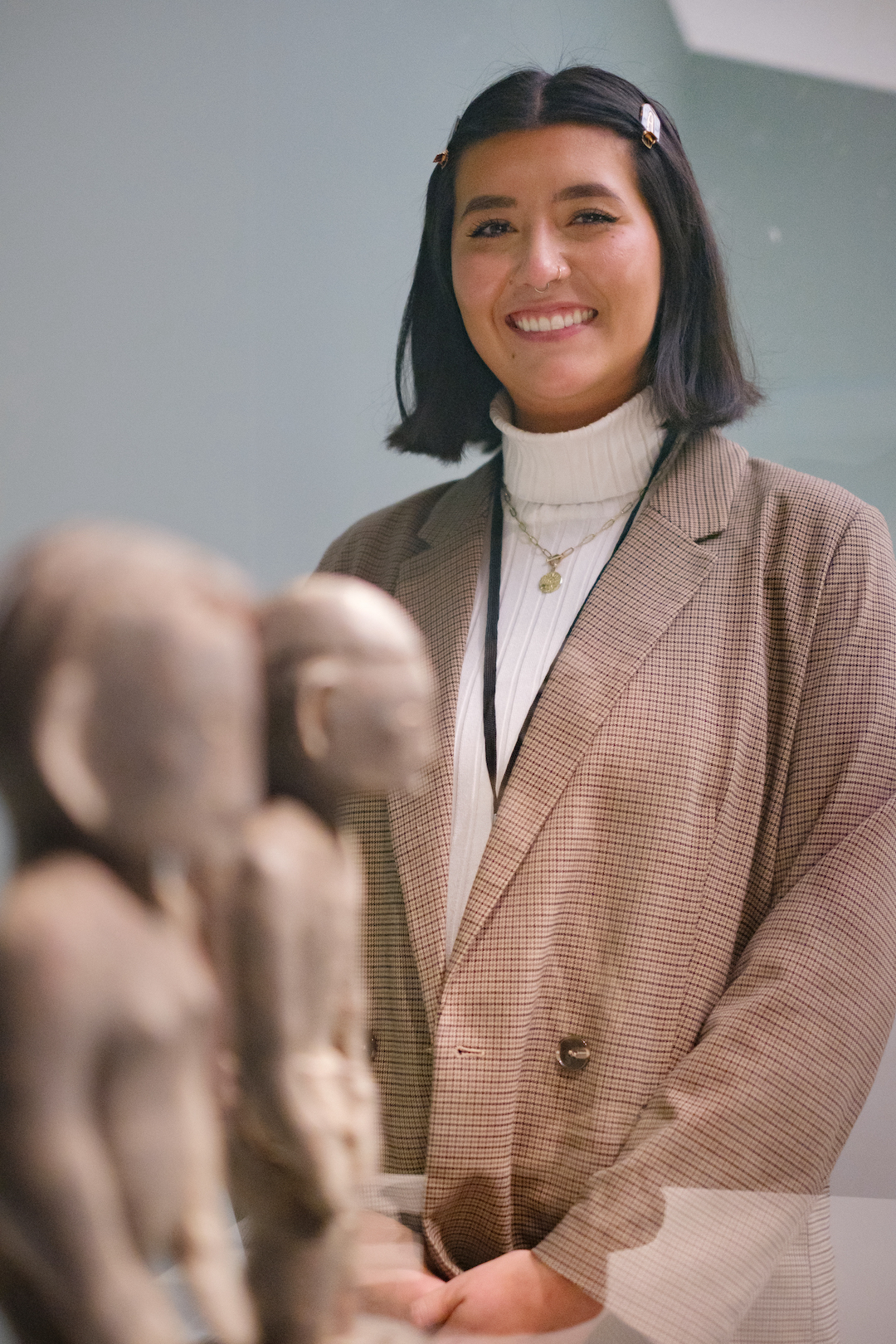 Art has always been a passion of mine. I have been drawing and painting since I was a kid, and as I grew up, I knew art needed to be an ever-present aspect of my life, no matter the capacity. I have had some significant figures that helped me come to that conclusion: teachers, mentors, and so many more. With their influence, I came to recognize my path in life: to help people realize their own love of art, just as others did for me. The journey to this point was not without its difficulties, perhaps even a bit tumultuous. Yet, it's what led me to teaching art classes and, most importantly, my internship here at the Seattle Art Museum.
Being at SAM has been a dream. I truly never expected to be here. During the application and interview process, I admittedly was not the most confident. Had I done enough to deserve to be here? But, I knew if I spoke to my passions, I had a chance. Teaching has always been my way of helping to foster creativity and artistic passion in kids at developmental ages, but being at SAM has allowed me to contribute to something bigger. I have had the opportunity to be a part of an institution dedicated to connecting art with the public and to be a part of a curatorial department that informs, educates, and inspires people through all facets of art—I couldn't imagine a better place to be!
Seeing all that goes into what makes a museum function successfully has been an education in and of itself. It has been amazing to see the cross-departmental collaboration at work, and to be a part of it. To have conversations with staff across departments and learn more about their contributions to the museum has been one of my favorite parts of this experience thus far. In particular, my conversations with the education, interpretation, and public engagement teams have been so impactful, especially with my mentor. From him, I've been able to learn more about what each team is doing in the realms of accessibility and further connecting the public to the work that is displayed in the museum. I have even been given the opportunity to contribute research and content to a few artworks at the Seattle Asian Art Museum and build upon the educational materials already available for them. That kind of experience—to have my contributions be a part of the museum in a permanent capacity—is what I want to continue to do, to leave my mark.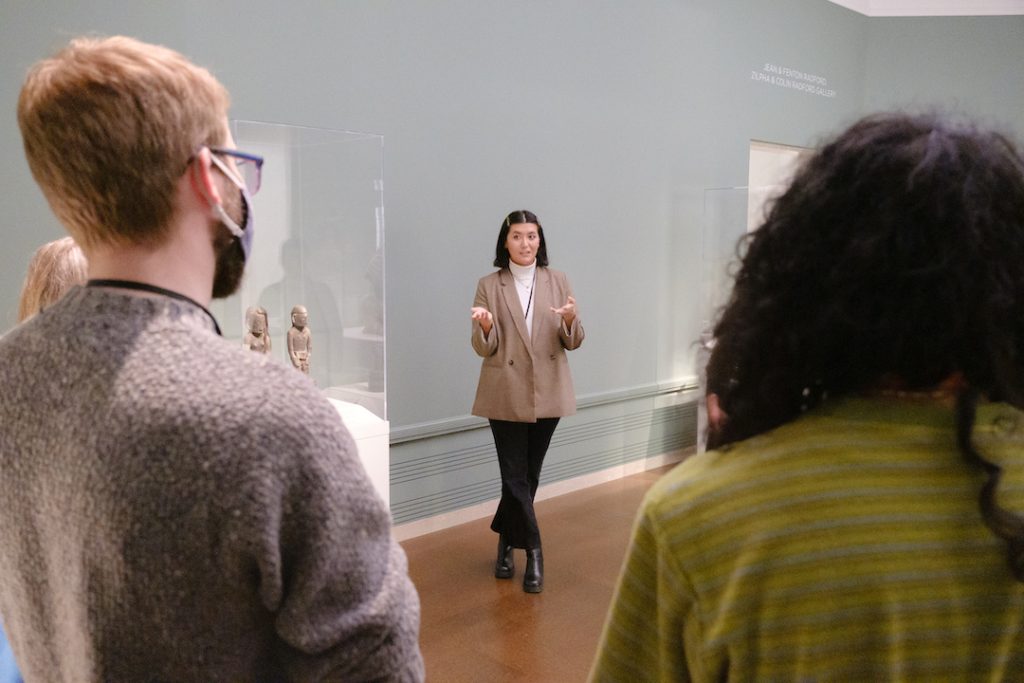 Thankfully, the work that I have done within the curatorial department has given me that chance. I have worked on presentations for exhibition proposals, formatted labels for objects, researched artists for interviews and future exhibitions, imagined my own exhibition, and developed an in-gallery presentation. But, one of the most rewarding parts of this experience has been connecting my conceptual exhibition with the development of my in-gallery presentation because of how personal it became for me.
When I was assigned to curate a potential exhibition featuring ten items from SAM's collection, I wanted to use this chance to explore my heritage and learn more about the available Filipino art and artifacts. I am incredibly proud of my culture, and it has always been disappointing to see how Filipino art and culture is rarely showcased or discussed in the greater context of Asian culture and history, even though it is incredibly rich and multi-faceted. Even in higher education, where I've taken classes dedicated to the history of Asian art and culture, the curriculum usually centers on China, Japan, Korea, and India. And I can imagine most people think of those countries, as well, when they think about Asian culture in general.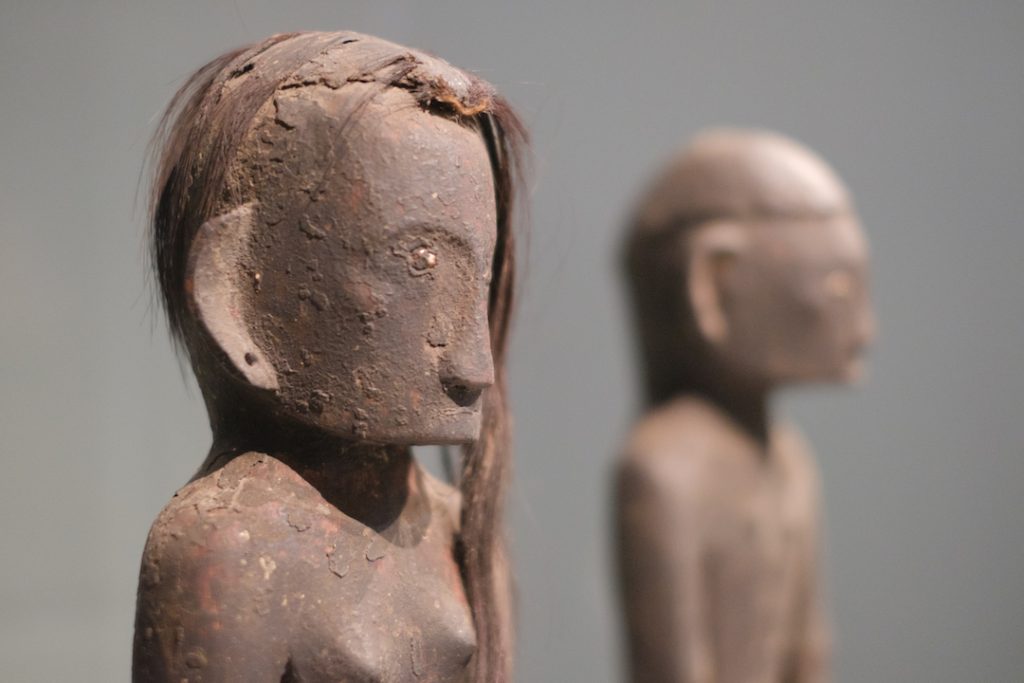 Unfortunately, there wasn't much variety or depth in the artworks from the Philippines at SAM, but there was one set of figures that stood out among the rest: the bulul figures from the Ifugao people of Northern Luzon. Researching these objects provided me with a new direction to take my project. I decided to focus on Indigenous cultures and spirituality throughout the islands in the Pacific. After learning more about the history of the bulul and the Ifugao, it was clear that prehistoric and indigenous Filipino cultures and traditions were more akin to other Oceanic and Austronesian Indigenous cultures found in regions like Micronesia, Polynesia, and Melanesia, with their spiritual beliefs centered on honoring the earth and ancestral relationships. That belief system has been appointed the term animism by western cultures and it is the perspective in which all things—animate and inanimate objects, places, and creatures—possess a distinct spiritual essence.
With these findings, my conceptual exhibition focusing on the important bonds between visual traditions and spiritual beliefs in Indigenous cultures across islands in the Pacific took shape. In my gallery presentation, I wanted to spotlight the bulul figures, the Indigenous culture of the Ifugao people, and its similarity to the cultures of other Pacific Islands, all a divergence from the more discussed modern history of the Philippines (i.e., Spanish colonization, American occupation, and Philippine independence). All I wanted was to share with people the ways that Filipino culture is special, and now I can.
I cannot begin to describe how excited I am to share the research I've done so far. It has been such a fulfilling experience to be able to learn more about the history of my culture in the context of art, and being here at SAM has given me the opportunity and the resources to do just that. I am extremely grateful for what this internship has provided me in terms of exploring my passions and building upon what I have already learned. I feel as though I have just scratched the surface as to what I can accomplish here at SAM and I am itching to see the contributions I can make at SAM in the near future.
I'd like to thank SAM Intern Programs Coordinator Samuel Howes for helping me adjust and transition into this internship; to SAM Museum Educator for Digital Learning Ramzy Lakos, for being such an amazing mentor and for our stimulating conversations that I always looked forward to; and, of course, to SAM Susan Brotman Deputy Director for Art José Carlos Diaz—I couldn't have asked for a better supervisor and mentor.
– Alexa Smith, SAM Emerging Arts Leader Intern in Curation
Photos: Alborz Kamalizad.