Muse/News: Staff Stories, Operatic Resilience, and Artist Curates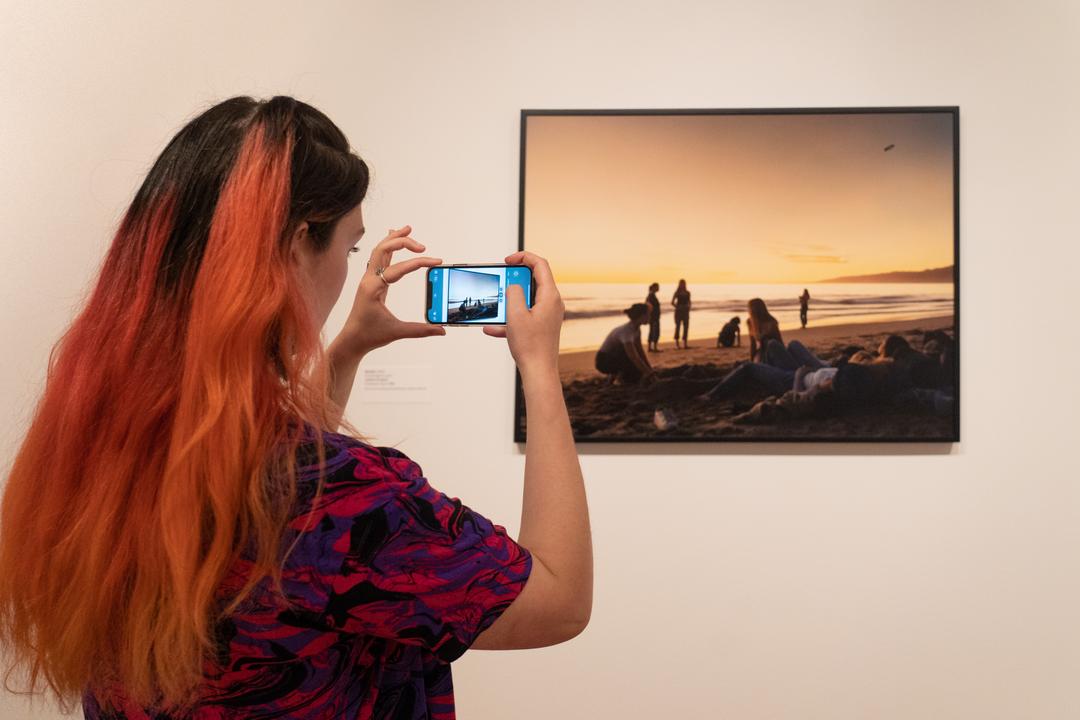 SAM News
"How one Seattle Art Museum staffer adds a personal touch to museum-going": Don't miss this story that appeared in the paper's Sunday print edition featuring Chelsea Leingang, Visitor Experience Manager at SAM. Chelsea took reporter Jerald Pierce around their favorite places in the museum and shared their infectious enthusiasm for connecting over art.
"'Every single piece of art within this place has its own story,' Leingang said. 'And the best part about my team is they are the gateway to those stories. They are taking their own personal experiences of what resonates with them within this museum and sharing that with every person that walks in.'"
Say hi to Chelsea and the rest of the SAM crew at Ikat: A World of Compelling Cloth, an exhibition exploring over 100 dazzling textiles opening to the public this Thursday, March 9.
In their latest print edition, Seattle Met shouts out all three SAM locations in a graphic "tourist trap matrix." Online, they share "Where to Take Tourists in Seattle" according to their editors, including a day at Volunteer Park and the Asian Art Museum.
Local News
Gather, readers, AWP is here! Via Annie Midori Atherton for Seattle Magazine: "Your Favorite Authors Might Very Well Be In Seattle This Weekend—Here's How To Catch Them."
Jerald Pierce of the Seattle Times had more good news to report recently: "PNW basket maker Ed Eugene Carriere named NEA National Heritage Fellow." You can see one of his extraordinary baskets on view at SAM in American Art: The Stories We Carry.
Danielle Hayden for South Seattle Emerald on Seattle Opera's A Thousand Splendid Suns, based on the Khaled Hosseini novel. Go see it!
"[Director Roya] Sadat also recognizes, however, that inequality and deprivation of fundamental human rights are not unique to Afghanistan, but are issues that reverberate across the globe. 'I want this opera to stand as a reminder of their strength in the face of violence. This opera is a narrative of women's resilience.'"
Inter/National News
AP reports: "Notre Dame Cathedral set to reopen in December 2024." Catch up on the reconstruction efforts.
Artnet's Melissa Smith asks artists Alisha Wormsley, Mequitta Ahuja, and Cauleen Smith what it means to be an Afrofuturist now.
Via Benjamin Sutton of the Art Newspaper: "Native American painter Jaune Quick-to-See Smith will be the first artist to curate a show at the US National Gallery of Art."
"Smith's curatorial turn comes at a moment of long-overdue institutional recognition for the artist, whose incisive and wide-ranging practice rooted in painting and collage is the subject of a major retrospective opening at the Whitney Museum of American Art next month, Jaune Quick-to-See Smith: Memory Map."
And Finally
– Rachel Eggers, SAM Associate Director of Public Relations
Photo: Chloe Collyer.
A Thousand Splendid Suns, Alisha Wormsley, American Art, American Art: The Stories We Carry, Cauleen Smith, Chelsea Leingang, Ed Eugene Carriere, Ikat, Ikat: A World of Compelling Cloth, Jaune Quick-to-See Smith, Mequitta Ahuja, muse/news, native art, Native artists, Rachel Eggers, seattle art museum, Seattle Asian Art Museum, Seattle Opera, Seattle tourism, Visitor Experience Manager