Object of the Week: Feast Dish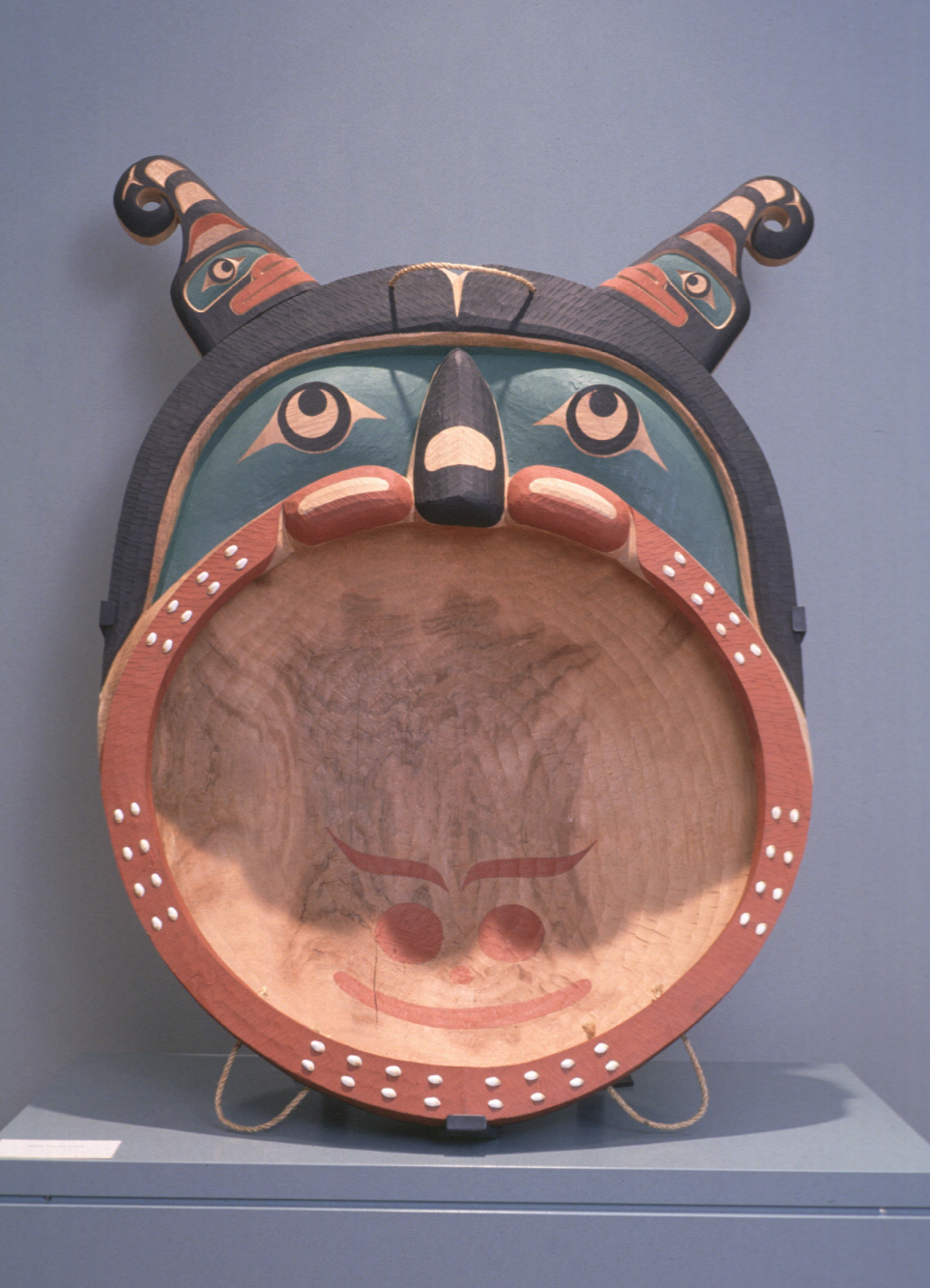 Crafted out of wood, paint, and opercula shells, Calvin Hunt's monster Feast Dish, is a testament to the importance of food, community, and potlatch culture to the Kwakwaka'wakw peoples of British Columbia. Born in 1956, Calvin Hunt is known for his monumental sculptures and is a well-respected artist from the Kwagu'l band located in Fort Rupert. Hunt's feast dish provides a remarkable contrast to the typical Kwakwaka'wakw dishes.
As many partake in Thanksgiving celebrations, it is pertinent to recognize the cultural significance of the potlatch for the First Nations, along with the impact of the Canadian potlatch ban that restricted Indigenous peoples from practicing their traditions for over sixty years, only officially ending in 1951. The word potlatch, in Kwak'wala means "to give." Potlatching for the Kwakwaka'wakw continues to this day and has been practiced for as long as spoken and written history can remember.
Feast bowls are carefully carved and ornamented by their creators, specifically designed for their use at potlatches that will hold delicious foods such as eulachon fish oil, seal meat, cranberries, and cinquefoil roots. Hunt's bowl, however, was crafted specifically for SAM to coincide with the Chiefly Feasts exhibition in 1994. The feast bowl is modeled after Sisiutl, a three-headed sea serpent from Kwakwaka'wakw mythology, who can change between human and animal, along with morphing into a self-propelling canoe whose owner must feed with seals. Operculum shells encircle the mouth of the bowl. In nature, these shells protect marine gastropods (snails) from predators along with preventing the gastropod from drying up if they are exposed to air. With these operculum shells adorning the mouth of Hunt's bowl where feast food is placed, along with this piece having been created shortly after the potlatch ban was lifted, it can be inferred that these shells are protecting the sacred tradition of potlatching from predatory laws.
Today, and every day, is an occasion to give thanks to Indigenous communities.
Seattle Art Museum acknowledges that we are on the traditional homelands of the Duwamish and the customary territories of the Suquamish and Muckleshoot Peoples. As a cultural and educational institution, we honor our ongoing connection to these communities past, present, and future. We also acknowledge the urban Native peoples from many Nations who call Seattle their home.
– Kari Karsten, SAM Emerging Museum Professional Curatorial Intern
Image: Lukwalil (feast dish), 1994, Calvin Hunt (Tlasutiwalis), Wood, paint, opercula shells, Margaret E. Fuller Purchase Fund, 94.63 © Calvin Hunt.