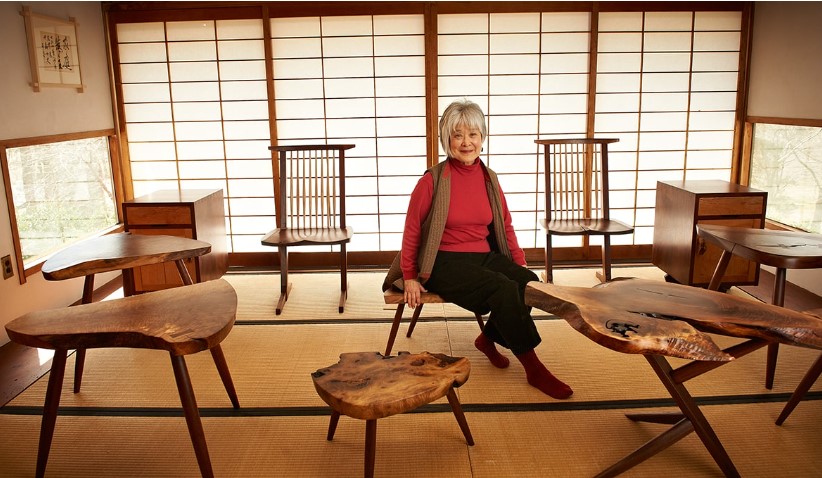 "Our approach is based on direct experience—a way of development outward from an inner core; something of the same process that nature uses in the creation of a tree."

– George Nakashima
This Saturday, March 11, the Gardner Center for Asian Art and Ideas at the Seattle Asian Art Museum will welcome architect and woodworker Mira Nakashima as part of the 2022–2023 Saturday University Lecture Series. Mira, daughter of celebrated American architect, master woodworkers, and thinker George Nakashima, will discuss her father's influence and legacy as the founding figure of the 20th century American studio art movement.
As the creative director of George Nakashima Woodworkers, Mira continues her father's legacy by integrating his deep appreciation and reverence of nature with her own warmth, unmatchable prowess, and ingenuity in incorporating contemporary sensibility into his philosophy. In her upcoming talk, Mira will explore the development of her father's lesser known spiritual spaces and articulate the ways in which they emphasize his philosophical and personal formation as an architect.
In anticipation of this fascinating lecture, Haley Ha, SAM Manager of Public Engagement at the Seattle Asian Art Museum, caught up with Mira to discuss what visitors can expect to see, learn, and experience this coming Saturday.
---
HALEY HA: You are the current creative director of Nakashima Woodworkers. Can you tell us a little bit about your days as the creative director?
MIRA NAKASHIMA: First of all, 'creative director' is a term I borrowed from a friend of mine who heads a chamber music group, as I didn't know what else to call myself.  When I first started in 1970, I was the general 'gopher,' doing everything from typing up orders to driving the truck to raking leaves, etc. As time progressed, I learned how to make the shop drawings, got to work in the shop making small objects, and accompanied my father to the sawmill. Following my father's stroke, I began supervising the work in the shop, and after he died, I had to be responsible for conceptual as well as working drawings. There was always something to be done maintaining the buildings, grounds, and machinery, so that became a part of my job too. And after my mother died, someone had to keep an eye on the accounting. As it was a bit overwhelming for one person to do it all effectively, we hired both a manager and an assistant designer which made life more complicated, but better. As 'creative director,' I oversee the creation of all the furniture made here, but I am just one of the many people devoted to preserving our history and craft tradition. I usually have a hand in selecting and pricing wood for every project, create the conceptual and sometimes shop drawings, oversee the final cut lines, base and butterfly placement, and sign each piece before it leaves the shop.
HH: Your father is considered one of the most celebrated woodworkers and architects of the 20th century in the US, Japan, and across the world. As a woodworker and architect in your own right, what do you consider to be the challenges and blessings of carrying out Nakashima's legacy today?
MN: My father studied architecture at Fontainebleau, France, worked in the office of Antonin Raymond in Tokyo from 1934-38, and was sent to Pondicherry, India in 1936 to build a reinforced concrete building, so he had deep roots in many cultures and countries of the world.
His furniture practice grew in the aftermath of World War II, embracing and manifesting Japanese aesthetic ideals during a time when they were not socially accepted and slowly making his mark along both US coasts. In 1963, my parents sent me to Tokyo to attend Waseda University where I earned a Masters in Architecture. My father went on to join the Minguren group and earned the Third Order of the Sacred Treasure from the Emperor of Japan in recognition of his cross-cultural activities in 1983. After his passing in 1990, his work became 'vintage'—a part of the renewed interest in 20th-century design worldwide. Auction houses began selling his work both locally and internationally, leading his fame to spread.
It has been a challenge to live up to my father's legacy and to continue the work as he hoped we would. With his book The Soul of a Tree, originally published in 1981, generations of woodworkers have been inspired to take up the practice, and indeed, to copy his designs. We strive to preserve his original methodology and mindset by working from the pile of wood he collected during his lifetime and hiring younger craftsmen and designers to learn the Nakashima way. Fortunately, we have been able to keep Nakashima alive and well, and we will do our best to keep it going beyond my lifetime.
HH: Your family was forcefully moved alongside over 12,000 incarcerated Japanese Americans to the Minidoka Camp in Idaho when the war broke out. Could you tell us about how this period impacted your father, his work, and your family?
MN: I was a baby when we were incarcerated. My mother was traumatized by the relocation while my father made friends with a highly skilled Japanese carpenter named Gentaro Hikogawa. Gentaro taught my father many that he would not have otherwise learned in developing his craft. Fortunately, in 1943, my father's employer in Tokyo, Antonin Raymond, had moved to Bucks County and offered to sponsor my father to work on his farm so we did not stay in the camp as long as our other relatives. While in Idaho, my father's friend, artist Morris Graves, carefully kept our meager belongings in Seattle and returned them all to us when we moved to Pennsylvania to start our new life. My father prophetically called the move a "New Hope" and found many artists in the area to call his friends. He called the incarceration "stupid" but said that eventually, "the wounds healed over and left no scars."
HH: As we know, your father's sense of spirituality deeply influenced his practice. You've previously been quoted as saying that for him, work "was a spiritual calling, a form of prayer." Can you tell us about a bit more about the relationship between his beliefs and practices and explain a bit more of what you'll be focusing on in your talk this Saturday?
MN: When my father was working on the reinforced concrete building for the Sri Aurobindo Ashram in India, he learned that physical labor was "karma yoga," no less a yoga than meditating, praying or chanting all day. There, he and the other workers devoted their time to creating a hitherto unimagined place of beauty and peace. When he visited France's Chartres Cathedral in the 1930s, not only was it an astounding space because of its incredible engineering, beautiful sculpture, and stained-glass windows, but also because it was built over several centuries by people from all walks of life whose only intent was to create a sacred space for the glory of God. In Seattle, my father converted to Catholicism and developed a deep kinship with the Benedictine monks and their monasteries. He volunteered to assist them in not only designing, but helping construct their remote chapels by gathering materials, building technology, and hiring local craftsmen.
HH: While he considered his work as a spiritual calling, his reverence for materials was remarkable yet practical. For example, could you tell us how kodama—the Japanese belief of offering a second life to a tree—became a central belief to his practice and how it bore the iconic aesthetic of Nakashima Woodwork?'
MN: I do not think the concept of 'offering a second life to a tree' is particularly Japanese, but in Shinto, Druid, Native American, and other so-called 'primitive' belief systems, inanimate objects like trees, stones, and water are respected not merely as 'dead' objects, but as living examples of the Creator. Perhaps my father's connection to trees was fostered by his early days as a boy scout where he spent long weekends hiking throughout the Pacific Northwest and sleeping amongst the trees. In Japan, the forces and forms of nature are respected, honored, and integrated into everyday life. So, it is perhaps this practice which found voice in the Nakashima aesthetic.
HH: The Nakashima estate in Pennsylvania became a National Historic Landmark in 2014. I'm envious of your beautiful home and curious to know what it is like to live in a space with such powerful intention, art, and legacy?
MN: To me, this is simply the home where I grew up and have worked all of my life. I didn't realize it was anything special until I returned from my first trip to Japan in 1966, and not until I wrote my book in 2003 that it became clear how groundbreakingly bold the architecture was for its time. It is indeed a responsibility to maintain the property, and to allow limited access so that it does not suffer from too much traffic, while encouraging and educating people about its history. I do not live on the original property, but in a house across the road that my father built for me in 1970, so it is an easy commute but also provides some distance to the place I now call home.
HH: In our ongoing Saturday University Lecture Series, we've been exploring the different notions of sacredness within built environments amid our ongoing climate crisis. There seems to be a sense of reverence, deeper recognition, and ecological thinking that is rooted in your father's practice. Would you agree?
MN: My father built each of his buildings with a sense of economy and ecology that was way ahead of his time. From working in Japan, he instinctively knew the principles of kimon—in Chinese, feng shui—including the auspicious positioning of buildings and usage of the rooms according to its geography, path of the sun, seasons, and source of water on the site. He selected each site because of its south-facing slope and built most of the buildings along the brow of a hill, intentionally leaving an open slope and field in the center. All of his buildings have large expanses of glass to the south, and their carefully proportioned roofs overhang to keep the rooms cool with cross-ventilation in the summer and warm in the winter with solar gain.
On the Pool House, built in 1960, he installed a series of water pipes along the rooftop as a way to heat the shower water by passive solar energy when no one else was even thinking of that. His last building, the Reception House, built in 1975 during the first oil crisis, has a plenum and fan system behind its Franklin stove-like fireplace to heat the entire house. There is also a cook-top on the fireplace hood and an oven compartment in the wall of the fireplace like the old Bucks County farmhouses. There is even a large sunken Japanese bath with water heated by a wood-burning boiler imported from Japan. We are currently working with the University of Pennsylvania to create an overall campus plan which will minimize our dependence on fossil fuels in the future by installing both passive solar and geothermal energy sources, and of course, increasing insulation and minimizing air infiltration without destroying the original design concepts. It's bound to be an exciting challenge!
HH: Lastly, what kind of legacy would you like to leave behind to the next generations of woodworkers?
MN: Harvest materials sustainably and replant as many trees as possible. Know and respect the woods local to your area and use them whenever possible. Learn to do honest joinery yourself.  Do not imitate forms, but create your own. Remember that less is more; don't complicate things just to be different.
– Haley Ha, SAM Manager of Public Engagement at the Asian Art Museum
Photos: Courtesy of George Nakashima Woodworkers.