In Boafo's Words: Self Portrait – Masked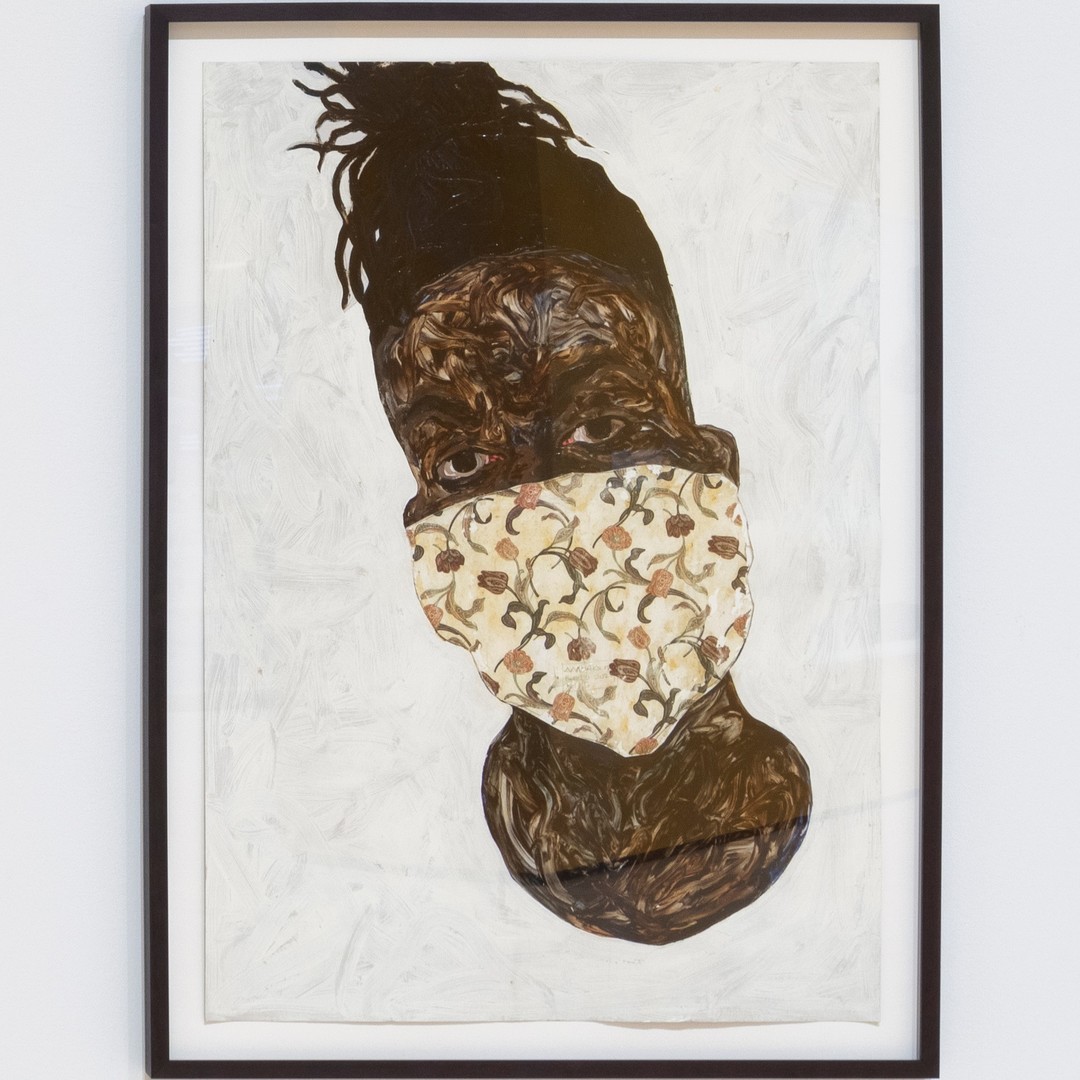 "I always want people to know that I'm looking. Even when I'm not there, I'm still looking. If you're looking at my painting, my painting is looking at you, and I'm looking at you."

– Amoako Boafo
The image of a face mask is now synonymous with the height of the COVID-19 pandemic. It comes as no surprise then to learn that Amoako Boako painted Self Portrait – Masked in 2020.
In the fifth stop of the free smartphone tour of Amoako Boafo: Soul of Black Folks at SAM, the artist discusses the evolution of his artistic process while in lockdown in Ghana. Although the mask covers the majority of his face, the artist still finds beauty in his intricately patterned mask and direct gaze. Taken as a whole, this image demonstrates how communication continues despite lacking most facial features.
Explore all nine stops in the exhibition's audio tour now on our SoundCloud or scan the QR code accompanying any work to tune in while exploring SAM's galleries. The exhibition closes in less than one month—reserve your tickets to see it before it closes on Sunday, September 10!
Self Portrait – Masked, 2020
NARRATOR: Self-Portrait – Masked, dates from 2020. Boafo was in Ghana when COVID struck. This shaped his experience of the lockdown: for most people he knew, staying home was just not an option.

AMOAKO BOAFO: I mean, it was a different case there because almost everybody, I mean the larger population, the work they do is hand to mouth, which means if you don't go to work in the next day or two days, you might not have anything to eat.

So, I did not have the sense of just staying home and just staying in and not doing anything. You know, I was out there trying to support as much as I could.

NARRATOR: Wearing a mask is linked in our minds with the horrors of COVID. But Boafo's mask is not just about protection from disease: it is covered with his distinctive patterning.

AMOAKO BOAFO: We all know—when COVID happened—we all know what it did and the impact it had. There wasn't anything beautiful about it. But I needed to make the painting in a way that it still would be beautiful for you to look at.

NARRATOR: Above the mask, Boafo's eyes meet ours directly.

AMOAKO BOAFO: Well, I always want people to know that I'm looking. Even when I'm not there, I'm still looking. If you're looking at my painting, my painting is looking at you, and I'm looking at you.
– Lily Hansen, SAM Marketing Content Creator
Photo: Installation view of Amoako Boafo: Soul of Black Folks at Contemporary Arts Museum Houston, 2022, photo: Sean Fleming.