In Boafo's Words: Happy Siblings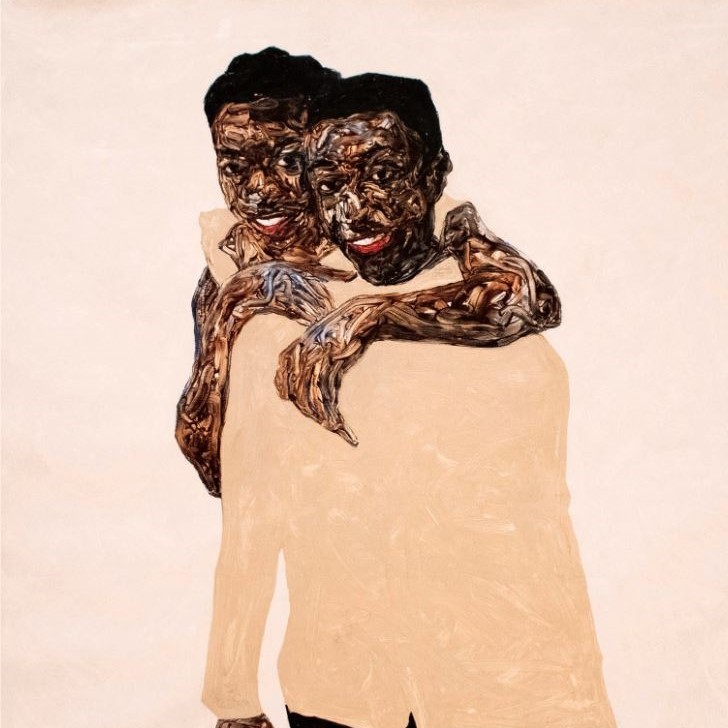 "I wanted to make my paintings the way I want people to see me, you know, I just wanted to show Blackness in a different way. Why can I not be Black and be happy?"

– Amoako Boafo
After witnessing a rare moment of playfulness between his siblings in 2019, Amoako Boafo decided to commemorate the moment in a portrait. Happy Siblings marks the first of Boafo's paintings to include members of his immediate family.
Despite the portrait's use of muted colors, Boafo still finds the painting to be joyful. Brightness, he says, does not equate beauty. Tune in to the eighth stop of the SAM-exclusive smartphone tour of Amoako Boafo: Soul of Black Folks on our SoundCloud to learn more about this work and how the artist incorporates his family into his art. Or, if you're in the galleries, scan the QR code next to this work to access this and nine other recordings related to the exhibition. Soul of Black Folks closes this Sunday, September 10—get your tickets to see it at SAM's downtown location before it's too late!
Happy Siblings, 2019
NARRATOR: Boafo painted this portrait of his siblings in 2019.

AMOAKO BOAFO: It's not often that I see them playful like that. So, when I saw it, I'm like, let me capture this moment and let me just put it down.

NARRATOR: The portrait was a way of including the artist's family in his practice.

AMOAKO BOAFO: I wanted to find a way to get my family into my painting because they have an idea of what painting is, and they like what I'm doing, but they don't really know much about it.

I mean, the thing is that they don't come to the studio, you know, because they have other things to do, and they feel like when they come, they will disturb me, which I don't think it is true; but instead of waiting for them to come around I want to go to them.

NARRATOR: Interestingly, for this joyful image, Boafo has chosen a muted paint color, buff titanium, for his brother's shirt.

AMOAKO BOAFO: I don't think it has to be bright to be beautiful. Because this color palette has a lot of white in the background, which is plain. So it gives it a lot of shine.

NARRATOR: It also makes a strong contrast with his siblings' skin color.

AMOAKO BOAFO: You know, dark… dark helps with light.

NARRATOR: This image of light and joy is important for Boafo.

AMOAKO BOAFO: I have done a lot of paintings on my struggle. But then I had to change that for myself. I wanted to make my paintings the way I want people to see me, you know, I just wanted to show Blackness in a different way. Why can I not be Black and be happy?
– Lily Hansen, SAM Marketing Content Creator
Image: Happy Siblings, 2019, Amoako Boafo, oil on canvas, 63 x 63 in., Jesse Williams Collection.