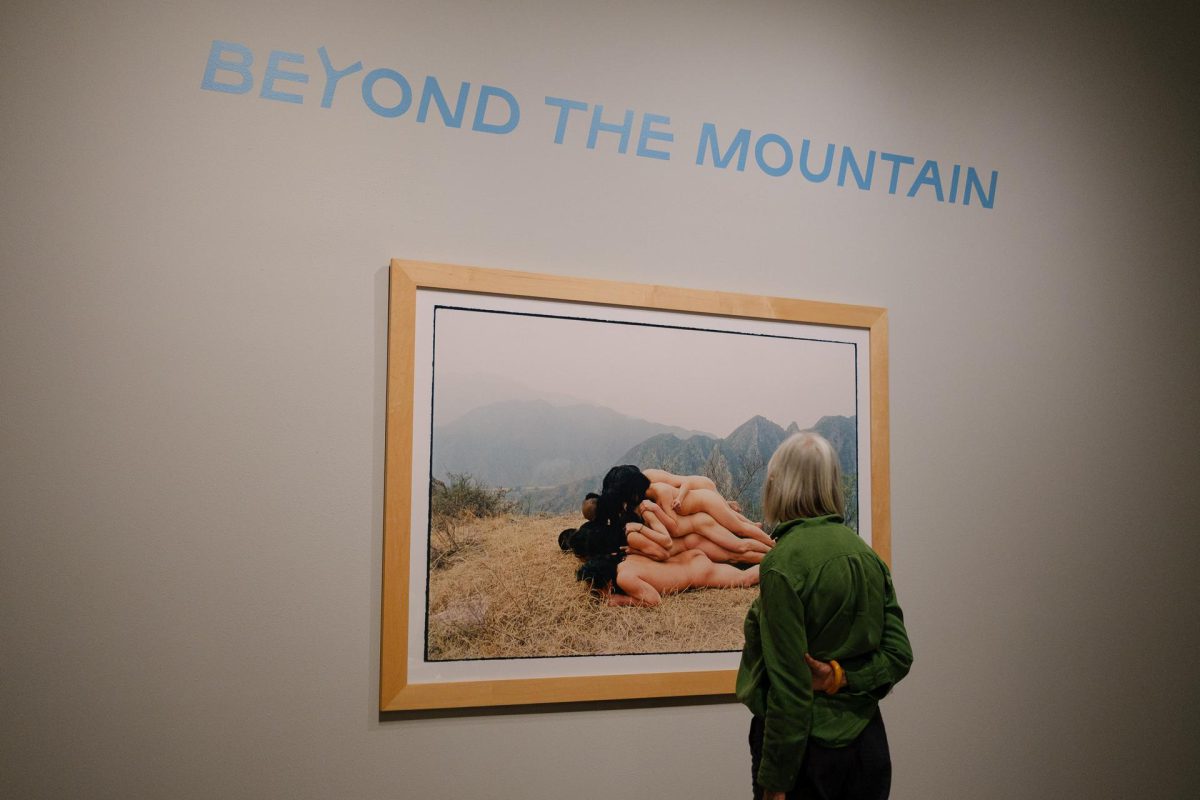 Curating an art exhibition isn't a competition—unless you're a University of Washington student attending the School of Art + Art History + Design's upper-level seminar, Exhibiting Chinese Art, taught by FOONG Ping, SAM's Foster Foundation Curator of Chinese Art.
Pivoting from in-person to virtual learning, FOONG thought a little friendly competition would engage her students. She split them into teams and assigned three seemingly unrelated artworks by contemporary Chinese artists for them to research. Each team created a cohesive and imaginative exhibition framework to display the three works.
"I wanted to challenge my students, and they really impressed me," says FOONG. "This exhibition has been in the works for a long time, but a few of their ideas have since been incorporated into the show. Beyond the Mountain wouldn't be what it is today without their insights."
Opening this July, Beyond the Mountain: Contemporary Chinese Artists on the Classical Forms is the latest special exhibition to open at the renovated and reimagined Seattle Asian Art Museum. Introducing Chinese artists never before exhibited at SAM as well as drawing from the museum's collection, the exhibition sees artistic themes of the past revitalized. It explores age-old subjects such as Chinese ink painting, proverbs, and landscapes while reflecting upon current or recent events—from the global language of street protests to escape in a time of contagion. Together, the artists contemplate the societal toll of modernity and globalization as well as the impact of humans on the natural world.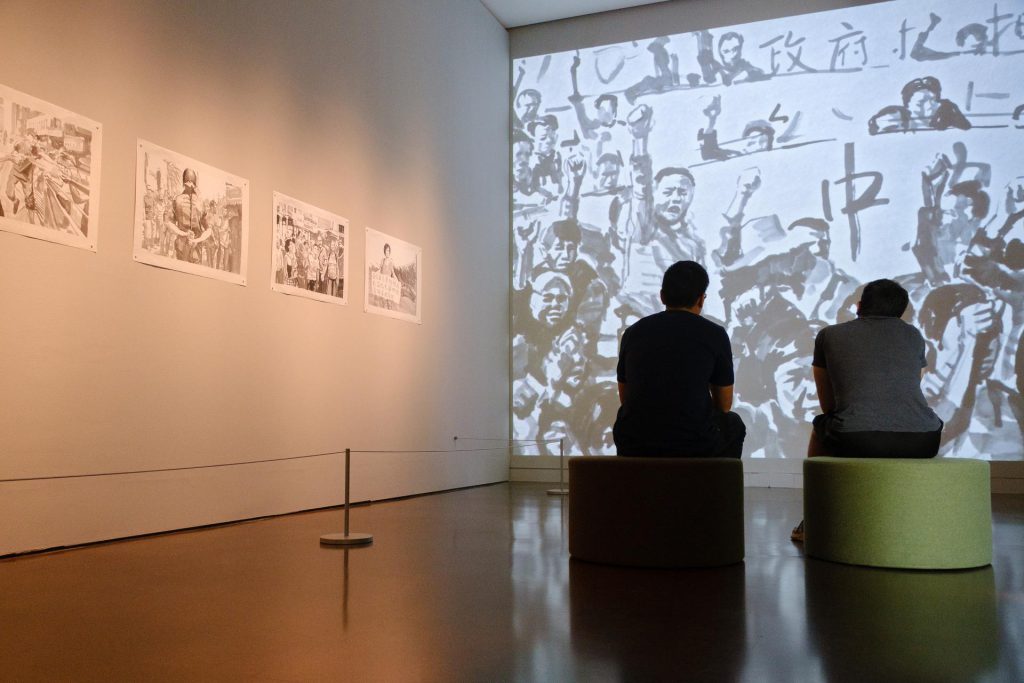 One of the works FOONG is most excited to see back on view is Ai Weiwei's Colored Vases (2010). An acclaimed contemporary artist and outspoken dissident, Ai dipped nine earthenware vases into buckets of industrial paint and then left them to dry. In covering the surface of these purportedly ancient artifacts with bright new paint, Ai suggests that our perceptions of authenticity are a status quo that might be challenged. Much like history, he says, the vases are "no longer visible, but are still there."
Another highlight are two videos by Yang Yongliang. From afar, these large-scale projections look like classical ink paintings—until you realize that they are actually digital pastiche of video and photography where construction cranes and other modern interventions disturb the majestical natural scene.
"The exhibition is about this moment in our lives," says FOONG. "These Chinese artists engage with classical Chinese themes, but they speak to everyone."
---
Read below for a short interview with exhibition curator FOONG Ping on visitors can expect to experience in the galleries.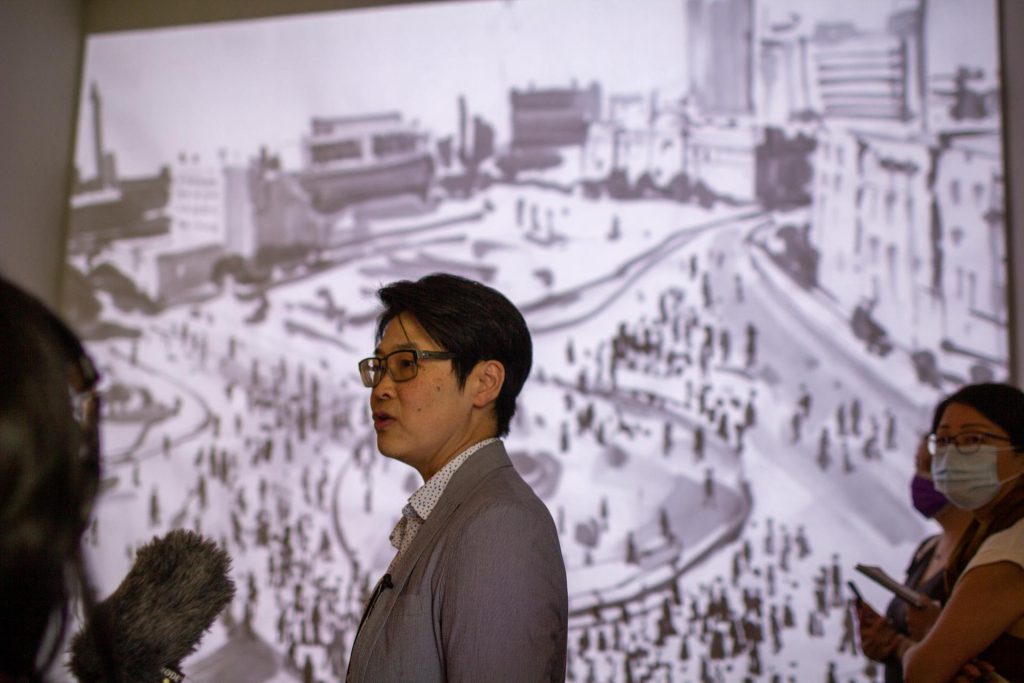 SAM: What artwork are you most excited for audiences to see and interact with in the galleries?
FOONG Ping: With this exhibition, I'm introducing Seattleites to an artist new to us: Lam Tung Pang. He has created a site-specific installation in one of our galleries that I really think is going to blow people's minds. It's titled The Great Escape and responds directly to his experiences of the COVID-19 pandemic in Hong Kong. To escape the stress of the 2020 lockdown, Pang started reading kids' books and also became fascinated with the master of escape, Harry Houdini. The artwork reflects this specific time in our lives and his thinking about the ways we might free ourselves from constraints—mental & physical—that bind us. I'm confident that the piece goes beyond expectations when people think about Chinese art.
SAM: You've described this exhibition as both traditional and modern Chinese artistic forms. How is this seen throughout the exhibition?
FP: Everyone has certain stereotypes about Chinese art—including Chinese folks! Although there are common Chinese artistic elements of ink-brush painting and images of landscape, Beyond the Mountain is so much more than that. The artists in this exhibition have taken these identifiable ideas from Chinese art and transformed them for a modern audience. This exhibition is intentionally small and precise, so visitors can deeply explore each artwork's clear and distinct voice.
SAM: What message do you want audiences to take away from this exhibition?
FP: I want audiences to understand the legacies of Chinese art, language, and culture and how these legacies remain incredibly relevant today. No matter a visitor's background, Beyond the Mountain reveals the existence of a global common language, where everyone can reflect on Chinese history and make a connection to their own experiences.
– Lily Hansen, SAM Marketing Content Creator
Segments of this article first appeared in the July and October 2022 editions of SAM Magazine and has been edited for our online readers. Become a SAM member today to receive our quarterly magazine delivered directly to your mailbox and other exclusive member perks.
Images: Alborz Kamalizad & Natali Wiseman.