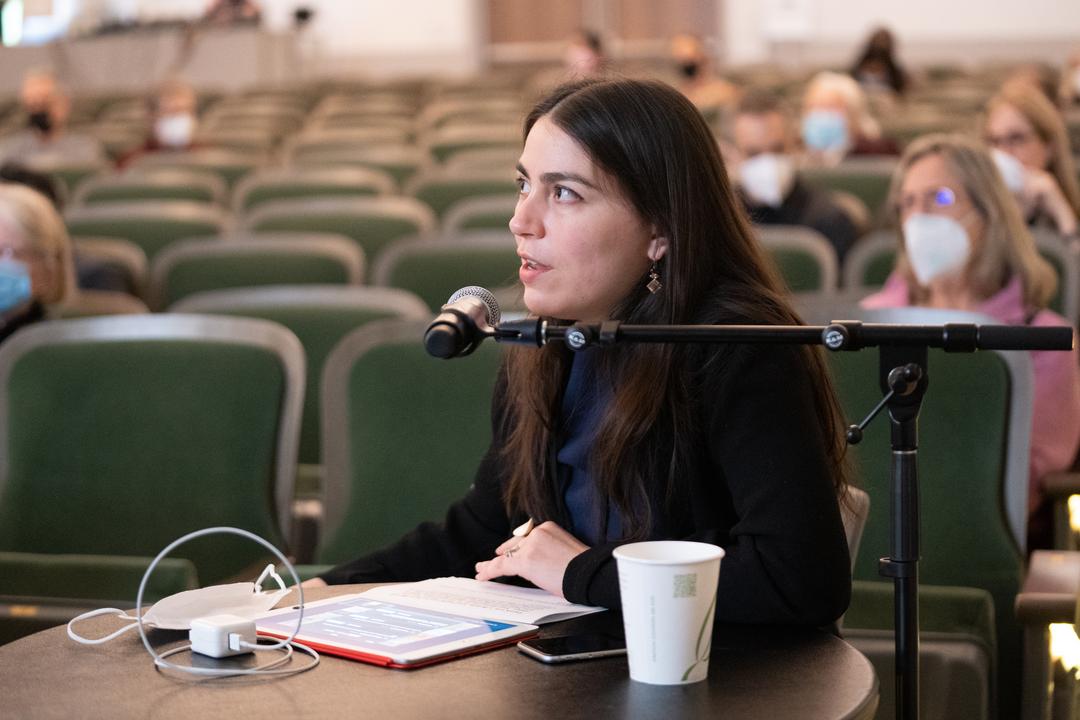 SAM News
"Christie's, consecrated statues, and coffee": Seattle Met's Sophie Grossman peeks into a day in the life of Natalia Di Pietrantonio, SAM's Assistant Curator of South Asian Art. Her first exhibition at the Seattle Asian Art Museum, Embodied Change: South Asian Art Across Time, is on view now through July 10—don't miss it!
Last week, we shared the exciting news that José Carlos Diaz will be joining SAM in July as the new Susan Brotman Deputy Director for Art. He spoke with KUOW's Kim Malcolm about what he's thinking about as he makes his way to Seattle.
"I'm going to hit the ground running. I really want to get a sense of where we are, listen to the staff, but also start communicating with stakeholders and think about what the needs are for an institution in the Pacific Northwest, and how that responds to what's happening in the country."
For International Examiner, Susan Kunimatsu reviews an installation of Japanese art now on view at the Seattle Art Museum, Folding Into Shape: Japanese Design and Crafts.
"The Seattle Art Museum's collection of Japanese art is so vast that only a fraction is on display on any given day. But the depth of its holdings allowed curator Xiaojin Wu to create this little gem of a show. Taking the concept of containment and the technique of folding and selecting objects that represent different artists' responses to those ideas, she has shown how cultural influences flow across media and over time."
Susan has been busy! She also previewed our summer exhibition for, well, Preview. Tickets are on sale now for Alberto Giacometti: Toward the Ultimate Figure, which opens at SAM on July 14. (Did you see our trailer for the show, featuring original animation and music by SAM designers L. Fried and Natali Wiseman??)
And business-oriented Quartz found inspiration for professionals in Giacommetti's tireless quest for discovery in his art.
Local News
This past Sunday, many in the US celebrated Juneteenth. In case you missed it, the Seattle Times' graphic team shared information on the meaning of the holiday's flag (including a link to print your own!). Explore more about its history at juneteenth.com and check out this article written by SAM Marketing Associate Karly Norment Meneses on how to celebrate responsibly.
No change in commute: the Seattle International Film Festival (SIFF) announced that Tom Mara will be its next executive director. Mara just celebrated his departure from SIFF neighbor KEXP after 30 years with the radio station.
Duncan Gibbs for South Seattle Emerald on the works of Hanako O'Leary and Molly Vaughan, both on view at ARTS at King Street Station through July 7. Vaughan was the 2017 Betty Bowen Award winner and her work is in SAM's collection.
"Elevating these topics (reproductive rights, trans rights, women's health, and autonomy) to the platform of aesthetic enquiry blasts the logic and word games of political rhetoric to pieces. Art demonstrates the material reality of personal experience in a way that can't be argued or legislated."
Inter/National News
Best Booths at Basel! ARTnews' Sarah Belmont takes you there, including to former Seattle-based gallerist Mariane Ibrahim's inaugural booth, which includes two paintings by Amoako Boafo.
Discoveries via Francesca Aton for ARTnews: "'First of its Kind' Viking Age Shipyard Discovered at Birka" in Sweden. (You can always get your Nordic kicks locally at the National Nordic Museum.)
Even more discoveries via Artnet's Amah-Rose Abrams: "Archaeologists Have Uncovered 13,000 Shang Dynasty Relics in China, Many of Them Used in Sacrificial Rites."
"'The sculptures are very complex and imaginative, reflecting the fairy world imagined by people at that time, and they demonstrate the diversity and richness of Chinese civilization,' said Zhao Hao, an associate professor at Peking University."
And Finally
Thank you for your many gifts, Philip Baker Hall—perhaps especially for Bookman.
– Rachel Eggers, SAM Associate Director of Public Relations
Image: Chloe Collyer.